Philips Sonicare DiamondClean Brush Heads are the new brush heads that come with the latest Philips power toothbrush, the Philips Sonicare DiamondClean.
DiamondClean Standard and Compact brush heads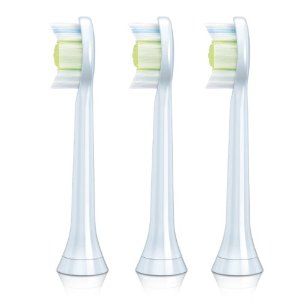 There are 2 DiamondClean replacement brush head models available – the DiamondClean Standard Brush Head (manufacturer code  HX6063/60) and DiamondClean Compact Brush Head (manufacturer code not available).
As you can guess from the product names the main difference is the brush head size. The compact head is better suited for people with smaller mouth – mostly children and women.
I have read numerous reports stating that compact sized brush heads are doing better job cleaning hard to reach areas of your mouth, so choosing the compact size brush head can be a wise choice for men as well.
I suggest you to try both sizes and then chose the one that does better job or simply ask you dentist for advice.
What is so special about DiamondClean brush heads?
Philips has stated that the innovative brush head design is the main reason why DiamondClean toothbrushes are performing so much better than other power toothbrushes.
Philips has invented the new technology that increases the number of bristles you can place on each brush head. Thanks to this technology now the standard size brush head has 44% more bristles than older heads, and the compact size head has 23% more bristles.
Can I use DiamondClean brush heads only with DiamondClean toothbrush?
DiamondClean brush heads are compatible with a number of Philips power toothbrushes:
Philips Sonicare FlexCare
Philips Sonicare EasyClean
Where can I buy DiamondClean brush heads and how much do they cost?
DiamondClean replacement brush heads are sold by all major retailers online and offline. They are sold in 2-packs and 3-packs and the average price is around $11 for single brush which is 1.5 more than price of older brush head models.
People are using these search terms to find this page:
sonicare diamondclean brush heads