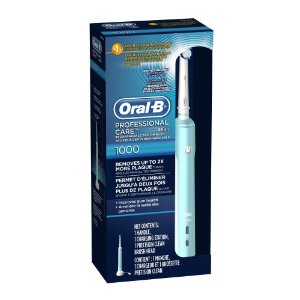 Introduction
Even the entry level rechargeable toothbrush like Oral B 1000 offers an easier way of daily complete mouth cleaning. Compared to using a manual toothbrush, rechargeable brushes can get through most of your plaques, even those in the hard to reach places. As a result you can expect to have a cleaner and healthier teeth and gums.
This may be the very reason why more and more people shift from using a manual brush  to an electric toothbrush.
Oral B 1000 is one economical choice for a power toothbrush. It has all the basic features that one would need in an electric toothbrush, and comes cheaper compared to other brands of its kind. With its advanced cleaning technology, Oral B Professional Care 1000 toothbrush has been proven to remove up to 97% of plaques, including those in between your teeth and gums. With this, your mouth can enjoy an overall improved condition.
Technology
The Oral B 1000 uses Floss Action Technology to get rid two times the plaques compared to using a manual toothbrush. This advance cleaning technology goes through every part of your mouth, getting rid of plaque where normal toothbrush misses.
Technically, this technology provides an ultimate complete mouth cleaning, removing plaques between your teeth and gum line, leaving you with a healthier teeth and gums and feeling as if you just have gone to a dentist visit.
With consistent use, the this Oral B brush  promises to improve the total condition of your teeth and gums. This sits very well, especially for people who have mouth problems.
Timer Feature
This rechargeable toothbrush comes with a Professional Timer. Though, high end models usually come with more than one timer option, having just one is proven to be enough for an average user.
Oral B Professional Timer sends a short stuttering sound every thirty seconds for you to equally brush your mouth's four quadrants. A long stuttering sound is sends out after the two-minute recommended brushing time has elapsed.
Oral B 1000 Brushing Modes
Oral B 1000 comes with one cleaning mode. The Daily Clean Mode is recommended for everyday mouth cleaning. It provides complete and thorough mouth cleaning to ensure that your teeth and gums are freed of any plaque.
Rechargeable Battery Features And Charger
OralB 1000 also comes with a charger unit that you can use for recharging the toothbrush. It takes about 17 hours to fully charge the toothbrush, and that typically lasts up to two weeks, if use twice daily for two minutes.
The red low charge indicator lights up to signal you that the battery is low. And a green indicator light flashes up telling you that the toothbrush is being charged. To keep the maximum capacity of the toothbrush's rechargeable battery, it is advisable to unplug the charging unit and fully discharge your handle every after 6 months of regular use.
Other Features
Pressure Sensor
Oral B 1000 rechargeable toothbrush comes equipped with a pressure sensor. This feature monitors the pressure that you put in your teeth and gums when brushing. If it senses that you are applying to much pressure, it will automatically stops the toothbrush's rotation. This helps in preventing mouth inflammation.
Indicator Bristles
This advanced technology is designed to remind you that your brush heads need replacement every three months through the halfway faded bristles.
Package Contents
1 Oral B 1000 handle
1 brush head (Oral-B Precision Clean)
1 portable SmartPlug charger
Dimensions
The whole package size is 2.2 x 4.4 x 10 inches and weighs 12.5 ounces. 
Accessories
With the Oral B 1000 toothbrush, you can replace the existing brush head with a different one, if you think it will suit you more.
The following are the different types of brush you can choose from and are sold separately.
Oral-B Dual Clean
Oral-B Pro White
Oral-B Sensitive
Oral-B Power Tip
Oral-B Ortho
Oral-B Braces Care Essentials
Oral-B Tongue Freshener
Design
Oral B 1000's handle has a simple design, coming in a combination of blue and white colours. The front (where the button is placed and where you can see battery light indicators) is dominantly blue, and then the rest of the handle is clothed in white. The handle seems to be pretty easy and comfortable to use. It seems to be rigid when handled, even when wet with water.
The brush head also seems to be very easy to attached and detached from the handle, for the users convenience.
Customer Reviews On Oral B 1000
The average customer rating of Oral B 1000 toothbrush is around 4.5 stars out of 5. This is actually a great standing, especially since Oral B 1000 mostly offers basic features. This speaks greatly about the quality of the toothbrush. One positive feedback that it got from the user reviews says that its design is very well thought and impeccably made. The brush heads may be small but is very effective since it tightly hugs your teeth and gums, resulting to more thorough clean.
However, some people noticed that it is a bit noisier than other models or brands. Though, it does not really gives out annoying sound, it something you might want to consider if you thing having a little sound can distract you.
Pros
So why would you want to buy an Oral B 1000 rechargeable toothbrush? Aside from its mouth cleaning capabilities, it is undoubtedly very inexpensive for an electric toothbrush. Its price tag is not as high, but you can still get and enjoy the same cleaning abilities and qualities.
It can hold up to two weeks of charge and is very compact in size, making very easy to bring around just about everywhere. The available brushing modes may be basic, but it is more than enough to cater to different dental needs.
Cons
For a basic electric toothbrush and practical price, the Oral B 1000 seems to be a very wise choice so there really is no solid issue on why you would have to think twice in buying this toothbrush. Though, as said, it may give a little sound but if you can deal with a little but not annoying sound, then this is definitely not enough to break the deal.
Price
Many online retailers are offering this product at the moment of writing this review.  The best deals are in the range of $50.00. At the same time other retailers have priced it around $65-$70.
People are using these search terms to find this page:
oral b 1000, oral b 1000 battery light flashing, oral b 1000 brush keeps flashing grren, oral b 1000 electric toothbrush, oral b professional 1000 BLINKING