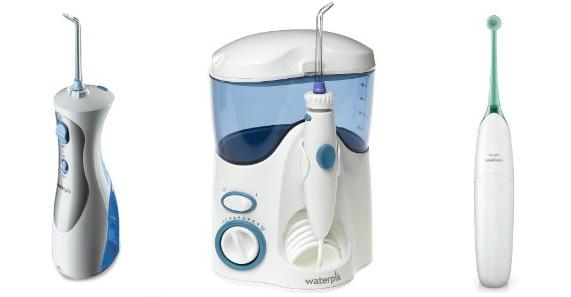 Oral irrigators are health care devices that are used to remove the plaque and food particles that are trapped between the teeth. Sometimes oral irrigator is called water flosser because it does the same job as dental floss.
Water flosser produces a stream of water or water an air mixture that flosses space between the teeth and gently massages the gums.
Benefits of dental irrigators
The oral irrigators have been around for almost 50 years since the first prototype was developed in early 1960-ies. Since then dental care professionals have tested the device extensively and found out that it is almost as effective as traditional dental floss. The added benefit of flosser is strengthening the gums and reducing the gum bleeding. It is proven that the stream of water the device produces very effectively massages gums and improves gums condition 50% better than regular dental floss.
Irrigators are also a very effective means of taking care of your crowns, dental implants and orthodontic appliances like brackets. I was wearing braces for almost 3 years in my early 20-ies and I remember how difficult it was to remove food like cookies from around the braces using toothbrush. It would be an easy job if I have had an irrigator.
Apparently using the irigator will be a great addition to your oral care routine.
Irrigator brands
The according to Amazon customer votes the most popular irrigator  manufacturers are Waterpik, Philips, and Oral Breeze.
Waterpik offers 6 flosser models – 4 countertop models and 2 wireless flossers. The countertop model range includes Classic and Ultra Water Flosser, a model for kids, and compact Traveller Water Flosser. There are also 2 cordless irrigator models.
Philips introduced its Philips Sonicare Airfloss in late 2010. Sonicare Airfloss is a portable flosser that uses patented Microburst technology that produces a mix of water droplets and air. Flossing with Sonicare Airfloss is less messy because it uses only one tea spoon of water per cleaning.
QuickBreeze and RediBreeze irrigators should be permanently attached to your bathroom faucet. It is a low cost solution with its own benefits and drawbacks.
Can the flosser be used with mouthwash?
Yes. Water flosser can be used with clear water, water and  mouthwash mix, or even pure mouthwash. You should  keep in mind that mouth wash can be sticky, so it is a good idea to rinse the nozzle now and then.