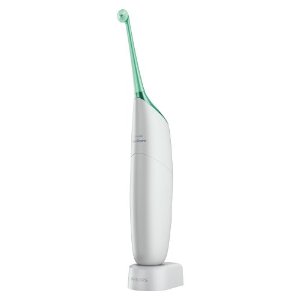 Philips has yet again released an innovative product that will give you one of the best mouth cleaning experiences ever. The Philips Sonicare Airfloss has been designed to give users a simple and effective way to clean deep between the teeth.
This water flosser can remove up to 99 percent of plaque than a manual toothbrush. The Airfloss can also help significantly improve the condition of the gums in a couple of weeks and it prevents tooth decay as well.
It only takes 60 seconds and a small amount of water for the this device to clean the mouth thoroughly. The Sonicare Airfloss features a microburst technology which gets rid of plaque as it delivers microdroplets of air and water in between the teeth.
It has a one-button function as well as a guidance tip making it easy to use. The guidance tip allows this flosser to easily find the spaces between the teeth. It also automatically angles the tip horizontally for better cleaning.
The Airfloss has been through various comprehensive clinical testing to ensure that it is effective in cleaning and keeping the mouth healthy. It also adheres to Philips Sonicare's standard of performance. It has been proven to be safe and gentle to use on your teeth, gums, veneers and implants.
It is advisable to replace the nozzle of your Airfloss every six months so as to prevent having hard water build-up on it. This will also reduce the risk of bacteria accumulating on your nozzle which can lead to health problems if it is ingested. You will be able to experience and notice results in only a month with continuous use of the Airfloss.
Philips will give your money back if you are not able to notice results after regular using the Airfloss oral irriagator.