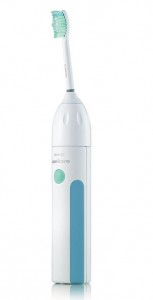 Introduction
Maintaining your teeth and gums in their tip top shape is easy if you have the right toothbrush with you. Many people have geared towards using rechargeable toothbrush, in replacement to the regular ones. And that would not be too surprising, since it is clinically proven that electric toothbrushes can go deeper into your mouth and remove twice as many plaques, which result to cleaner and healthier mouth.
One rechargeable toothbrush that you can get is the Philips Sonicare Essence 5300 toothbrush. Not only is it a lot cheaper compared to other models and brands, but also carries above average quality and features, leaving your mouth cleaner, healthier, and fresher every time you brush.
Technology
What makes this toothbrush effective lies in its powerful deep mouth cleaning technology. Carrying the patented Sonicare Technology, it provides up to 31,000 sweeping motions in between your teeth and gum line for much precise and thorough mouth cleaning.  These thousand motions go through the deeper parts of your mouth that otherwise be missed by your regular toothbrush, thus removing more plaques and prevent any build-ups from settling in. Aside from that, it can also help in whitening your teeth as it can effectively and easily remove teeth stains to reveal their natural colour.
With this powerful mouth cleaning, it reduces your chance of having cavities or developing gingivitis. And with more consistent use, the toothbrush will not only give you daily clean, but will also help in improving the overall condition of your mouth.
Timer Feature
This rechargeable toothbrush comes with two timer options, the SmartTimer and Quad Pacer, to help you keep track with your brushing time.
The SmartTimer is set to two minutes (the recommended brushing time), and after this has elapsed, the toothbrush will automatically turn off. If ever you wish to briefly pause from your brushing routine, just press the on/off button. Push this button again to pick up where you left off. However, the timer will reset if you paused longer the thirty seconds or put the handle back to the charger base.
On the other hand, the Quad Pacer tracks your brushing time in quadrants. It will alert you every thirty seconds to let you know that it is time to move from one quadrant to another, until all four are completed.
Sonicare Essence 5300 Brushing Modes
This Philips toothbrush only has one brushing mode – not that it is not enough for an average user, because it is, but those with special needs may feel limited with the lack of choices.
However, if you think you can deal with just having one brushing mode, Essence 5300's Clean mode is certainly enough for you. It is an excellent mode for everyday use as it provides thorough and deep mouth cleaning but remains gentle enough so as to protect your teeth and gums from weakening or inflammation.
Rechargeable Battery Features And Charger
It takes at least 24 hours to fully charged Essence 5300, and a fully charged one can hold up to two weeks of battery. This translates to 28 regular brushing (twice a day, two minutes per routine).
Charging the toothbrush is easy as you will only need to place the handle into the charger with the power button facing forward. Just be sure that it is correctly and securely placed to make the contact complete.
Other Features
Angled Neck and Contoured Bristles
It's brush head's  neck is carefully angled to respond to the natural shape of your teeth to take its bristles to the deepest of your mouth to remove plaques that are in the hard to reach areas. The contoured bristles, on the other hand, provide comfortable brushing. It also comes in extra rounded ends giving your gums additional care.
Easy-Start Program
This feature helps users adjust to the cleaning power of Essence 5300. It slowly increases the power of the toothbrush in the course of the first twelve uses, until the user is fully adjusted to the Sonicare Technology.
Over the first twelve uses, you will hear a double beep when turning the toothbrush as a signal that the feature is activated. After the twelfth use, you will no longer hear a beep.
Package Contents
1 Brush head holder
1 E Series Brush head
1 charger
1 Charger base
1 charger cover with brush head
1 Hard travel  case
Dimensions
The whole package is 1.2 x 1.2 x 8.1 inches and weighs 1 pound.
Compatible brush heads
This toothbrush is compatible only with older eSeries brush heads. Unfortunatelly it does not work with DiamondClean or ProResults heads.
Design
This model has a very simple design, but remains to be very elegant. It is fully colored in white. However, the power button distinguishes itself in blue color and is placed in front of the unit.
The handle seems to be pretty sturdy for easy gripping. It is also big enough to hold it securely, especially when using it.
Customer Reviews Of  Essence 5300
Based on Amazon.com reviews, the toothbrush got very great rating, considering that this rechargeable toothbrush does not come with over the top features. Actually, being a basic electric toothbrush is also a reason why so many people loved and appreciated this product.
Many attested that it truly gave them cleaner and healthier (and fresher) mouth every brush, as if they just had been brushed by a professional dentist. It is also very easy to use and clean. Overall, users think that this toothbrush is worth every penny.
It is important to note that many customers are comparing it to the OralB 1000 model. Scroll down for more details.

Pros
Besides its great mouth cleaning capabilities, it  is cheaper than other models or brands. And since it carries one of the best names in the dental industry, you can be assured of its quality. With Essence 5300, you do not have to spend so much and dig over your savings just to enjoy healthier teeth. All the basic features needed to take care of your teeth and gums are all incorporated in this model.
In addition, since it is very compact, users can easily slip this toothbrush into their purse or bag so that they can enjoy fresher mouth wherever they may go. And since it can hold up to two weeks of charge, it is perfect for people who are travelling.
Cons
Since it only offers basic features, those who have special needs – like more brushing mode options, cleaning modes, etc. – may feel that this toothbrush is too limited. However, if you can live with the just having one brushing mode or other basic features, then there is no solid issue why you would not want to get this product.
Price
There is a number of online retailers that carry Philips Sonicare Essence 5300 e.g.  Amazon, Walmart, and Drugstore.
Update
There is an new replacement model available – Philips Sonicare Essence 5600.
Philips Sonicare Essence 5300 vs Oral B 1000  Comparison
People who are looking for an affordable power toothbrush often are searching for information that would allow them to compare the entry-level brushes from the most popular manufacturers Philips and OralB. That is the reason why I decided to have a look at OralB 1000 and Essence 5300 from Philips and compare the most important features. I hope that this information will help you to make your choice.
OralB 1000 Features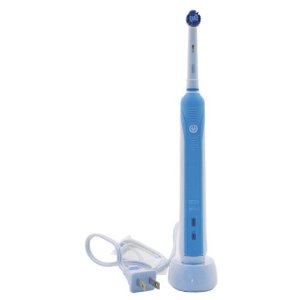 OralB 1000 is the cheapest model of OralB's Professional Care product line. Here are the most important features of this toothbrush:
1 cleaning mode – Daily Clean
Pressure sensors – if you are brushing too hard, the brush stops pulsating
2 minute timer with 30 second intervals leads you thru cleaning all 4 quadrants of your mouth
Brush head bristles have built-in indicators that let you know when you have to replace the brush head
Charge indicator lets you know how much juice is left
5 replacement brush head options – Floss Action, Precision Clean, Pro White, Dual Clean, and Sensitive Clean
Uses 2 types of cleaning movements – pulsations and oscillations
Performs 40000 pulsations and 8800 oscillations per minute
Package includes 1 toothbrush handle, 1 Precision Clean brush head, 1 portable charger
Philips Sonicare Essence Features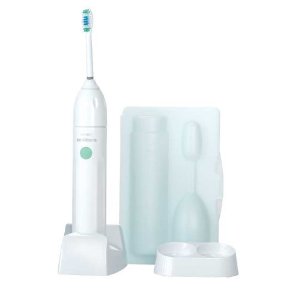 Essence 5300 is the cheapest Philips rechargeable power toothbrush. There are even cheaper Philips models around but they are not rechargeable. The main features of Essence toothbrush are:
1 cleaning mode – Clean Mode
2 minute timer ensures that you brush full 2 minutes
Easy-Start function lets you get used to the power toothbrush
Blinking power button informs when recharging is required
2 replacement brush head options – e-Series Standard Brush Head and e-Series Compact Brush Head
Performs 31000 brushing motions per minute
Package includes 1 toothbrush handle, 1 brush head, 1 charger with brush head holder and a travel case and travel cap
Comparison of OralB 1000 and Sonicare 5300
As you can see both brushes are quite similar. Both are featuring only one cleaning mode and 2 minute timer. I would say that these are the most important things that are getting the job done.
Pros of OralB 1000
Pressure sensors prevents damaging your teeth when you are learning to use power toothbrush
Timer with 30 second intervals allows you allocate equal brushing time for each quadrant of your mouth
Multiple replacement brush options for all needs
2 types of cleaning motions
Pros of Sonicare 5300
Easy-Start function gradually increases brush's power as you get used to it
Easy to chose brush head options
Better suited for travelers with a hard travel case and travel cap for brush head
Which toothbrush I would choose?
While it may look like OralB toothbrush has more features I doubt the actual usefulness of some of these features. It is nice to have many replacement head options but it can be confusing as well. Pressure sensor is great option for first-time power toothbrush owners but I would prefer that pressure sensor that beeps or stops the brushing instead of barely noticeable stopping of pulsations. In my opinion if the prices are equal I would still chose Sonicare Essence.