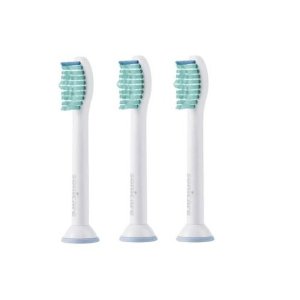 Philips Sonicare ProResults brush heads HX6013 feature new and improved design compared to older brush models. They are made using materials like TPE, PCTA, and nylon bristles.
The ProResults brush heads are easier to use than older replacement brush models. You simply have to attach it to your toothbrush handle and push the brush head until it snaps.
It is recommended that you change your toothbrush head every three months. What you can do to keep track of it is to place the month stickers that are on Philips Sonicare brush heads on your toothbrush charger base.
You will get an idea though as to whether it is time to replace it when the bristles are starting to spread out.
Philips Sonicare ProResults brush heads features
New easy to use design with Push on connector
Decreased chance to get mold and mildew buildups
Indicator bristles let you know when it is time to replace the brush
Provides wider motion range than the Sonicare Elite brush heads
Built using green materials
Philips Sonicare ProResults brush heads HX6013 compatibility
It is important to remember that the new FlexCare Plus handle and ProResults brush heads differ from previous Sonicare e-Series handles and brush heads.
ProResults Compatible models
The ProResults brush heads fit FlexCare, FlexCare Plus, and HealthyWhite models:
Incompatible models
ProResults series brush heads are not compatible with old e-series handles like Elite, Essence, and Xtreme models.
Where to buy ProResults replacement heads
The ProResults brush heads come in packs of three. Brush heads have to be replaced every three months, which means that you can be sure of good oral health for at least nine months with one pack.
It is important to make sure that your buy the brush heads that are compatible with your toothbrush as some may have different design and they will not fit perfectly.
You can buy your Philips Sonicare brush heads in your nearest store. However if it is not available there, you can order yours online.
According to the customers' reports Amazon usually offers the best prices on replacement heads. When I was writing this article I compared prices from Amazon and Walmart, and they were exactly the same. So you should do your own mini-research before placing the order.