UPDATE: the Emmi-Dent 6 toothbrush has been replaced with updated models – Emmi-Dent Metallic Ultrasonic Toothbrush and Emmi-Dent Platinum Oral Waver Ultrasonic Toothbrush
If you are looking for an innovative toothbrush that is just not like every other, you should check out the one and only 100% ultrasonic toothbrush, the Emmi Dent Ultrasonic Toothbrush.
The revolutionary Ultrasonic technology used in EmmiDent toothbrush is guaranteed to make your teeth and gums healthier in a way that delivers guaranteed results to people with special oral hygiene needs.
In the rest of this article, you will be provided with more information on the different features that you should look for in an ultrasonic toothbrush, as well as some of its features and customer reviews to help you decide whether or not you will purchase and use this product.
These things are expected to have you convinced of the superior reliability of this ultrasound toothbrush.
Emmi-dent Silent Care Oral Waver Electric Toothbrush with 100% Ultrasound Technology. Cleans Without Noise, Vibration & Brushing for Zero Abrasion. Ideal for Sensitive Teeth, Plaque Removal & More!CHECK CURRENT PRICE
Why Emmident 100% Ultrasonic Toothbrush
Ultrasonic toothbrushes are gaining popularity because of their use of ultrasonic waves in being able to deliver an effective cleaning capability. With this, you can be assured that your toothbrush has the better ability to remove tartar and whiten your teeth or generally maintain healthier oral hygiene.
How does it work?
The most notable difference between Emmident toothbrushes and regular electric toothbrushes is no need for scrubbing or brushing.
Regular electric toothbrushes spin and/or pulsate at about 30,000 to 60,000 mechanical rotations per minute while mechanically cleaning your teeth.
The Emmident toothbrush creates Ultrasound waves that provide deep cleaning action and heal gums.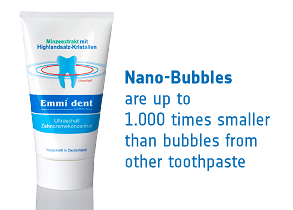 You just keep the toothbrush against your teeth and let it do its job in total silence and without discomfort.
The brush head features a built-in patented Piezo-Chip that delivers as much as 96 million ultrasonic impulses within one minute, ensuring that cleaning is more efficient as it reaches more areas, even deep down.
The toothbrush works best together with Emmi-dent Ultrasonic toothpaste. The nanobubbles in the EmmiDent toothpaste are specially formulated, which makes them more helpful in cleaning your teeth. They are smaller by up to 1000 times compared to regular toothpaste. That makes it possible to reach between teeth and the tiniest crevices and gum pockets that could not be cleaned by any other toothbrush available on the market.
Related reading: Oral B vs Philips Sonicare Electric Toothbrushes
Scientists have discovered that ultrasound penetrates the tissues up to 12mm below the gum line, so the harmful bacteria have nowhere to hide!
As a result, the inflammation, bleeding gums, and periodontitis will be dramatically reduced or removed.
In other words, the ultrasound and nanobubbles created by this toothbrush ensure efficient and effective functioning.
Here is the video that explains how ultrasound cleaning works.
Some of the most important functions of these features include the removal of stains without the need to use peroxide or other chemicals which may be bad for your oral health.
One of the good things about this product can be seen in the brand name itself. Emmi-dent is one of the brands in the market that delivers exceptional performance in ultrasonic cleaning. It has been one of the pioneers of such an innovative approach to oral hygiene.
When all of the essential features of this toothbrush are combined, users can anticipate nothing but the best electric toothbrush performance for superior oral health, especially with its ability to remove plaque, tartar, and other impurities and to whiten your teeth and improve the overall health of your mouth.
Who Can Benefit From EmmiDent Toothbrush?
There are several groups of people who will definitely benefit from no-brushing cleaning provided by EmmiDent:
People who do not like the sound or vibration of the regular electric toothbrush
People with sensitive or inflamed gums and gum diseases like gingivitis who experience pain while brushing with a regular toothbrush
People with thin or damaged tooth enamel who should avoid abrasive toothpaste
Patients with limited motor control of their limbs
Children who hate brushing their teeth. Kids can hold the brush close to their teeth, and they will get clean!
Autistic people
People with braces will benefit from Emmi-dent's ability to kill bacteria under the brackets and wires
Emmident And Braces
If you are looking for the best electric toothbrush for braces, the Emmident Ultrasonic toothbrush is the solution.
If you have used a conventional or electric toothbrush, you know how easy it is to damage the braces and the enamel. That means an unplanned trip to your orthodontist and extra expenses.
Emmident has designed the Emmi-Dent PM2 brush heads with short bristles in the middle row for use with braces and brackets. And remember – the brush head does not move, so it can not damage the braces. The ultrasound penetrates beneath the clasps and kills all bacteria there.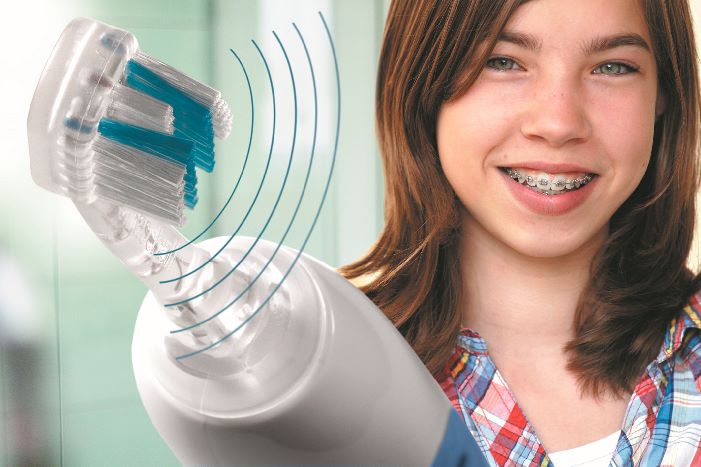 Emmi Dent Metallic vs Platinum Oral Waver
There are two models available – the older Emmi-dent Metallic and the latest Emmi-dent Platinum, also called Emmi-dent Oral Waver.
The Emmi-dent Platinum is the newer model with more features. It has a multi-color and multi-LED display to show charging status, two-color silver and blue design, a new 4-pin replacement head connection system, and a longer-lasting battery.
What Is In The Box?
The Platinum Starter Package includes:
one Emmi-dent Platinum Ultrasound Unit
one Piezo micro-chip Ultrasound Brush Head Attachment
one fresh-flavor Ultrasound Toothpaste with fluoride and no abrasive particles
one Charging Base for 110V with a US power connector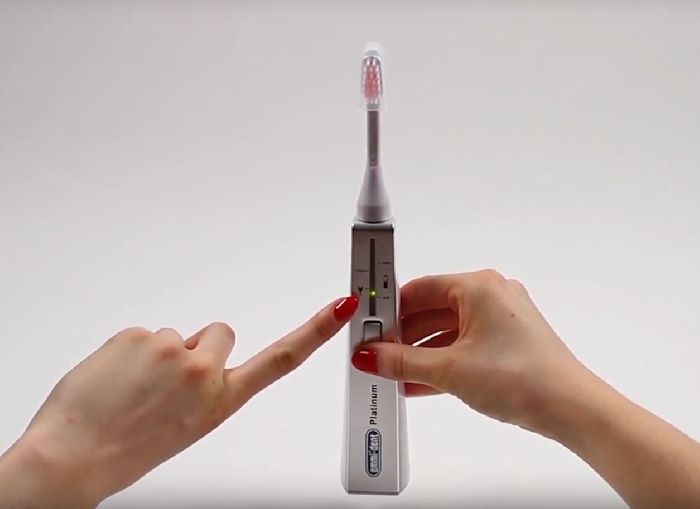 Emmident Toothbrush Features
Brand Name – It is often true that the brand name speaks a lot about a product. If you want a trusted ultrasonic toothbrush, it is crucial that you choose from reputable brands in the market to be assured that the anticipated results will be achieved.
Timer: This is one of the essential features that you should be looking for in an electronic toothbrush. This will ensure you allow enough time to clean your teeth and their different parts, such as the front and back.
Nano-bubbles: Aside from the ultrasound technology, the nanobubbles should also be present in an ultrasonic toothbrush. This makes the brush more effective and efficient in maintaining healthier oral hygiene.
Ultrasonic Chip: Although many toothbrushes are called ultrasonic, not all are equipped with an ultrasonic chip. It is essential to choose a toothbrush equipped with one to be more assured of its high level of functionality.
Ability to Promote Overall Oral Health: It is not enough that your toothbrush is able to remove the stains on your teeth and keep them white. Make sure to choose a brush that keeps the mouth clean, including the gums and cheeks.
Battery life – one battery charge lasts about 1.5 hours of cleaning time or up to 15 days if you use it twice a day for 3 minutes.
Emident Toothbrush User Reviews
It is common for many people who have already used this toothbrush to commend the technology that is embedded in this product. For instance, while other sonic toothbrushes can only deliver 30,000 mechanical rotations within one minute, this specific model can do 96 million oscillations within the same duration.
In their Emmi-Dent ultrasonic toothbrush reviews, many customers have noted how this product can deliver the highest level of effectiveness, unlike in the case of others that rely on pure marketing strategies. Many of its users have remarked that the manufacturers stand true to their claims.
One of our testers, who used the Braun plaque remover for 12 years before trying the Emmi-dent toothbrush, said:
It feels like a professional cleaning every time I brush my teeth, as though I should have a prescription for it. My mouth feels considerably cleaner every time, just like when I leave the dentist.
More so, it is common for this ultrasound toothbrush users to be satisfied with the appliance even if they have implants, veneers, and crowns. None of its users have reported any hazardous side effects that were associated with the use of this model.
In addition, many of the users of this toothbrush did not also forget to take note of the fact that it allows them to have a fresh breath for almost 12 hours, as well as the ability of the toothbrush to deliver the most superior cleaning performance among other innovative oral care products that can be seen in the market today.
Another Emmident toothbrush user says:
My wife and I have been using the Emmi-dent system and noticed whitening results in the first three days, even with coffee and tea stains. Within 12 days, we both noticed a significant improvement in tooth and gum color, as well as the feel of our teeth.
Some users, however, were disappointed with the availability of just one size of the toothpaste tube that comes along with the ultrasonic brush. This means that many were unable to stock for long-term use, and it needed to be replaced after approximately 6 weeks of use.
Emmi Dent Toothpaste
When getting your Emmi Dent ultrasonic toothbrush, you should stock up on the special Nano-bubbles toothpaste. Remember that the Emmi Dent toothpaste is the only one that works with Emmi Dent toothbrushes effectively.
This toothpaste is an essential part of the Emmident teeth cleaning system. This is an essential item to be used with the toothbrush because it ensures its cleaning efficiency and effectiveness.
It has been formulated to emit nanobubbles that are 1000 times smaller than regular toothpaste bubbles.
The ultrasound from the brush head creates a unique imploding action that provides a unique cleaning process in hard-to-reach places. The imploding bubbles destroy the food particles and plaque and break up the membranes of bacteria and germs.
And all this happens without mechanical brushing. That is why people with receding or inflamed gums love this toothbrush.
The Emmi-dent toothpaste does not contain abrasive particles that could damage and weaken the enamel over time.
The toothpaste is available in several formulations:
Emmi-dent Nano Ultrasound Toothpaste (Fresh)
Emmi-dent Nano Ultrasound Toothpaste (Nature-Fluoride Free)
Emmi-dent Ultrasound Toothpaste – Whitening
Emmi-dent Ultrasonic Toothpaste with Nano-Bubbles – Ultrasonic Tooth Cleaner. Cleans with Ultrasound Technology and Nano-Sized Bubbles. 2.5 oz (Fresh, 1 Pack)CHECK CURRENT PRICE
Emmi-Dent Brush Heads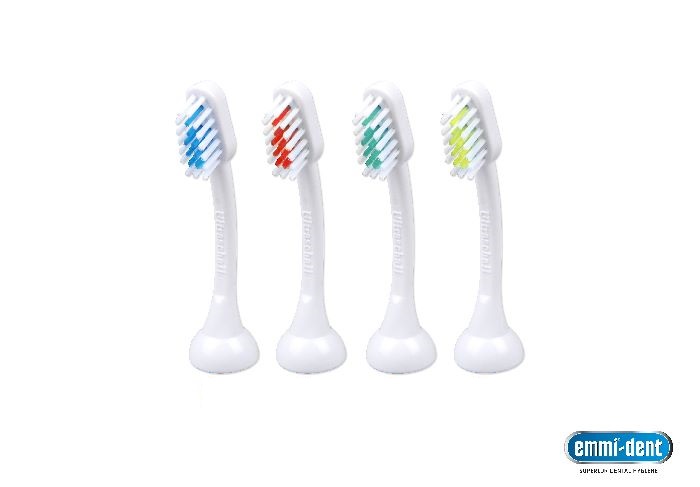 It is common for people who purchase this toothbrush also to buy a 2-pack or 4-pack of replacement brush heads.
Each brush head contains a specially patented ultrasonic microchip. A worn Emmi-dent brush head transmits less ultrasound through its bristles and therefore does a less effective job cleaning your teeth. This is why the brush heads should be replaced after 3 months of use to ensure that they will still deliver superior cleaning.
You should be aware that several Emident toothbrush models are out there, and each one has a different toothbrush head that is not interchangeable.
Here is what you should get if you are looking for a replacement head for your Emmi-Dent ultrasonic toothbrush.
If you have Emmident Original, Emmident Metallic, or an older model like Emmident 6, you should get:
Emmi-Dent E2 or E4 brush heads (E2 is 2-pack and E4 is 4-pack) – these are normal-size brush heads for adults
Emmi-Dent E2 Wave (2-pack) – these are normal-size brush heads for adults with alternating rows of bristles of differing lengths (9 mm and 7.5 mm)
Emmi-Dent K2 or K4 brush heads (K2 is 2-pack and K4 is 4-pack) – these are small brush heads for children
If you have the latest Emmident Platinum toothbrush, these replacement brush heads are compatible with your brush:
Emmi-Dent M2 or M4 brush heads (M2 is 2-pack and M4 is 4-pack) – these are regular-size brush heads for adults
Emmi-Dent M2 Wave (2-pack) – these are regular-size brush heads for adults with alternating rows of bristles of differing lengths (9 mm and 7.5 mm)
Emmi-Dent S2 or S4 brush heads (S2 is 2-pack and S4 is 4-pack) – these are small brush heads for children
Emmi-Dent PM2 (2-pack) – these are regular-size brush heads for adults for those who wear braces or brackets.
It is important to remember that the brush heads for Platinum and older models are NOT interchangeable. They have different pin numbers and placement making them physically non-compatible.
Emmi-dent Ultrasound Bristle-Head for Metallic/Professional (2-PIN)Check Price
Accessories
Emmi-dent offers a selection of accessories and supplies for their ultrasonic toothbrushes.
Emmi-dent Travel Case
The travel case is perfect for the on-the-road. Now you can take your Emmi-dent Ultrasonic Toothbrush with you in this durable, easy-to-carry travel case.
The water-resistant case fits one handpiece, one ultrasonic brush head, and one 75ml tube of Nano-bubbles toothpaste.
Emmi-dent Wall Mount
This space-saving solution for your Emmi-dent toothbrush is specially designed to mount your brush to the wall using two included screws.
Emmi-dent Ultrasonic Annual Supplies
The Emmi-dent Ultrasonic Toothbrush Annual Supplies kit provides you with all the tools you need to keep your teeth and gums healthy for one full year.
The annual kit includes 4 ultrasonic brush heads and 10 tubes of 50ml Nano-bubbles toothpaste.
Emmi-Pet Ultrasonic Toothbrush For Pets
Fun fact – there is an ultrasound toothbrush from Emmi Dent that is designed specifically for pets like cats and dogs – the Emmi Pet ultrasonic toothbrush.
Related reading: Ultraviolet Light UV Toothbrush Sanitizer – Does It Work?
Alternatives
Another ultrasonic toothbrush I have found is Megasonex M8. I am considering comparing Emmi-Dent and Megasonex M8. Say tuned!
Conclusion
The Emmi-dent Ultrasonic toothbrush is a revolutionary technological advancement in the world of oral hygiene. Its ultrasonic technology uses ultrasound to clean teeth effectively and remove plaque without using abrasive bristles. This makes it an ideal toothbrush for those suffering from sensitive teeth, gingivitis, or periodontal disease.
The Emmi-dent Ultrasonic Toothbrush is a great choice for anyone looking for an effective, non-invasive way to keep their teeth clean and healthy.
Resources