Philips has yet again released an innovative product that will give you one of the best mouth cleaning experiences ever.
The Philips Sonicare Airfloss has been designed to give users a simple and effective way to clean deep between the teeth.
New and Improved Philips Sonicare Airfloss Ultra, BlackCheck Price
Philips Sonicare Airfloss Pro vs Ultra
Let's get this one thing out of the way.
If you are wondering what is the difference between Philips Sonicare Airfloss Pro vs Ultra, the answer is sweet and short.
There is no difference.
Philips Sonicare Airfloss Pro and Philips Sonicare Airfloss Ultra is the same product.
When Philips released the updated Airfloss Pro model, the model had some serious quality issues. The issues were so bad, Philips decided to stop selling the Airfloss Pro and launch the 'new and improved' Airfloss Ultra.
If you put Pro and Ultra retail packs side by side you will realize that they are identical. At one point even model part numbers on the bottom of the device were identical.
But one thing you can be certain about – the latest user reviews are a lot more positive, so it looks like Philips has done a good job getting rid of the problems.
These days you can buy both the cheaper original Airfloss and the updated Airfloss Ultra flosser, and it looks like the original model is still selling better.
Philips Sonicare Airfloss Review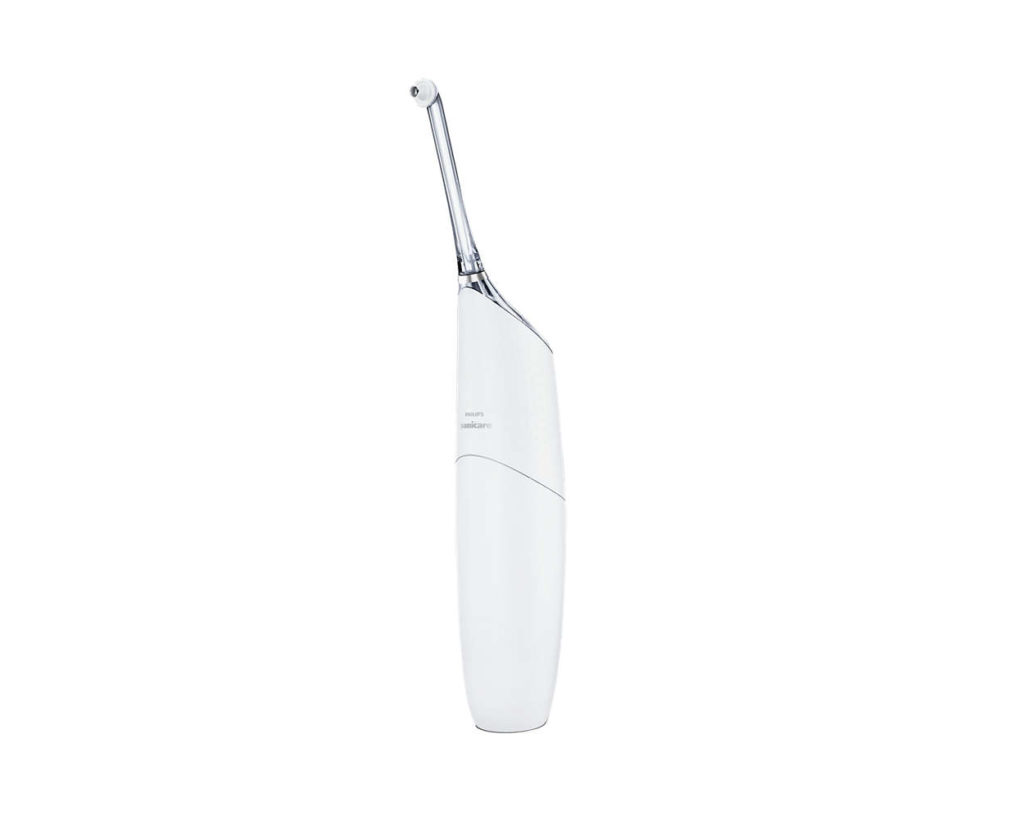 This is one of the best oral irrigator models that can remove up to 99 percent of plaque than a manual toothbrush. The Airfloss can also help significantly improve the condition of the gums in a couple of weeks and it prevents tooth decay as well.
It only takes 60 seconds and a small amount of water for the air flosser to clean the mouth thoroughly. Sonicare Airfloss features a microburst technology that gets rid of plaque as it delivers microdroplets of air and water in between the teeth.
It has a one-button function as well as a guidance tip making it easy to use. The guidance tip allows this flosser to easily find the spaces between the teeth. It also automatically angles the tip horizontally for better cleaning.
The Airfloss has been through various comprehensive clinical testing to ensure that it is effective in cleaning and keeping the mouth healthy. It also adheres to Philips Sonicare's standard of performance. It has been proven to be safe and gentle to use on your teeth, gums, veneers, and implants.
It is advisable to replace the nozzle of your Airfloss every six months so as to prevent having hard water build-up on it. This will also reduce the risk of bacteria accumulating on your nozzle which can lead to health problems if it is ingested. You will be able to experience and notice results in only a month with continuous use of the Airfloss.
What's in the box?
The box contents of the original Airfloss and Airfloss Ultra are slightly different:
Airfloss or Airfloss Ultra handle
Charger base
1 (Airfloss) or 2 (Airfloss Ultra) nozzles
Nozzle holder (only Airfloss Ultra)
Trial-size BreathRx mouthwash (2 fl. oz.) (only Airfloss Ultra)
Frequently Asked Questions
Are nozzles for Philips Airfloss the same for Pro and Ultra?
Yes, the same nozzles are used for Philips Airfloss Pro and Ultra.
What Dentist Has To Say
In this video dental professional describes the benefits of using the Philips oral irrigator.
Here is the transcript of the testimonial.
My name is Sally Goss, and I'm a dental hygienist. I work in private dental practice. What I'm trying to get my patients to do is to change their behavior.
It differs from the other things that are available for us to teach to patients to clean in between the teeth. If I give them something complicated I cannot be surprised when they don't want to use it every day.
My teeth felt beautifully clean after using the AirFloss because it allowed me to get to the very back teeth which are really the hardest ones to get to. I found I got there so easily and my mouth fell really really clean when I used it.
I liked the handle because it fitted really well into my hand. I didn't feel it was flimsy, I felt I got a really good grip. I loved the tip because it was long enough to get to my back teeth without any effort whatsoever.
It couldn't be more simple to use, and anyone can use it, even someone who isn't dextrous can pick up the AirFloss, put it in the area between each tooth, and use it. It is that simple. The minute you pick it up, the minute you switch it on, you know it means business.
How To Use Philips Sonicare AirFloss
Please check out this video and learn how to use your Philips Sonicare AirFloss oral irrigator correctly!
Even when you brush really well, you still only clean about 60 percent of the tooth surface, but forty percent is in between your teeth where the toothbrush can't reach. A regular routine in between your teeth can help prevent decay, gum disease, and stop the little bits of food stuck and debris from stagnating in between the teeth. Clinical studies show that AirFloss will remove 99 percent of the plaque from in between your teeth, and that's up to five times more than a manual toothbrush. Gentle and effective, it can help to improve gum health. Philips AirFloss is an innovative way to clean between your teeth. It is simple, easy, and fun.
Let me show you how.
Charge The Battery
Before you start to use your AirFloss, charge it for a full 24 hours. That should last for about two weeks or for fourteen uses. You won't need to charge it again until the indicator light is flashing. That way the battery will last longer. When you're storing your AirFloss, make sure it is on a flat even surface to avoid it toppling over.
Attache The Nozzle And Fill It Up
Using the AirFloss is really simple. You take the nozzle, and you just click it like this. And then you open the reservoir door and fill it with either tap quarter or some mouthwash. If you are going to use mouthwash, don't use an oil-based one because it would clog the machine. And once you have filled it, it will last about one or two uses. You don't want it more than that, or the water would stagnate.
Once you have filled the reservoir, simply press the on/off button, and then you click here about six times until the water comes out in a spray.
Floss You Teeth
When you use the AirFloss, you simply place it between your teeth, apply some pressure, and then press the button. You then glide along to the next area, apply pressure, and press the button.
You then repeat the action around your whole mouth, and it should take less than a minute.
Tips
Cleaning AirFloss is really easy. You remove the nozzle and run it under the tap. Don't use detergent to clean it or put it in a dishwasher or sanitizer.
You should replace the head every six months, and that really helps prolong the life of your machine.
Sometimes when you start to use the AirFloss, you might notice a little bleeding from between the teeth. This is normal, and it should improve over time. If it doesn't improve or it gets worse than you should go and see a dentist.
How you can tell the AirFloss is working is that the bleeding will get less and stop, and the gums will get pinker and feel firmer.
I hope you found this video helpful and you will enjoy using your Philips AirFloss to help keep your mouth healthy.
Related Articles