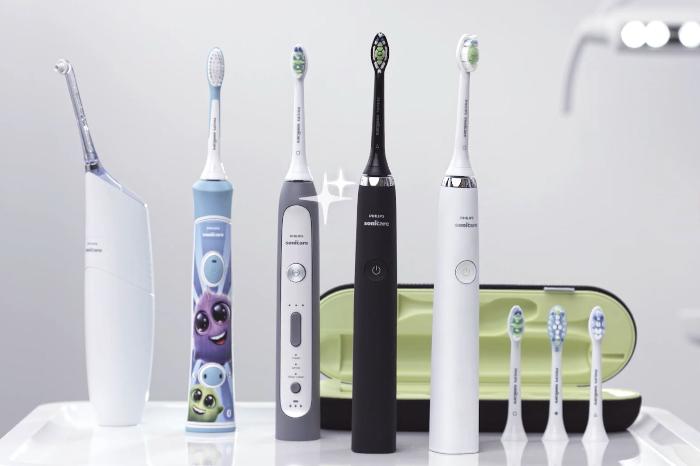 More than 10 Philips Sonicare electric toothbrush models are available for you to buy when writing this article.
Below you will find a short review of each brush in the SoniCare product line:
Initially, it looks like there are many choices, but it is only half-true because a majority of these product lines have only one or two products.
Do you want to know which is the best Sonicare toothbrush?
Please keep reading!
Why Philips Sonicare?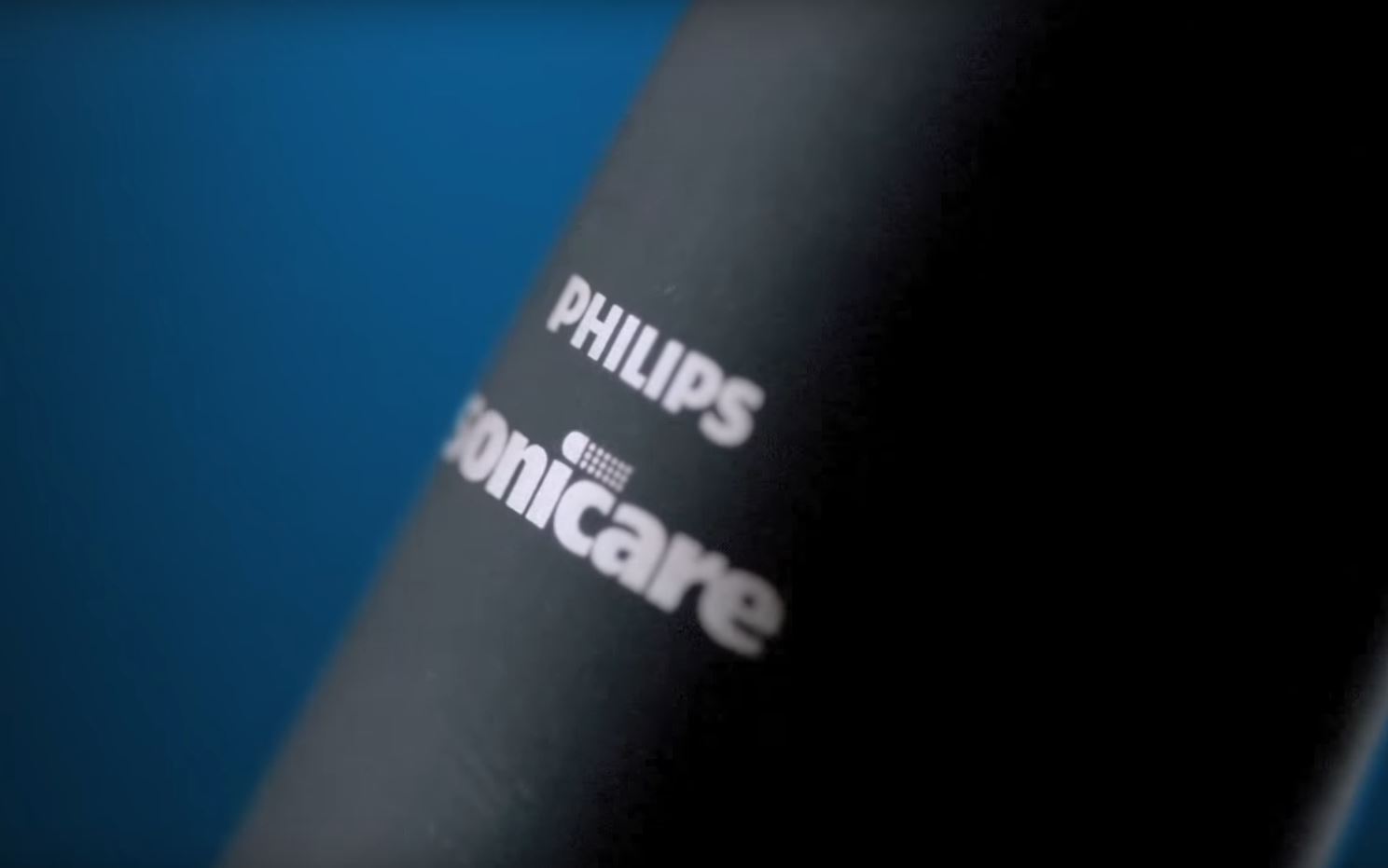 The multiple cleaning modes have been reported as one thing enjoyed by the Philips Sonicare electric toothbrushes users. For instance, many models have Clean mode for thorough brushing, Sensitive mode for sensitive cleaning, and the Massage mode for gum stimulating brushing.
Besides, another thing that has been asserted as one of the main reasons for the satisfaction of Philips's electric toothbrushes is its handle ergonomics. Many of them are equipped with an intelligent design making them easy to hold, even if your hands are wet.
Another important feature of Philips's toothbrushes is the patented Sonic cleaning action, which increases its cleaning efficiency to promote overall mouth health. Because of this innovation, the gap between the teeth and the gum line is cleaned thoroughly, which results in the prevention of the buildup of plaque.
There are also electric toothbrushes from Philips that are made specifically for kids. It is easy to operate so that kids will always be motivated to practice proper oral hygiene. To add, it has brushes and functions that are ideal for the sensitive teeth of your child and their special needs.
Sonicare For Kids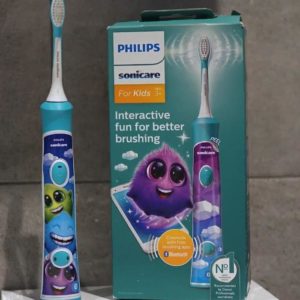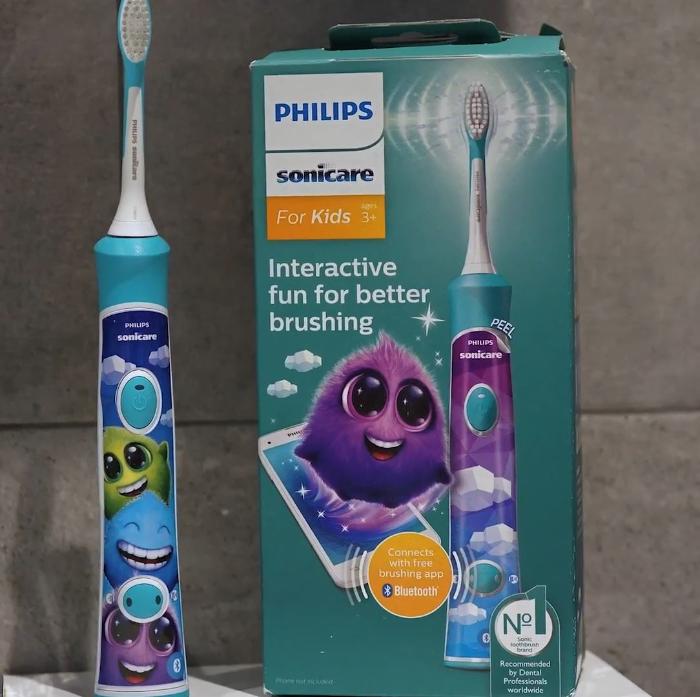 This is the Philips toothbrush model designed for kids aged from 4 to 10.
That's right! There are many benefits your kids can get from using the electric brush!
The latest model of Sonicare For Kids has Bluetooth connectivity and several features that make brushing more fun. Kids toothbrush also has specially designed smaller sized brush heads.
Here is my review of Philips Sonicare for Kids for you to check out.
Specs:
Modes – 2
Speed – up to 31,000 brush movement/min
Battery life – 14 days
Bluetooth – yes
Essence 5600 and DailyClean 1100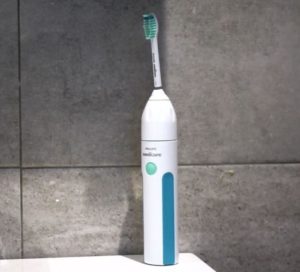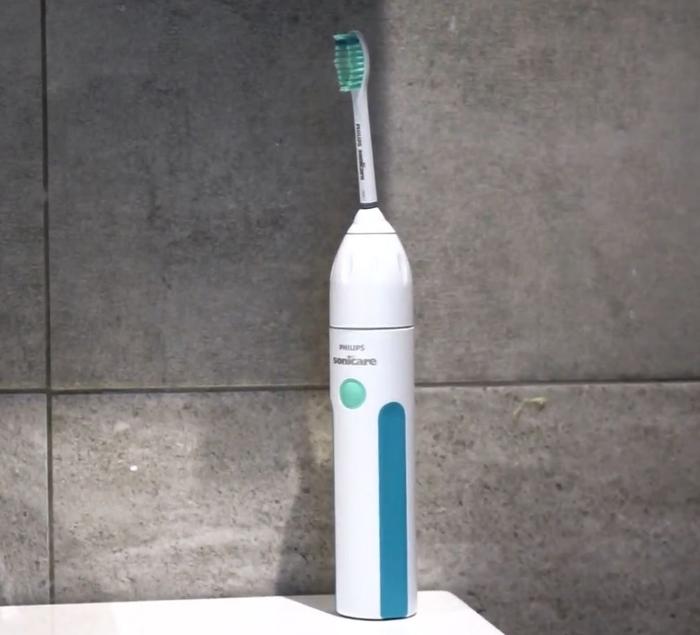 If you have seen the best electric toothbrush list I am updating every month, you probably know that Philips Sonicare Essence 5600 toothbrush has been among Amazon's best-selling toothbrushes for years.
The obsolete 5300 model and current 5600 model are the only remaining models with old E-series replacement brushes.
This summer Philips has introduced the new Sonicare DailyClean 1100 with a similar set of features but using the modern Click-on brush heads.
Specs:
Modes – 1
Speed – up to 31,000 brush movement/min
Battery life – 14 days
Bluetooth – no
Essence+ and DailyClean 2100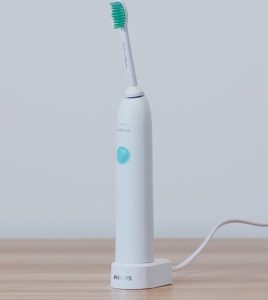 Sonicare Essence+ is an updated version of the Essence 5600.
It also has an old type NiMH battery and a limited set of basic features.
The most significant difference between old Essence 5300/5600 and new Essence+ is the brush heads used. The new model uses current type SnapOn heads.
In an attempt to move away from the Essence model name, this toothbrush has been rebranded as Sonicare DailyClean 2100.
The brush is available in 50 shades of grey. I mean – 3 shades of blue:
Mid Blue HX3211/17
Dark Blue HX3211/33
Light Blue HX3211/02
Specs:
Modes – 1
Speed – up to 31,000 brush movement/min
Battery life – 10 days
Bluetooth – no
2 Series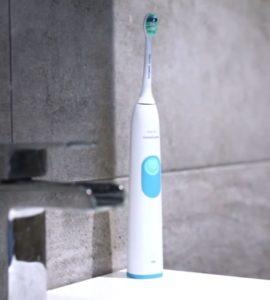 The Philips Sonicare 2 Series Plaque Control toothbrush is an entry-level dental care tool with one brushing mode and no extra accessories.
It has a 2-minute timer but no Quadpacer, so the user has to try to split the brushing time between the upper and lower teeth.
This model is being phased out, and I suggest to check out the new ProtectiveClean 4100 with more advanced features.
8 color options are available:
Black HX6211/07
Blue/White HX6211/07
Coral HX6211/47
Coral/White Coral/White
Deep Blue HX6211/92
Emerald Aqua HX6211/91
Guacamole HX6211/48
Steel Blue HX6211/46
Specs:
Modes – 1
Speed – up to 31,000 brush movement/min
Battery life – 14 days
Bluetooth – no
3 Series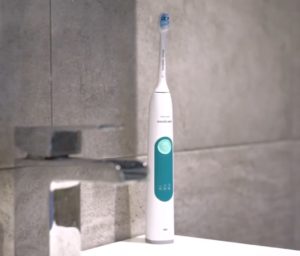 The Philips Sonicare 3 Series Gum Health electric toothbrush is a slightly more advanced variation of the 2 Series model.
It has the same single brushing mode, but it can be dialed up and down in 3 intensity levels (some say – speeds).
The 3 Series brush features newer Li-Ion batteries that can be charged faster and provide longer 3-week battery life.
This brush is available in 2 colors:
White HX6631/24
White/Persian Green HX6631/02
Specs:
Modes – 1 (3 intensities)
Speed – up to 31,000 brush movement/min
Battery life – 21 days
Bluetooth – no
EasyClean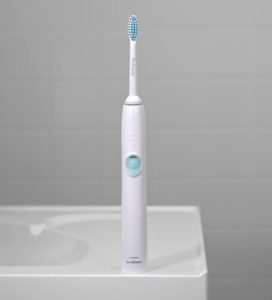 Philips Sonicare EasyClean was launched in Summer 2011. It looked like the manufacturer designed this brush as a replacement for Sonicare Essence.
Similar features with some extra bells and whistles, similar price range. But EasyClean is almost obsolete, but Essence is still going strong.
Specs:
Modes – 1 (3 intensities)
Speed – up to 31,000 brush movement/min
Battery life – 14 days
Bluetooth – no
HealthyWhite and HealthyWhite+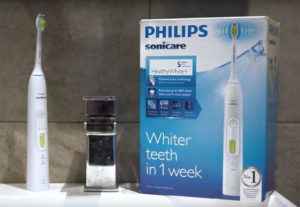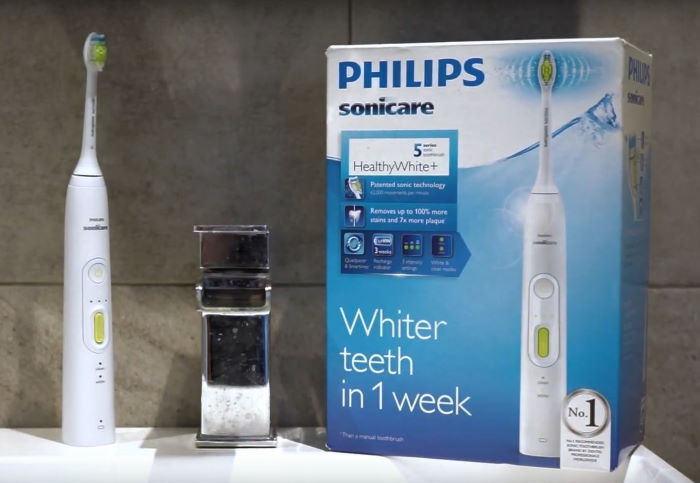 At one point, you might get confused because there were several HealthyWhite toothbrushes available in stores – HealthyWhite HX6732, HealthyWhite HX6711, regular HealthyWhite, and even HealthyWhite Premium edition.
Now, this model is being phased out. There is only one model available – the HealthyWhite+ 5 Series.
You can learn more about HealthyWhite toothbrush by reading my Philips Sonicare HealthyWhite+ review.
Specs:
Modes – 2 (3 intensities)
Battery life – 21 days
Speed – up to 62,000 brush movement/min
Bluetooth – no
FlexCare Platinum and Platinum Connected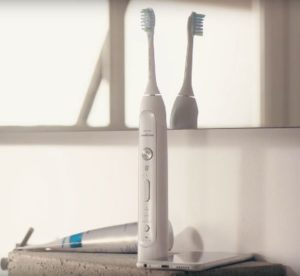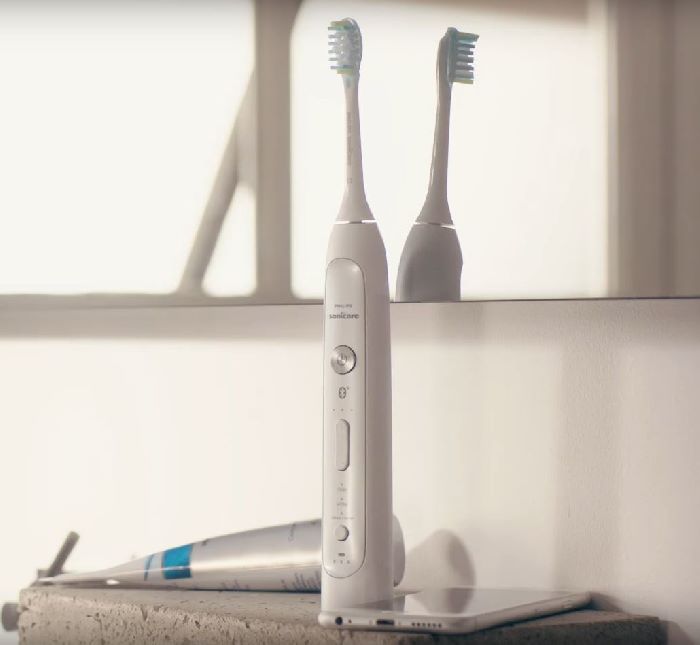 Like the HeathyWhite series, the Sonicare Flexcare was an extensive model line with models like Flexcare, Flexcare Plus, and Flexcare Whitening Edition.
Then the Sonicare DiamondClean product line took over the higher end of the Sonicare model line. There are only 2 variations of the Flexcare Platinum model out there in 2020 – regular and Connected.
Here is the Philips Sonicare Flexcare Platinum review!
Specs:
Modes – 3 (3 intensities)
Battery life – 14 days
Speed – up to 62,000 brush movement/min
Bluetooth – yes (Connected model)
ProtectiveClean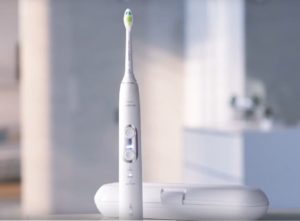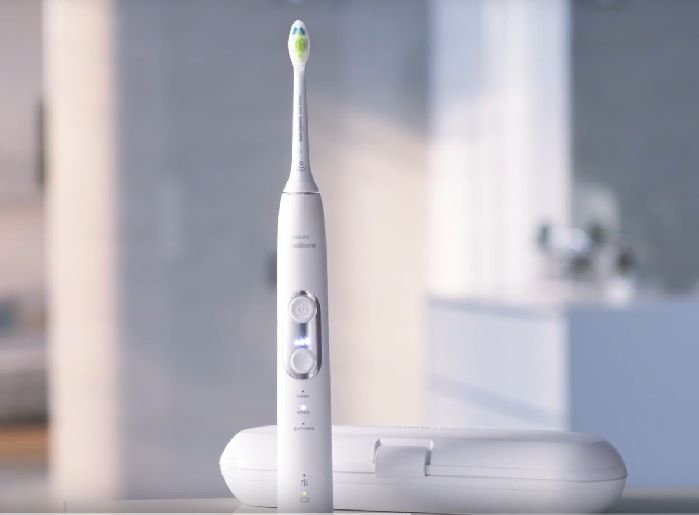 The Sonicare ProtectiveClean is one of the recently launched model lines.
There are 3 models in the product line, starting with the affordable ProtectiveClean 4100 with 1 brushing mode and going up to the ProtectiveClean 6500 with 3 modes and 3 intensities, BrushSync brush head technology, and bundled charging travel case.
You will not find Bluetooth connectivity in any of the ProtectiveClean models.
Here is my comparison of Philips Sonicare ProtectiveClean models.
Specs:
Modes – up to 3 modes and 3 intensities depending on model
Battery life – 14 days
Speed – up to 62,000 brush movement/min
Bluetooth – no
ExpertClean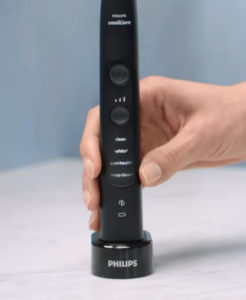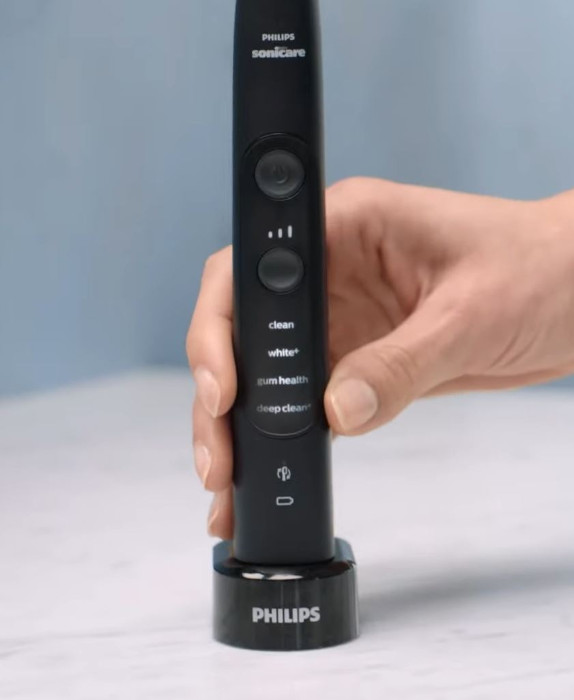 Philips Sonicare ExpertClean is the latest sonicare model.
There are two models in the product line, the ExpertClean 7500 and ExpertClean 7300.
The cheaper ExpertClean 7300 has a limited set of features compared to the 7500 model and is available in select markets where demand for more affordable models is higher.
The ExpertClean has Bluetooth connectivity, multiple brushing modes, and can sync with the brush heads using BrushSync technology.
Specs:
Modes – 4 (3 intensities)
Battery life – 14 days
Bluetooth – Yes
DiamondClean Classic & Smart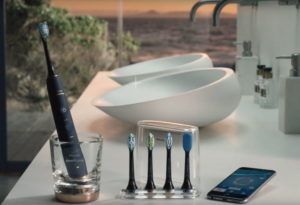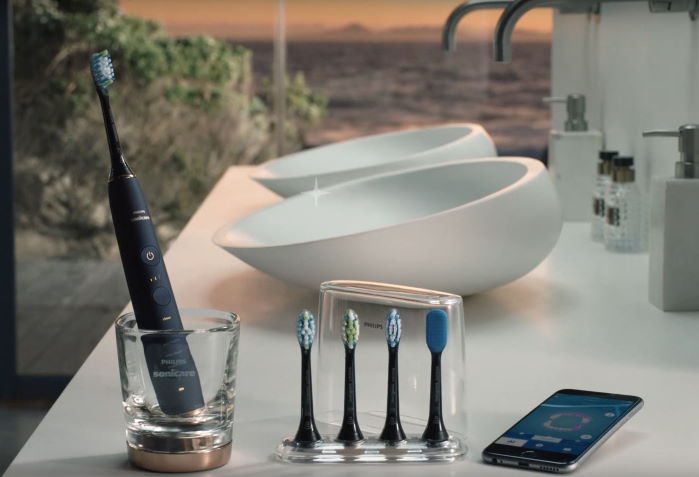 Philips Sonicare DiamondClean is currently top of a line toothbrush model.
You can choose between DiamondClean Classic and several Smart DiamondClean models – 9300, 9500, 9700, and 9750.
What sets DiamondClean apart is the unique charging glass you will not find in any other Sonicare model.
Learn more about it in the Sonicare DiamondClean review.
Modes – 3-5 (1-3 intensities)
Battery life – 14 days
Speed – up to 62,000 brush movement/min
Bluetooth – Yes (Smart models)
Obsolete Models
A couple of important notes about the old Philips electric toothbrush models:
Elite is an old model. It is still available but only as a double pack of 2 toothbrushes.
Xtreme and PowerUp are battery-powered brushes, which means they are not rechargeable.
FlexCare
Sonicare Powerup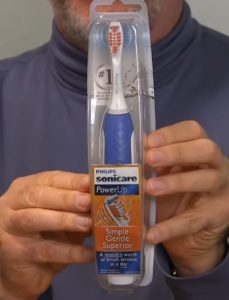 The Philips Sonicare Powerup HX3631/06 is the only model using rechargeable batteries you can replace yourself.
It is worth mentioning that this model uses a unique brush head HX3012/66 that is currently carried by a few retailers.
The brush itself is cheap, but you should stock up on replacement brushes.
FlexCare and FlexCare Plus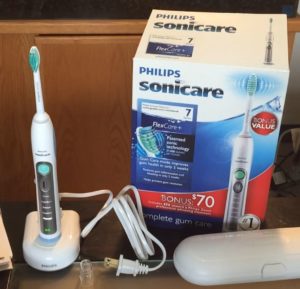 Before the Sonicare Diamondclean was launched, the Philips Sonicare FlexCare Plus was the most feature-rich toothbrush in the manufacturer's portfolio.
Now the FlexCare and FlexCare+ models have been discontinued.
If you can not decide if you need a FlexCare Plus or DiamondClean, read my DiamondClean vs FlexCare Plus comparison.
Philips Sonicare Toothbrush Comparison Table
Model
Brushing Modes
Battery Type
Smartimer
Quadpacer
Brush Movements Per Minute*
Bluetooth
Brush-Sync
Color Options
Travel case
Included
brush heads
Sonicare For Kids
2
Li-Ion
Yes
Yes
62,000
Yes
No
2
No
1
Essence 5600
1
NiMH
Yes
No
31,000
No
No
2
Yes
1
DailyClean 1100
1
NiMH
Yes
Yes
31,000
No
No
1
No
1
Essence+
1
NiMH
Yes
Yes
31,000
No
No
3
No
1
DailyClean 2100
1
NiMH
Yes
Yes
31,000
No
No
1
No
1
2 Series
1
NiMH
Yes
No
31,000
No
No
8
No
1
3 Series
1 with 3 intensities
Li-Ion
Yes
Yes
31,000
No
No
2
Yes
1
EasyClean
1
Li-Ion
Yes
Yes
31,000
No
No
1
Yes
1
HealthyWhite+ 5 Series
2 with 3 intensities
Li-Ion
Yes
Yes
62,000
No
No
1
Yes
1
FlexCare Platinum
3 with 3 intensities
Li-Ion
Yes
Yes
62,000
No
No
1
Yes
1
FlexCare Platinum Connected
3 with 3 intensities
Li-Ion
Yes
Yes
62,000
Yes
No
1
Yes
1
ProtectiveClean 4100
1
Li-Ion
Yes
Yes
62,000
No
(Yes)
3
No
1
ProtectiveClean 5100
3
Li-Ion
Yes
Yes
62,000
No
(Yes)
2
Yes
1
ProtectiveClean 5300
3
Li-Ion
Yes
Yes
62,000
No
(Yes)
2
Yes
3
ProtectiveClean 6100
3 with 3 intensities
Li-Ion
Yes
Yes
62,000
No
Yes
4
Yes
1
ProtectiveClean 6500
3 with 3 intensities
Li-Ion
Yes
Yes
62,000
No
Yes
5
Yes
2
ExpertClean 7300
3 with 3 intensities
Li-Ion
Yes
Yes
62,000
Yes
Yes
1
Yes
1
ExpertClean 7500
4 with 3 intensities
Li-Ion
Yes
Yes
62,000
Yes
Yes
2
Yes
2
DiamondClean Classic
5
Li-Ion
Yes
Yes
62,000
No
No
3
Yes
1
DiamondClean 9300
4 with 3 intensities
Li-Ion
Yes
Yes
62,000
Yes
Yes
5
Yes
3
DiamondClean 9500
5 with 3 intensities
Li-Ion
Yes
Yes
62,000
Yes
Yes
5
Yes
4
DiamondClean 9700
5 with 3 intensities
Li-Ion
Yes
Yes
62,000
Yes
Yes
2
Yes
8
DiamondClean 9750
5 with 3 intensities
Li-Ion
Yes
Yes
62,000
Yes
Yes
2
Yes
4
Philips Sonicare Technologies
Here is a list of Philips Sonicare technologies that are built into the current toothbrush lineup.
Advanced Sonic Technology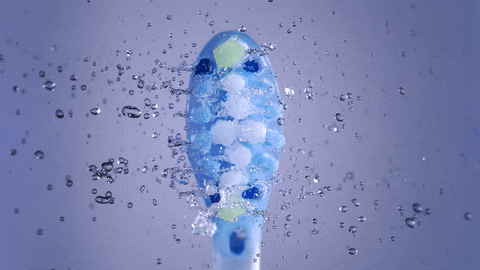 Philips Sonicare electric toothbrush cleans your teeth in a way a manual toothbrush cannot keep up with. The Sonicare patented sonic technology uses high-frequency brush movement and amplitude to create a unique brushing action.
The toothbrush bristle tip has a velocity of 31,000 strokes per minute, which results in thorough disruption and removal of plaque and biofilm.
The brush sweeps back and forth and allows you to clean even hard-to-reach areas in the back of your mouth. The dynamic cleaning action forces the mixture of toothpaste and water deep into areas between the teeth and along the gum line. The liquid is directed around and between teeth and along the gum line where plaque and bacteria flourish.
31,000 vs 62,000
When you check out the specifications of different Sonicare toothbrushes, you will notice that some models provide up to 31,000 brush strokes per minute. Other models, especially newer models, provide up to 62,000 brush movements per minute.
Are the new models twice more powerful?
The answer is no. 31,000 brush strokes are exactly the same as 62,000 brush movements per minute – search stroke consists of two movements, up and down.
Pressure Sensor
The function of the pressure sensor is to prevent you from brushing too hard and damaging your teeth.
The pressure sensor is built in more advanced Sonicare toothbrushes – the latest Flexcare Platinum, ProtectiveClean, ExpertClean, and DiamondClean models.
The Sonicare pressure sensor works by providing you feedback to reduce the excessive pressure on your teeth. How does the feedback work? When you are pressing too strong, the brush will change the speed of vibration, and the brushing will feel different.
If you use your Philips toothbrush with the Sonicare app, the app will also warn you about the excessive brushing pressure.
When you get the new Sonicare unit, the pressure sensor is already activated, but it is possible to deactivate it if you do not think this feature is useful.
Location Sensor
When using the smart Bluetooth connected models and the smartphone app, the app tracks the brush location in your mouth and makes sure you spend equal time brushing different parts of your mouth.
Then the application will let you know if you are neglecting any location.
Scrubbing Sensor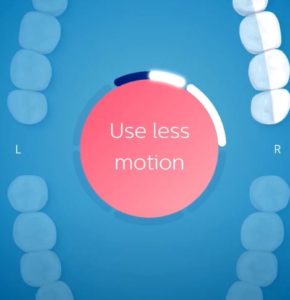 When you use your Sonicare toothbrush, you should let the brush do its job instead of scrubbing your teeth like you used to with the manual toothbrush.
Several app-connected models have the Scrubbing Sensor feature that reminds you to use less motion while brushing.
Smartimer
The Smartimer is a brushing timer that starts a countdown when you power on your toothbrush and switches it off when the two minutes of brushing time have elapsed.
The more advanced models have modes that last 2.5 or even 3 minutes, but the Smartimer works the same way.
QuadPacer and BrushPacer
The Pacer feature is an interval timer that informs you when it is time to move on the next section of your teeth. When it is time, the brush changes its vibration for a split second ('pauses') and then goes on.
The majority of Sonicare models have QuadPacer that splits the brushing time into 4 equal parts. That way, you will spend 30 seconds on each quadrant of your mouth if you have selected a 2-minute brushing mode.
There are a few newer models with BrushPacer that splits brushing time into 6 parts. Using this feature, you will spend 20 seconds on each of the 6 parts of your mouth. This can become a bit overwhelming, but the good news is that models with BrushPacer also have a smartphone app that makes things easier to track.
Do all Sonicare models have the interval timer? No, the cheapest Essence and Series 2 models do not have the Quadpacer feature.
Brushing Modes
Philips Sonicare toothbrushes are equipped with up to 5 different brushing modes to serve all your dental care needs. As a rule, the cheaper models have only one or two modes, but more expensive units will offer a selection of 4 or even 5 modes and several brushing intensities (explained right below).
Now let's take a look at the modes.
Clean mode is built in all and every Sonicare model. It is a 2-minute mode that will provide a thorough and complete cleaning. If this is the mode of your choice, it will work best with C series brush heads. The manufacturer recommends a C2 Optimal Plaque Control brush head.
White mode provides extra 30 seconds of brushing time  (total time 2 minutes 30 seconds) that will let you achieve extra clean and polished front teeth. If this is your focus, you should use a W2 Optimal White brush head.
White mode+ is a bit extended White mode and offers extra 40 seconds for cleaning front teeth (2 minutes and 40 seconds of brushing time).
Gum care mode adds extra 60 seconds (total time 3 minutes) to massage and stimulate your gums if improving circulation is your goal. The G2 Optimal Gum care brush head will do it best.
Gum Health mode is similar to Gum care mode but with an additional 80 seconds for massaging your gums.
Sensitive mode is an extra gentle two-minute mode for brushing sensitive teeth and gums with lower vibration frequency. This mode is built in older models that do not have the brushing intensity selection option. Philips Sonicare provides Sensitive replacement heads that will make brushing even more comfortable.
Deep Clean mode is another 3-minute mode that alternates cleaning and massaging action to achieve an exceptionally clean outcome.
Deep Clean+ mode is similar to Deep Clean mode but lasts for full 3 minutes or only 2 minutes if the toothbrush is connected to the app.
Polish mode (not related to Poland in any way) is a quick 1-minute mode you can use for extra cleaning session of your front teeth.
Tongue Care mode works with Tongue Care brush head and is designed for cleaning your tongue for 20 seconds.
Why the similar mode names with and without '+'? I am sure it is just a marketing play to add new and improved Plus modes to the newer Sonicare models.
Brushing Intensities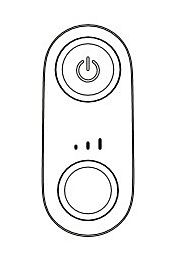 Several toothbrush models let you select the most comfortable brushing intensity from 3 available intensity levels – Low, Medium, and High.
Usually, the recommended intensity that is switched on automatically is High intensity. If it is too much for you, you can select Medium or Low intensity to make your brushing experience more comfortable.
It is very likely that after repeatedly using the toothbrush in Low or Medium intensity mode, you will be able to tolerate brushing with a higher intensity level.
Bluetooth Connection
Select advanced Philips Sonicare toothbrush models use the Bluetooth connection to transfer your brushing data to the Sonicare smartphone app.
Which models have the Bluetooth feature? The Sonicare ExpertClean, Sonicare DiamondClean Smart models, and the Sonicare For Kids Connected model.
Sonicare App
Sonicare App (available for Android and Apple smartphones) provides you feedback about your oral care habits and offers interactive features to improve your brushing routine.
Each Sonicare model comes with a bit different App version, but you can expect these features regardless of version:
your brushing progress report
guide to improving your brushing habits
excessive pressure and scrubbing alerts
highlights of any trouble zones in a 3D mouth map
reminders to pay more attention to trouble areas
your brushing historical data
your oral health goals and personalized recommendations
BrushSync Brush Head Recognition and Mode Pairing
When you attach BrushSync compatible replacement head to the toothbrush handle with BrushSync Mode Pairing feature, the toothbrush will automatically switch to the mode that works best with that brush head:
C3 Premium Plaque Control – Clean mode
W3 Premium White – White or White+ mode
G3 Premium Gum Care – Gum Health or Gum Care mode
Or you can manually select another brushing mode if it better fits your needs.
BrushSync Brush Head Replacement Reminder
Whether you are using a manual toothbrush or an electric one, manufacturers and dentists keep reminding you that you have to change the brush (or brush head) every 3 months. The bristles wear out, bacteria and debris accumulate on the brush head, and your toothbrush does not work as well as it should.
I am one of these obsessive people who have set up a recurring event in my to-do app (I use Todoist) that reminds me to replace my Philips Sonicare brush head every 3 months.
The latest Philips Sonicare smart toothbrushes will do this for you. No, they will not add a reminder in your calendar (hey, Philips people! Wouldnt it be a great new feature?). The toothbrush will keep an eye on the total brushing time and the pressure you apply and decide if the brush head is still good. When it is time for replacement, the brush will let you know by blinking the amber LED located in the lower part of the toothbrush handle.
Which toothbrush models have this feature? The BrushSync brush head replacement reminder is built-in Philips Sonicare ProtectiveClean, ExpertClean, and DiamondClean models.
You also have to use a BrushSync compatible brush head for this feature to work. C2, C3, G2, G3, W, W2, and W3 are a few compatible brush heads.
Long Life Li-Ion Battery
Less and less Sonicare models have NiMH batteries as Philips is switching to Lithium-Ion battery technology.
When I update this review at the end of 2020, only the cheapest Essence and DailyClean models are coming with the NiMH batteries. All other models have new, more powerful Li-Ion power elements.
What are the pros and cons of Li-Ion batteries? Let's start with the only disadvantage I could figure out – they are more expensive.
What about the advantages in comparison to NiMH technology? The Lithium-Ion battery has several advantages, including:
faster charging (up to 24 hours vs up to 48 hours)
longer battery life (up to 3 weeks vs up to 2 weeks)
lighter weight and smaller size
Charging Glass
The charging glass accessory is unique to the Philips Sonicare DiamondClean Classic and Smart series toothbrushes.
This charging solution consists of a water glass that sits on top of a wireless charger puck. You can use the glass for rinsing your teeth after brushing and then place your DiamondClean toothbrush in the glass, where it will get recharged before the next brushing session.
Travel Case
Philips Sonicare toothbrushes come with several types of Sonicare travel cases:
soft case (came with cheap Sonicare Essence 5600)
regular travel case
deluxe travel case
charging travel case
The most prominent feature of the charging case that often comes with more expensive DiamondClean and ExpertClean models is…you guessed it – the charging feature. If you connect the charging case to the wall outlet or computer (using the supplied USB cable), the toothbrush will get recharged inside the case.
To make sure you will get the case with your toothbrush, you should carefully check the product page before placing the order if that is something you care about. There are differences even between different models of the same series, so you should make sure you get the one with the bundled case.
Can you buy the travel case separately? Yes, the toothbrush travel cases are sold separately, and you can choose between different brands and features.
EasyStart Mode
EasyStart mode is designed for people new to the Philips Sonicare toothbrushes.
When you start using your Sonicare brush after purchasing, it will initially use only a fraction of its power and gradually increase the power output over the first 14 brushing sessions.
This way, you will have a chance to get used to the sensations of using an electric toothbrush that can be quite overwhelming.
UV Sanitizers
Did you know that bacteria and viruses can build up on your toothbrush if you cannot dry it completely? When you flush the toilet, your toothbrush can also catch some of the bacteria, particularly when exposed to air.
These are the reasons why it would be great to have a device that could help your toothbrush get rid of these impurities.
That is why Philips is bundling some of its models with UV Sanitizer – a device that uses advanced UV technology to sanitize your brush head and eliminate up to 99% of bacteria and viruses, including E Coli, S. Mutans, and Herpes Simplex.
With a simple push of a button, the toothbrush will go through a 10-minute cycle to dry the brush head down to the bristles and make sure that it makes all bacteria ineffective.
According to Philips, the UV bulb lasts about 1800 hours, which means it should be changed once in 2-3 years. The bulb is available for order on the Philips website and on Amazon.
Warranty
A two-year warranty covers Philips Sonicare toothbrushes.
According to the user manual supplied with the toothbrush, "Philips warrants its products for two years after the date of purchase. Defects due to faulty materials and workmanship will be repaired or replaced at Philips' expense provided that convincing proof of purchase in the qualifying period is provided."
The warranty does not cover normal wear and tear, damage caused by misuse and neglect, brush heads, and damage caused by the use of unauthorized replacement parts (including brush heads).
Frequently Asked Questions
Which is Philips Sonicare newest model?
Philips Sonicare ExpertClean 7500 is the latest Philips toothbrush.
Is Philips Sonicare safe to use on braces?
Yes, all Philips Sonicare toothbrushes are safe to use on braces.
Is Philips Sonicare safe to use on dental restorations?
Yes, all Philips Sonicare toothbrushes are safe to use on dental restorations like veneers, crowns, and fillings.
Can you take a Philips Sonicare electric toothbrush in carry-on luggage?
Yes, according to the TSA Twitter account, you can pack your electric toothbrush in your carry-on bag.
Absolutely, electric toothbrushes are good to go in carry-on bags. Safe travels!

— AskTSA (@AskTSA) April 1, 2018
Customer Support
Visit your local Philip Sonicare website to find more information about products, user manuals, and documentation, check out answers to Frequently asked questions, and more!
United States –  https://www.usa.philips.com/c-m-pe/electric-toothbrushes
Australia  – https://www.philips.com.au/c-m-pe/electric-toothbrushes