There are more than 10 Philips Sonicare electric toothbrush models available for you to buy at the moment of writing this article.
Below you will find a short review of each brush in the SoniCare product line:
Initially, it seems that there are lots of choices, but it is only half-true because a majority of these product lines have only one or two products.
Philips Sonicare Toothbrush Comparison Table
| Model | Color Options | Brushing Modes | Rechargeable | Battery Type | Smartimer | Quadpacer | Travel case | Charger | Included brush heads | Brush Strokes Per Minute | Other |
| --- | --- | --- | --- | --- | --- | --- | --- | --- | --- | --- | --- |
| Essence+ | 3 | 1 - Clean | Yes | NiMh | Yes | No | No | Charger base | 1 - SimplyClean | 31,000 | |
| 2 Series Plaque Control | 8 | 1 - Clean | Yes | NiMh | Yes | No | No | Charger base | 1 - SimplyClean | 31,000 | |
| 3 Series Gum Health | 2 | 1 - Clean with 3 intensity levels | Yes | Li-Ion | Yes | Yes | Yes | Travel Charger | 1 - ProResults | 62,000 | |
| | | | | | | | | | | | |
| | | | | | | | | | | | |
| | | | | | | | | | | | |
Sonicare For Kids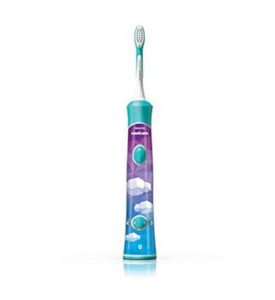 This is the Philips toothbrush model designed for kids aged from 4 to 10.
That's right! There are many benefits your kids can get from using the electric brush!
The Sonicare For Kids HX6321/02 has Bluetooth connectivity and several features that make brushing more fun. Kids toothbrush also has specially designed smaller sized brush heads.
Here is a review about the Sonicare for Kids for you to check out.
Powerup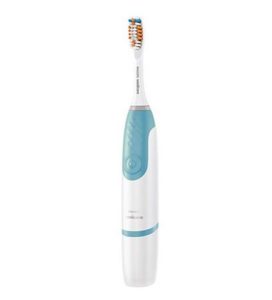 The Philips Sonicare Powerup HX3631/06 is the only model using rechargeable batteries you can replace yourself.
It is worth mentioning that this model uses unique brush head HX3012/66 which currently is carried by a few retailers.
The brush itself is cheap, but you should stock up on replacement brushes.
Essence 5600 and Essence+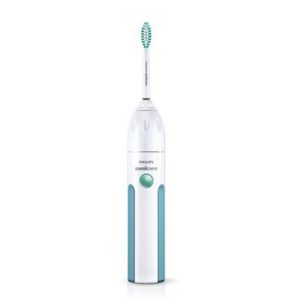 If you have seen the best electric toothbrush list, I am compiling every month you probably know that Philips Sonicare Essence 5600 toothbrush has been among the Amazon's best-selling toothbrushes for years.
The obsolete 5300 model and current 5600 model are the only remaining models with old E-series replacement brushes.
Essence+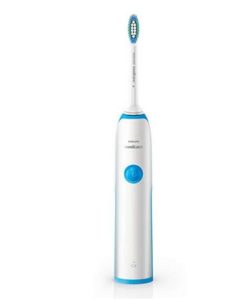 Sonicare Essence+ is very similar to the Essence 5600.
It also has an old type NiMH battery and very basic features.
The most significant difference between old Essence 5300/5600 and new Essence+ is the brush heads used. The new model uses current type SnapOn heads.
The brush is available in 50 shades of grey. I mean – 3 shades of blue:
Mid Blue HX3211/17
Dark Blue HX3211/33
Light Blue HX3211/02
2 Series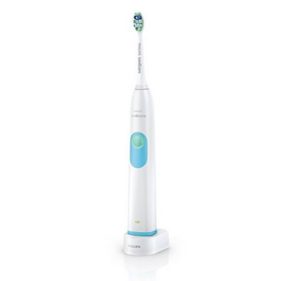 The Philips Sonicare 2 Series Plaque Control toothbrush is an entry-level dental care tool with one brushing mode and no extra accessories.
It has a 2-minute timer but no Quadpacer, so the user has to try to split the brushing time between the upper and lower teeth.
8 color options are available:
Black HX6211/07
Blue/White HX6211/07
Coral HX6211/47
Coral/White Coral/White
Deep Blue HX6211/92
Emerald Aqua HX6211/91
Guacamole HX6211/48
Steel Blue HX6211/46
3 Series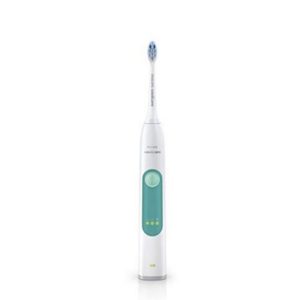 The Philips Sonicare 3 Series Gum Health electric toothbrush is a slightly more advanced variation of 2 Series model.
It has the same single brushing mode, but it can be dialed up and down in 3 levels (some say – speeds).
The 3 Series brush features newer Li-Ion batteries that can be charged faster and provide longer 3-week battery life.
This brush is available in 2 colors:
White HX6631/24
White/Persian Green HX6631/02
EasyClean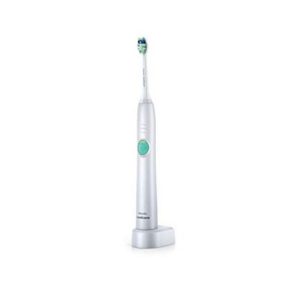 Philips Sonicare EasyClean was launched in Summer 2011. It looked like the manufacturer designed this brush as a replacement for Sonicare Essence.
Similar features with some extra bells and whistles, similar price range. But EasyClean is almost obsolete, but Essence is still going strong.
HealthyWhite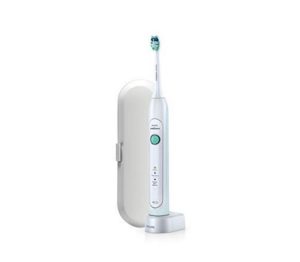 You can learn more about HealthyWhite toothbrush by reading my Philips Sonicare HealthyWhite+ review.
You might get confused because there are at several HealthyWhite toothbrushes available in stores – HealthyWhite HX6732, HealthyWhite HX6711, and HealthyWhite+.
In my review, I also analyze the differences between HealthyWhite HX6732 and HealthyWhite HX6711 HERE and about regular HealthyWhite vs HealthyWhite Premium Edition.
HealthyWhite+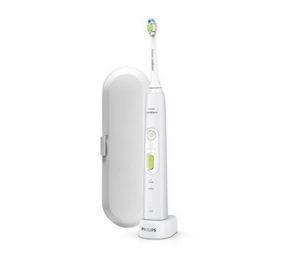 Coming soon!
FlexCare Plus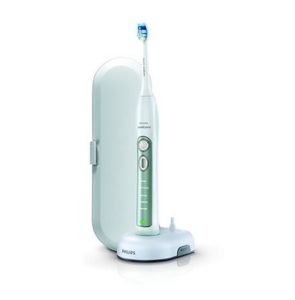 Philips Sonicare FlexCare Plus is the most feature-rich toothbrush in the manufacturer's portfolio. You can read about its features HERE.
If you can not decide if you need a FlexCare Plus or DiamondClean, read my comparison of DiamondClean vs FlexCare Plus.
FlexCare Platinum Non-Connected | Connected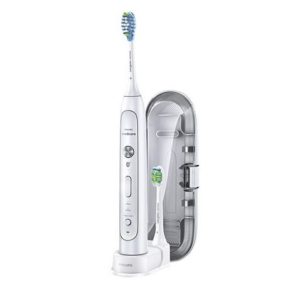 Here is the Philips Sonicare Platinum review!
DiamondClean Classic & Smart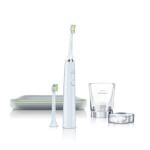 Philips Sonicare DiamondClean is currently top of the line toothbrush. Learn more about it in the Sonicare DiamondClean review.
ProtectiveClean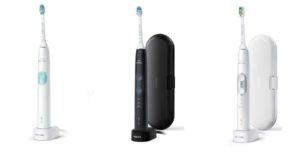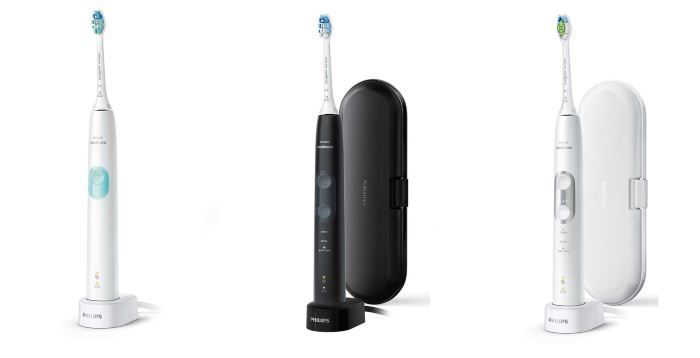 Here is my comparison of Philips Sonicare ProtectiveClean models.
ExpertClean
Philips Sonicare ExpertClean is the latest model not yet available for purchase.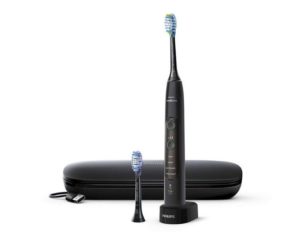 Obsolete Models
A couple of important notes about the old Philips electric toothbrush models:
Elite is an old model. It is still available but only as a double pack of 2 toothbrushes
Xtreme and PowerUp are battery-powered brushes which means they are not rechargeable
FlexCare
Philips Technologies
Dynamic Fluid Cleaning Action
Philips Sonicare toothbrushes are famous because of the Dynamic Fluid Cleaning action.
Here is a video that explains this feature in detail.
Frequently Asked Questions
Which is Philips Sonicare newest model?
Philips Sonicare ExpertClean 7500 is the latest Philips toothbrush.
Customer Support
Visit your local Philip Sonicare website to find more information about products, user manuals, and documentation, check out answers to Frequently asked questions, and more!
United States –  https://www.usa.philips.com/c-m-pe/electric-toothbrushes
Australia  – https://www.philips.com.au/c-m-pe/electric-toothbrushes