A dentist appointment is one of the most expensive healthcare appointments out there, and a single trip to the dentist can cost a lot.
Proper brushing twice a day is recommended starting from childhood. But it can still land you in the dentist's chair with cavities, plaque, gum inflammation, or other problem because regular brushing does not do enough for your teeth, gums, and overall dental health.
What everybody needs is a modern electric toothbrush like Oral B Pro 7000 Black. A lot of people are skeptical about electric toothbrushes, but that is until they start using them.
What an electric toothbrush does is that it provides you the cleaning similar to the professional but available at home whenever you want. The results are healthy pink gums and white teeth that you can flaunt every day without having to dish out thousands at the dentist's office.
If you keep reading my Oral B 7000 review, you will learn about the features and benefits of this rechargeable toothbrush and how it compares with other Oral B toothbrushes from Braun.
Important! At the moment of updating this review in April of 2023, different sellers are offering different toothbrushes with the designation Oral B 7000. There is the old Oral B Pro 7000 from the older SmartSeries product line (see the image below and ignore the Genius 7000 – the brush handle is the SmartSeries Pro 7000 handle with NiMH battery). And there is also the newer Oral B Genius 7000 which is based on the newer Genius handle with a Li-Ion battery. In this situation, you can not be sure which model you will get. You should either contact the seller before placing the order and make sure you get the new model. Or you can choose another model.
What is Oral B Pro 7000?
The Oral-B Pro 7000 is a feature-rich electric toothbrush designed to enhance your oral care routine. It incorporates a CrossAction brush head with angled bristles that effectively remove plaque while being gentle on your teeth and gums. Additionally, the toothbrush is equipped with a pressure sensor that alerts you if you're brushing too hard, which helps prevent gum damage.
One of the distinguishing aspects of the Oral-B Pro 7000 is its six brushing modes, including a dedicated Tongue Cleaning mode. This mode focuses on cleaning the often-neglected tongue surface, promoting overall oral hygiene. The Pro 7000 also offers Bluetooth connectivity, allowing you to connect the toothbrush to the Oral-B app on your smartphone for real-time feedback, personalized recommendations, and brushing habit tracking.
When it comes to battery life, the Pro 7000 provides up to 10 days of use on a single charge. The package also contains a charging station, a premium travel case, and a variety of brush head options, giving you a comprehensive oral care solution.
In summary, the Oral-B Pro 7000 is an excellent choice for individuals seeking an electric toothbrush with advanced features, such as a dedicated tongue cleaning mode, to support their complete oral hygiene routine.
Oral B Pro 7000 Features
Here are my favorite features of the Oral B 7000 toothbrush.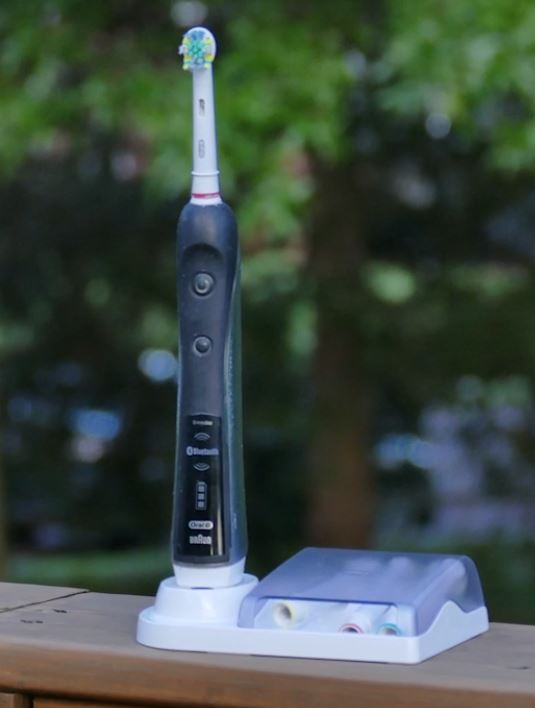 Pressure Sensor
Overbrushing has become a real problem lately. It weakens the tooth enamel and makes it thin and more susceptible to decay.
With Oral B Pro 7000, you do not have to worry about brushing too hard because the toothbrush takes care of it.
If you are pressing the brush too hard against your teeth, the toothbrush starts blinking red while slowing down the motor simultaneously. As soon as you reduce the pressure, the brushing goes back to normal.
Oral B App
What this app from Oral B does is that it gives the user real-time feedback on everything that is going on inside their mouth. From how you are brushing your teeth, you get all of this knowledge from the app to the time you need to continue doing it to the amount of pressure required.
Over time the Oral-B app will take in your habits and recommend the times and pressures perfect for your oral health and will also send out tips you could use for better teeth and gums.
Bluetooth
Bluetooth itself is a feature that is available on pretty much every device on the planet today, so it makes sense that it has made its way to our electric toothbrushes as well.
This Bluetooth feature connects your toothbrush SmartGuide to your smartphone to give you information on your brushing habits.
CrossAction Brush Head
While regular manual brushes come with liner bristles that can only go sideways and back and forth while cleaning, this does a lot more. First of all, this has a round brush head instead of an elongated one, which helps to reach each tooth individually for a perfect clean.
Then comes the angled bristles, which can go inside little gaps for effective and proper cleaning. The cross-action feature helps to get rid of food from every space.
Can you use other brush heads? Yes, this toothbrush is compatible with the wide range of replacement brush heads from Oral-B.
3D Cleaning
A manual toothbrush cleans the way you would move your arms, which is only front to back and side to side. However, the Oral B 7000 electric toothbrush has a 3D cleaning feature, which means it can go many more ways.
It oscillates to clean the top, rotates to get every corner, and pulsates to get rid of plaque effectively. All of this together gives a 360-degree service to your tooth every day for a clean white and biofilm-free tooth.
6 Modes
The Oral B Pro 7000 comes with six brushing modes:
Daily Clean,
Deep Clean,
Whitening,
Massage,
Sensitive,
Tongue Cleaning
The Daily Clean mode is what is to be used every day for a moderate cleaning. Gum Care helps to prevent gum disease and keep the gums healthy and pink. The sensitive mode is for those who naturally have sensitive teeth, have gum or a toothache occasionally, and need softened pressure on their teeth.
The teeth Whitening Mode helps to get rid of stains for clean and white teeth. The tongue cleaner mode is like a bonus that helps clean the tongue giving complete oral care.
SmartGuide
The SmartGuide is a wireless clock with a few additional features.
It shows you the brushing time and guides you thru the four quadrants of your mouth.
The manufacturer started including this gadget with more advanced toothbrush models before the smartphones had become mainstream. You can get all this information from your phone app, but many people still prefer using Smartguide.
Here is how it works.
Specifications
Model Number: D36.5
Rechargeable Toothbrush: Yes
Battery Type: Lithium-Ion
Built-in Timer: Yes
External Timer: Yes (Wireless SmartGuide)
Brushing Modes: 6 – Daily Clean, Deep Clean, Whitening, Massage, Sensitive, and Tongue Cleaning
Brush Movements: 40,000 pulsations/min; +8,800 oscillations/min
Pressure Sensor: Yes, decelerates brushing and flashes a red warning signal
Visual Pressure Indicator: No
Included Brush Heads: 3 – 1x CrossAction, 1x ProWhite, 1x Sensitive Clean
UV Sanitizer: Not included
Charger Type: Premium
Brush Head Container: Yes
Travel Charger: No
Bluetooth Connectivity: Yes
Smartphone App: Yes
Available Colors: White (Oral B White 7000), Black (Oral B Black 7000)
Dimensions
Coming soon!
Box Contents*
1 Oral-B SmartSeries Handle
3 different brush heads – CrossAction, ProWhite, Sensitive Clean Brush Head
1 Premium Charger with Refill Head Storage
1 Premium Travel Case
1 SmartGuide
* According to the manufacturer. Different retailers may offer different sets.
Oral B 7000 Reviews From Users
A few owners of Oral B Precision Black 7000 said that they did not like the product very much and found the app and Bluetooth features to be completely useless. They did not like the tongue mode and believed it does not do much.
There were also complaints about the design of the brush, namely the color combinations, which some found to be very contrasting. A couple of users also found the flickering blue light very annoying, and others think it is priced too high for its features.
Many users said that this has changed their entire brushing routine and has helped them achieve a proper brushing schedule which they used to lack. Many credit the app and Bluetooth for this, which has helped them build an oral care plan, and over time healthy pink gums and white teeth were what they achieved.
Some, however, did not make use of the different brush head options and felt they are not very necessary and push the price up. These buyers would prefer a cheaper model with lesser features that everyone gets some use out of.
A few users have said that this brush does not last very long, mainly because the battery drains way too quickly when using the Bluetooth function. Even connecting it to the charger at all times has not helped some people very much. People have mentioned they prefer other models of Oral B to this one because of the battery life.
Pros and Cons
Advantages
The timer is an excellent feature for it allows one to carefully assess the amount of time they need for brushing their teeth. Especially for people predisposed to caries and other detailed ailments, this is a beneficial feature because it helps them maintain a routine instead of spending too much or too little time on brushing.
The Bluetooth feature is an excellent feature for people who dislike brushing or are just too lazy to brush their teeth. This is especially great for kids because it gives them motivation and a side job and makes the whole experience of using the brush a lot more exciting.
While being able to see what is going on in your mouth –  the pressure on the teeth, the Oral-B Pro 7000 Smart series cleaning modes, and all other exciting features – the app serves as a motivation for one to actually brush their teeth.
The cleaning performance it provides gives the feel of a professional clean from a dentist's office. Using the power rechargeable toothbrush every day can help one achieve teeth whiteness like a dentist. But this can be done at home at a lower price tag and without having to visit the dental office repeatedly. At the end of a month's use, visible results would mimic professional cleaning.
The travel case it comes with is convenient as well. Often, it can get hard to find just the right bag to carry an electric toothbrush, but not bringing it not an option either. So, this travel case not only looks good but is also very useful as well, great for those trips.
Disadvantages
A con of the Oral B 7000 model is the limited battery capacity. That leads to more often recharging than expected. Although it is not bad, some users feel like it should be better for such a high price tag.
The high price tag is also a con for many people because it may seem highly-priced even for an advanced electric toothbrush. Many shoppers are unwilling to invest so much in something as small as this, especially when there are similar models in the market at lot lower prices, like the Oral B Pro 6000.
Sometimes the toothpaste can leak downwards into the handle, and it becomes very messy. Although this is common for almost all toothbrushes, people have this happening.
Another con is the noise that comes out of it. It has been reported as bothersome and excessively loud for a lot of users.
Comparisons
I have moved the comparison with similar but older 7000 model to separate article you can find here Oral B 7000 vs 8000.
I have also compared Oral-B 6000 vs 7000.
Oral B 7000 vs 7500
Many readers have asked me to compare the Oral B 7000 vs 7500 electric toothbrushes.
Comparing these two models becomes easy when you realize that the Oral B 7500 is in fact based on the new Genius series. You can say that the 7500 is slightly watered down Oral B Genius 8000.
Brushing Modes
Oral B Pro 7000 and Genius 8000 offer the 6 and  5 brushing modes:
Oral-B Pro 7000 modes – Daily Clean, Deep Clean, Whitening, Massage, Sensitive, and Tongue Cleaning
Oral-B Pro 7500 modes – Daily Clean, Gum Care, Sensitive, Whitening, and Pro-Clean Mode
Battery
The Oral B 7500 feature mode advanced Li-Ion battery which can last 14 days (against 10 days of OralB 7000's NiMH battery).
Smart Guide
The Oral-B 7000 has a wireless Smart Guide that provides real-time feedback on your brushing.
The Oral B 7500 does not come with the SmartGuide because all information is visible on the smartphone screen in the Oral B app. Several vendors are selling the stand-alone Smartguide units to those who still prefer them to the app. Please watch the Smartguide video I posted above for more details.
As you have already realized, the Oral B 7000 is, in fact, a bit more advanced version of Oral B 5000.
Oral B Pro 7000 vs Philips Sonicare DiamondClean
Comparison with Philips Sonicare DiamondClean is coming soon!
Conclusion
I hope my Oral B 7000 review has provided you will all the necessary information you needed before deciding to buy it.
Related Articles