I found Philips Sonicare HealthyWhite+ 5 Series HX8911 when I was looking for a replacement for my rechargeable toothbrush for weeks.
I was no longer satisfied with the one I was currently using back then, but I did not want to get just about any toothbrush.
I asked my dentist if she could recommend a particular brand of rechargeable toothbrush. She suggested checking out the Philips Sonicare Healthy White Series 5 power toothbrush.
I have heard about Philips Sonicare toothbrushes before, but I did not know much about their features. I asked my dentist to explain its advantages over other rechargeable toothbrushes and researched it online.
Philips Sonicare HealthyWhite+ electric rechargeable toothbrush HX8911Check Price
I was impressed with what I heard and read about it, so I decided to buy an electric toothbrush. I am happy I did, as it can thoroughly clean my teeth and gums. Soon people started noticing my whiter teeth and brighter smile.
My dentist also noticed how much my teeth color has improved since I started using it. To give you an idea of its cleaning performance, it can remove plaque better than other affordable Sonicare toothbrush models, including Essence toothbrushes.
It has got more accessories than Sonicare models of this price range used to have.
Please keep reading about the features that make the Philips Sonicare Series 5 power toothbrush cut above the rest.
Philips Sonicare HealthyWhite+ HX8911 Features
Superb Cleaning
While it is true that almost all electric toothbrushes promise users a reliable cleaning performance, not all may be as effective as it promises to be. With the Sonicare Healthy White 5 Series, you can be sure of having much cleaner teeth and gums because of its Patented Sonic Technology.
According to the manufacturer, the toothbrush removes up to 7x more plaque than a manual toothbrush.
How does it work? Patented Sonic Technology from Philips uses a unique yet gentle cleaning action that effectively reaches deep between the teeth and along the gum line.
Its Dynamic Cleaning Action ensures that your brush can provide broader contact with each tooth and allows it to remove everyday stains. That is why these toothbrushes have been clinically proven to whiten the teeth by at least two shades in as little as two weeks.
This toothbrush is compatible with the latest Philips brush heads designed to clean the back of the teeth and hard-to-reach areas better than old brush heads.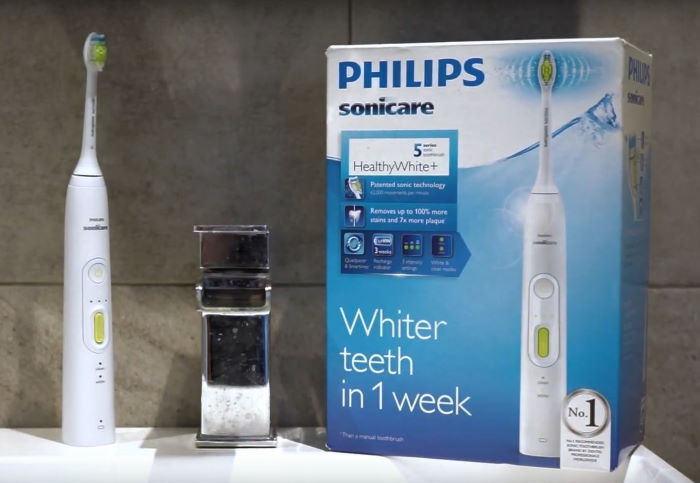 Brushing Modes And Intensities
This Sonicare brush offers two brushing modes – Clean, and White. You can further customize the cleaning experience by choosing from 3 brushing intensity settings.
Clean mode is the standard 2-minute brushing for the overall cleaning of the mouth.
What makes the White mode different from the previous one is that it adds an extra 30 seconds of brushing so you can focus on removing the tobacco, red wine, coffee, and other stains from your front teeth.
The previous generation HealthyWhite models used to have the Sensitive mode designed mainly for those with sensitive gums. It was able to clean the teeth and gum line gently yet effectively. Now, this mode has become obsolete, as you can adjust the intensity levels in the Clean and White modes.
Brushing Timers
This toothbrush has a two-minute timer Philips calls Smartimer, which ensures that you can brush your teeth for at least 2 minutes – the amount of cleaning time dentists recommend. The toothbrush automatically switches off when you have reached the two or two and a half minute mark depending on the selected mode.
Another great feature is the Quadpacer interval timer. It tracks your time so you can brush each quadrant of your mouth for 30 seconds. When you have cleaned one quadrant for 30 seconds, the Quadpacer will signal you to move on to the next quadrant.
Great Design
The toothbrush is available in two colors – you can choose between Healthywhite+ Iridescent or Frost White.
The brush heads' snap-on feature makes it relatively easy to attach and remove from your Philips HealthyWhite brush.
Battery Life
When it comes to the Philips Sonicare Healthywhite+ electric rechargeable toothbrush Lithium-Ion battery, it lasts for 42 2-minute brushing, which is around 3 weeks.
You do not need to wait for the battery of your brush to be fully drained, as there is a battery indicator that blinks when it is time for you to recharge it. It takes up to 48 to fully charge the battery, but you can use the brush before it is 100% charged.
The handle has also been designed to be slim and made of rubber for more comfortable handling while brushing. This power toothbrush is available in frost white and has a translucent white front panel.
Specifications
Model Number:

HX8911/02 – Frost White
HX8911/99 – Iridescent

Rechargeable Battery: Yes
Battery Type: Lithium-Ion
Battery Life: up to 3 weeks
Built-in Timers:
External Timer: No
Brushing Modes: 2 –  Clean, and White
Brushing Intensities: 3 – Low, Medium, High
Brush Movements: up to 31,000 movements/min
Pressure Sensor: No
Visual Pressure Indicator: No
Included Brush Heads: 1 DiamondClean
UV Sanitizer: Not included
Charger Type: Portable
Brush Head Container: No
Travel Case: Yes
Travel Charger: Yes, 110-230 Volt universal charger
Bluetooth & Smartphone App: No
Available Colors: Frost White, Iridescent
Related Reading: Philips Sonicare ProtectiveClean 4100 vs 5100 vs 6100 Review
HealthyWhite Reviews From Users
The HealthyWhite power brush has got very high star ratings from its users. Also, the majority of reviews are positive. Some users even claim that this is the best electric toothbrush they have used.
More information is coming soon.
Package Contents
HealthyWhite+ brush handle
one DiamondClean brush head
one hygienic brush head travel cap
one 110-230 Volt universal charger
a travel case
Compatible Brush Heads
The power toothbrush also comes with a DiamondClean brush head which helps to get further rid of plaque between the teeth and along the gum line.
The DiamondClean brush head has the benefit of flossing as it directs fluid between your teeth. It ensures that you get an overall clean feel in your mouth.
All click-on Philips manufactured toothbrush heads are compatible with the HealthyWhite toothbrush.
Items Frequently Bought Together
This toothbrush is often bought with an extra pack of pack Philips DiamondClean replacement brush heads so that you can replace the brush head when the 3 month period is over.
People who get the HealthyWhite HX8911 also often buy a Waterpik Ultra Water Flosser. It is a water jet that has been clinically proven to be at least 93 percent more effective than regular flossing.
What is the best price for this product, and where can you get it?
You can buy the power toothbrush from Amazon and other retail stores such as Walmart and BestBuy.
Many customers prefer to buy it from Amazon, though, as they can shop for many related items and read reviews from other users.
Frequently Asked Questions
Can I charge the toothbrush in the included travel case?
No, the included case is not a charging case.
I have braces. Can I use this toothbrush?
Yes, it is safe to use it on braces, but you may need to replace the brush head sooner because it will wear out quicker.
Philips Sonicare HealthyWhite Comparisons
Philips Sonicare DiamondClean vs Healthy White
Here is a comparison of 2 popular toothbrushes from Philips – DiamondClean and HealthyWhite.
| Model Name | Philips Sonicare DiamondClean Classic | Philips Sonicare Healthy White+ |
| --- | --- | --- |
| | Philips Sonicare Diamond CleanCheck Price | Philips Sonicare HealthyWhiteCheck Price |
| Model Number | HX9331 | HX8911 |
| Rechargeable | Yes | Yes |
| Quadpacer & Smartimer | Yes | Yes |
| Brushing Modes | 5 (Clean, White, Sensitive, Deep Clean, Gum Care) | 2 (Clean, White) |
| Brushing Intensity | Not adjustable | Adjustable - Low, Medium, High |
| Included Brush Heads | 1 (DiamondClean) | 1 (DiamondClean) |
| UV Sanitizer | No | No |
| Chargers | Charger glass, Deluxe travel case with USB Charger | Travel charger |
| Travel Case | Charging Case | Regular travel case |
Common Features Of Philips DiamondClean and HealthyWhite Brushes
Philips Quadpacer and Smartimer timers
Brush heads included (but they are different models, more about it below)
Charger and travel case included
Basic brushing modes built-in – Clean and White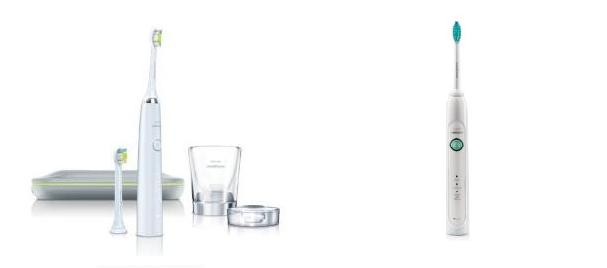 Differences between Sonicare DiamondClean vs Healthy White
Sonicare Diamond Clean is a more advanced and more expensive product with more features:
It has a total of 5 brushing modes – 3 models common with Healthy White plus Polish and Gum Care modes.
The DiamondClean brush heads have a more advanced design that provides better cleaning action. It is not surprising that these heads are more expensive than ProResults brush heads bundled with the other toothbrush model. Few people know that the DiamondClean replacement heads are also compatible with a Healthy White toothbrush, so you can upgrade after using up the included brushing heads.
Both chargers have USB connectivity so that you can charge your toothbrush from your PC or laptop.
Old Philips Sonicare HealthyWhite Models
The chapter below applies to several older Philips Sonicare Healthywhite models.
What is the difference between regular HealthyWhite and Premium Edition?
The difference between these 2 Philips Sonicare Healthywhite rechargeable toothbrush models is the package contents.
The regular Healthy White (actually, there are 2 products with this name) set includes the ProResults brushing head, travel charger with brush head storage, and hygienic travel cap.
The Premium Edition set offers twice as much. TWO Healthy White toothbrush handles, two ProResults brush heads, a HydroClean brush head UV Sanitizer with Integrated Charger included, PLUS a Travel charger and TWO Travel Cases.
Philips Sonicare HealthyWhite HX6732 vs Premium Edition HX6733
Sometimes it is pretty hard to quickly understand the differences between similarly sounding Philips electric toothbrush names. Healthy White and Premium Edition of HealthyWhite is precisely this case.
It took me some time to dig thru the specs of these products and find the differences. And here is what I have found out.
Regular HealthyWhite and Premium Edition are the same product (the same toothbrush), but the Premium Edition includes several additional accessories, and the most critical difference – Premium Edition includes 2 toothbrush handles.
Regular HealthyWhite HX6732 box contents
Here is what is included in the regular product, the HealthyWhite HX6732, set:
1 HealthyWhite toothbrush (manufacturer code R732)
2 ProResults brush heads (one ProResults HX6023 Brush Head Compact and one ProResults HX6013 Brush Head Standard)
deluxe charger with cord wrap
brush head storage
2 hygienic travel caps
1 travel case
Healthy White Premium Edition HX6733 box contents
2 Healthy White toothbrushes (manufacturer code R732)
2 ProResults Standard HX6013 brush heads
1 Philips HX6003/80 HydroClean Brush Heads
UV Sanitizer with Integrated Charger
1 travel charger
2 travel cases
So you can see the main difference between these Philips Sonicare Healthy White toothbrushes is that the Premium kit is better suited for couples. It has two toothbrushes with two travel cases and a UV sanitizer with a built-in travel charger instead of a regular charger. Different brush heads are also included, but this is not a game-changer as you will replace them in 3 months anyway.
Philips Sonicare HX6733 vs HX6732 – which one should you choose?
The answer is simple. Get the Premium Edition only if you need toothbrushes for two persons – either for you and your partner or your kids (or teens because this toothbrush can be a bit too advanced for kids' use – get Philips Sonicare For Kids for your children).
| Model name | Philips Sonicare HealthyWhite Premium Edition | Philips Sonicare HealthyWhite |
| --- | --- | --- |
| Model number | HX6733 / R732 | HX6732 / R732 |
| Toothbrushes | 2 units | 1 unit |
| Rechargeable | Yes | Yes |
| Quadpacer timer | Yes | Yes |
| Brushing modes | 3 (Clean, Sensitive, Clean and White) | 3 (Clean, Sensitive, Clean and White) |
| Included Brush Heads | 2 Standard ProResults + HydroClean | 1 Standard ProResults |
| UV Sanitizer | Yes | No |
| Charger type | Regular charger | Regular charger |
| Travel Charger | Regular travel charger | Regular travel charger |
Interested in a more advanced toothbrush?
Another alternative to this toothbrush is the DiamondClean brush, so I have also compared these brushes in the Sonicare DiamondClean review.
There is also an older version of the Healthy White toothbrush with a couple of differences.
Philips Sonicare HealthyWhite HX6732 vs HX6711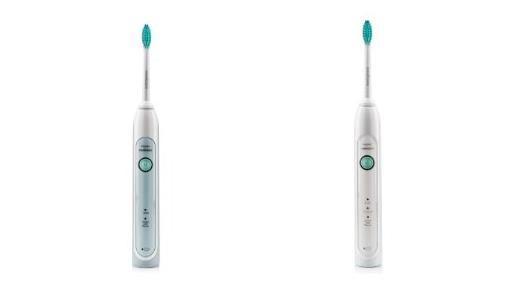 People often ask lots of questions about Healthy White toothbrushes from Philips before they make their choice. This is because Philips has several Sonicare HealthyWhite models in the market, and it is not always possible to understand their differences quickly.
In one of my guides, I have already addressed the differences between Sonicare HealthyWhite HX6732 vs Premium Edition HX6733. In short, these products contain the same toothbrush handle bundled with different accessories.
In addition to that HX6733 kit includes 2 toothbrushes, so it is best suited for couples (or 2 kids).
But there is one more HealthyWhite brush – HealthyWhite HX6711. Is it different from HealthyWhite HX6732?
Yes, the HX6711 is an entirely different model. It is an older model from the Philips HealthyWhite toothbrush line. It is also known as Sonicare R710 (manufacturer's code).
Let's compare these two power toothbrushes.
Philips Sonicare Healthy White HX6732 (new model) vs HX6711 (old model)
| Model name | Old HealthyWhite R710 | New HealthyWhite R732 |
| --- | --- | --- |
| Model number | HX6711 / R710 | HX6732 / R732 |
| Rechargeable | Yes | Yes |
| Quadpacer timer | Yes | Yes |
| Brushing modes | 2 (Clean, Clean and White) | 3 (Clean, Sensitive, Clean and White) |
| Included Brush Heads | 2 Standard ProResults | 1 Standard ProResults |
| UV Sanitizer | No | No |
| Charger type | Regular charger | Regular charger |
| Travel Charger | Regular travel charger | Regular travel charger |
* Prices are only for comparison and are valid at the moment of writing this review
So, in other words, the older model HX6711 (R710) has 2 brushing modes (vs 3 modes in the new model) and one bundled brush head instead of two.
The brushing mode that was added in the new R732 model is the Sensitive mode.
HX6732 vs HX6711 – which one would I choose?
If I were looking for a good power toothbrush and would not want to settle for an entry-level Sonicare Essence toothbrush, the R710 would be a perfect choice.
If you have more money to spend or the Sensitive mode matters, get the newer R732 model.
Related Articles