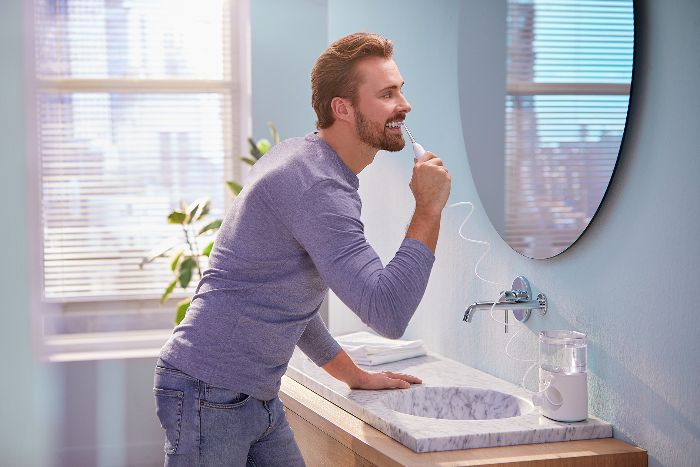 Philips has launched the new powerful stationary oral irrigator – the Philips Sonicare Power Flosser.
This is only the second water flosser in Philips lineup after the handheld Philips Sonicare Airfloss Ultra irrigator.
According to the manufacturer, "The Philips Sonicare Power Flosser is an effortlessly thorough water flossing device which provides an effective alternative to string floss.
Designed to be used once a day with brushing, it features unique QUAD STREAM technology that helps to thoroughly clean between the teeth and along the gum line to improve oral hygiene. Offering better results than string floss, the Philips Sonicare Power Flosser is clinically proven to be up to 180% more effective at improving gum health[1] and 3X as effective in removing plaque between teeth and along the gumline[2]."
Philips Sonicare Power Flosser Features
QUAD STREAM technology
The Philips QUAD STREAM technology uses a unique cross-shaped nozzle to create 4 wide streams of water. These water streams remove up to 99.9% of plaque from treated areas, and thorough cleaning between the teeth and along the gum line is achieved.
The Power Flosser users are less likely to miss a section of their teeth or gums because of the wide cleaning coverage area.
If you are looking to achieve excellent results from your oral care efforts, this is the perfect device.
Pulse Wave Technology
The innovative convenience feature, the Pulse Wave technology featured in the Sonicare Power Flosser, inserts brief pauses between the cleaning pulsations.
This way the user will effortlessly glide the nozzle to the next gap between teeth and achieve perfect whole mouth cleanliness.
Quiet Operation
It is believed that the Philips Sonicare Power Flosser works noticeably quieter than the Waterpik flosser of a similar type.
I will add more details as soon as more information about the product features and prices is published by Philips.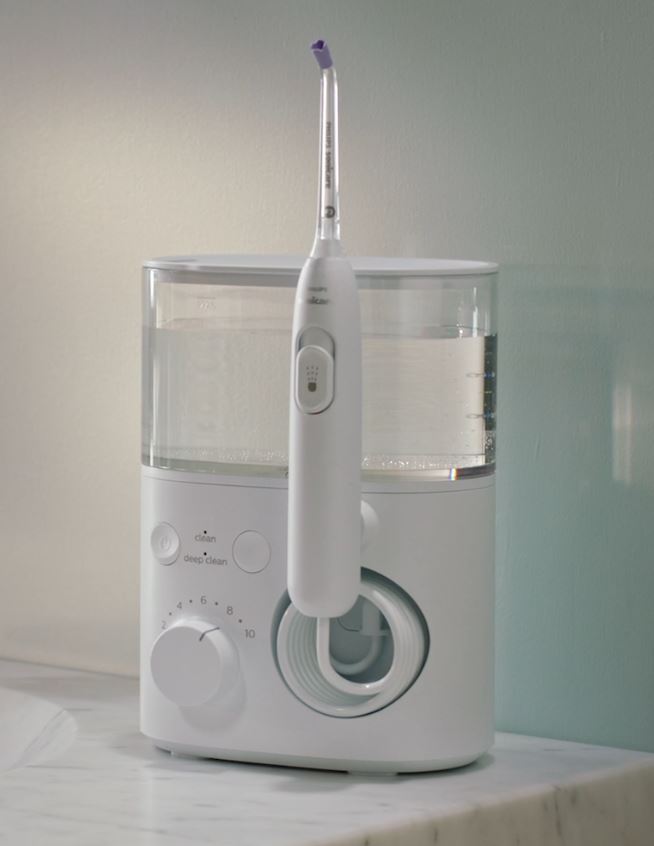 Specifications
2 nozzles for different needs

F1 Standard nozzle
F3 Quad Stream nozzle

10 intensity settings
Reservoir capacity – 18.5 Ounces (550 ml)
On/off water control on the handle
2 Modes
1-minute timer with a 30-second pacer
LED Mode Indicators
Color options
Model Number – HX3811
Related Articles