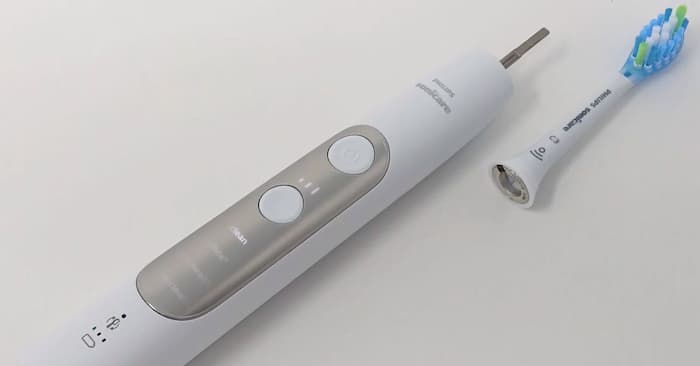 Philips Sonicare ExpertClean is the latest addition to the Philips Sonicare connected electric toothbrush range.
There are two models in the product range – Philips Sonicare ExpertClean 7500 and the cheaper ExpertClean 7300.
After reading my Philips Sonicare 7500 review, you will learn everything you need to know about this toothbrush.
I will also compare it to slightly cheaper Sonicare ProtectiveClean and slightly more expensive Sonicare DiamondClean to provide you with all details you need to know before you chose the model that fits your needs and budget.
Availability In The UK
I am getting multiple questions from my British readers about the availability of Philips Sonicare Expert Clean in the UK.
The Sonicare ExpertClean was listed on the Philips UK website since 2019, but until the mid-March of 2020, I could not find any online retailer that carries this toothbrush in the UK.
But now the Philips Sonicare ExpertClean toothbrush is available on Amazon.co.uk here – Philips Sonicare ExpertClean Nero 7300.
Features
The Philips Sonicare ExpertClean rechargeable electric toothbrush is a good example of an oral care product that is made specifically for those people who are looking for not just any kind of toothbrush.
It is loaded with features that are expected to bring oral care at a higher level.
Brushing teeth is one thing that is done on a routine, especially for those who place a high degree of emphasis on their oral hygiene. While there are some who are already satisfied with any toothbrush that can be used, there are some with discriminating tastes and look for a set of attributes.
There are different kinds of toothbrushes offered in the market, from the cheap to the expensive ones. If you are very much particular with your oral hygiene, you will not be contented with just selecting any brand or any model. You will have to carefully choose based on a number of criteria.
Advanced Sonic Technology
This feature allows the formation of gentle microbubbles with the help of the sonic sweeping motion, formed by 31,000 brush strokes (or 62,000 movements) per minute.
The bristles carefully reach deep between the teeth while making sure that it's gentle on both your teeth and gums.
Brushing Modes and Intensities
ExpertClean 7500 has 4 modes: Clean, White+, Gum Health, and DeepClean+. You can choose between 3 intensities (Low / Medium / High) in each brushing mode.
If you have sensitive teeth or gums you can choose the low-intensity setting and you may increase the intensity level if you are comfortable with it. However, it is recommended to use intensity level 3.
Each mode has a unique purpose to meet your dental health needs:
Clean (2 minutes) – for exceptional everyday clean
Deep Clean+ (3 minutes) – for an invigorating deep clean
White+ (2 minutes 40 seconds) – to remove surface stains
Gum Health (3 minutes 20 seconds) – special attention to molars
The Clean mode is for everyday cleaning, while the White+ mode removes stains effectively.
The White+ mode will be highly beneficial for a coffee drinker like me.
The Gum Health mode is focused on constructively cleaning the gums with special attention to molars, and the DeepClean+ mode ensures a thorough clean.
All the modes help in removing up to 10x more plaque while the Gum Health mode massages the gum too.
ExpertClean 7300 has all the intensities and modes except the White+ mode.
Pressure Sensor
With the amazing built-in pressure sensor, you don't need to worry if you're brushing too hard.
The automatic pulsing sound made by the device is a heads up for your brush head to do its job of easing up. Therefore, when too much pressure is applied, the handle will alter the vibration until you decrease the pressure.
7 out of 10 users have found this feature very helpful as they agreed it has aided in making them better brushers. Also, this smart sensor technology is highly beneficial for children as they might not be aware when they are brushing too hard.
Timers
The cleaning performance is enhanced by two timer features, Smartimer and Brushpacer.
The Smartimer is the brushing timer that keeps the brush running until the running time of the chosen brushing mode is up.
The Brushpacer divides the mouth into 6 parts. This is different from other Sonicare models that have Quadpacer which divides the mouth into 4 quadrants. This feature lets you know when you're supposed to shift to the next section of your teeth with a slight change in vibration.
Bluetooth
The ExpertClean brushes use Bluetooth wireless technology using which it can be connected to Android phones, iOS devices, and Bluetooth 4.0 enabled tablets. You need to turn on Bluetooth in your device so that the toothbrush can use the connection to transfer all the data to the App.
With the help of the Bluetooth feature you can see the average time you utilize in brushing your teeth daily, the number of sessions left in your brush heads, and whether the pressure you're applying to brush is "good" or "needs improvement".
Sonicare App
Another great feature of this toothbrush is the Sonicare App, which helps you obtain a progress report. It guides you through the process of improving your brushing habits. As the built-in sensor alerts you if you're brushing too hard, the Bluetooth connection transfers the data to the Sonicare App in the form of a progress report.
This, in turn, helps you keep track of the improvement in your brushing habit over time especially between visits to the dentist. Also, you'll receive personalized recommendations on how you can improve your oral health.
Travel Case
ExpertClean 7500 comes with a charging travel case so you can charge the toothbrush on the go using the USB port or wall outlet.
ExpertClean 7300 does not come with a charging travel case. However, it comes with a regular travel case which has a stylish appearance.
Brush Head Recognition and Mode Pairing
These functions let the ExpertClean toothbrush communicate with BrushSync-compatible Philips replacement brush heads.
BrushSync Mode Pairing
While using this toothbrush, you do not have to worry about the right level of intensity and mode, because the brush head recognition feature will ensure that you obtain the best possible clean with the suitable mode and intensity.
For example, if your focus is to improve your gum health, you should opt for the G3 Premium Gum Care brush head. Then, the ExpertClean's BrushSync technology will automatically pair your brush head with the Gum Health mode.
Philips Sonicare ExpertClean recognizes the connected brush head and chooses the relevant mode using BrushSync technology:
C3 Premium Plaque Control head pairs with Clean mode
G3 Premium Gum Care brush head pairs with Gum Health mode
There is also a W3 Premium White toothbrush head that pairs with White+ that should be purchased separately if you are going for maximum teeth whitening action.
This is really helpful because you don't have to go through the hassle of pairing the ideal mode for every brush head and vice versa.
Brush Head Replacement Reminder
Here's another thoughtful feature of the ExpertClean toothbrushes.
The BrushSync Replacement Reminder gives a short beep when it's time to replace the brush head. Also, the reminder icon on the brush handle lights up to ensure the best results, and you will get the message in the app.
The BrushSync technology keeps a track of how long you've been using the brush head as well as how hard you've been brushing. This feature is helpful because every brush head wears out over time, so the replacement reminder will help to keep an eye out for near future brush head replacement.
EasyStart Mode
To ease you into the brushing power of the Philips Sonicare, the EasyStart Mode increases the power of the handle gradually over the first 14 brushings.
This is helpful for people who are not habituated to electronic brushes so the EasyStart mode prevents new users from getting overwhelmed with the brushing power.
Long-life Battery
The ExpertClean toothbrushes have exceptional battery life. The rechargeable battery features the latest-generation lithium-ion technology that lets you use the brush for 14 days of use before you have to charge again.
I have seen user testimonials stating that a new brush lasts 25 or even more days using the standard mode.
Another useful feature is the LED status indicator. It shows different colored LEDs as well as varied numbers to display the ranges of battery percentage left:
a yellow flashing LED together with beeps tells you that battery is almost empty
1 solid green LED indicates low battery status at 10% charge
2 solid green LEDs indicate medium 33-66% charge
3 solid green LEDs indicate 66%+ charge
Design and Finish
The Philips Sonicare ExpertClean 7500 and 7300 comes in a smooth black finish with all the accessories in black as well (case, charger, and stand). The slim ergonomic design is extremely comfortable to hold while you let it do its job of taking care of your oral health.
The handle of the toothbrush has a sectioned ovular area with two buttons, the power button on top, and the mode/intensity at the button. You can manually press on the intensity button and the levels will be displayed with lit bars right above the button. Below are the names of the 4 modes in ExpertClean 7500 while the ExpertClean 7300 has the names of the 3 modes (no White+ mode).
At the bottom of the handle, there's an image of the battery with three LED indicators that display the status of the battery. Users are especially impressed with the visible indication of the need to recharge.
Overall, the simplistic design of the Philips Sonicare Expert Clean 7500 and 7300 does not only make it a multi-functional compact device but an aesthetically pleasing one as well.
The Philips Sonicare ExpertClean toothbrush is also available in White and Pink. The product codes are as follows: White (HX9690/06), Black (HX9690/05), and Pink (HX9690/07) .

Please note that the black ExpertClean toothbrush comes with black case, charger, and stand, and the white model comes with white accessories.
Does the pink Expert Clean have a pink travel case? Sadly it does not. The Pink HX9690/07 comes with the same boring white accessories like the white model.
User Reviews
One of the most important features of the Philips Sonicare Expert Clean toothbrush is that it has multiple cleaning modes and intensity choices. Users prefer the use of this brand and model because it allows them to choose whether to have maximum, sensitive, or massage brushing performance.
This product has also been highly rated by customers who have sensitive teeth and gums. With its use, they no longer have to suffer from hard cleaning, which is actually common in other kinds of toothbrushes. This toothbrush functions softly but assuring that all plaque is removed.
Customers were also confident that this kind of toothbrush is able to deliver the results that were promised. In fact, even in a period that is shorter than what has been advertised. Its deep and smooth cleaning technology provided users with the best in oral care systems.
However, in spite of the customer benefits that were earlier mentioned, there were some who reacted negatively because the toothbrush produces some noise when used. There were also some who complained that it does not attach itself firmly on the base of the charger.
I was surprised to see that there are not so many Sonicare app fans out there. While some users appreciate the information the application provides, many users have decided against using it. There are 2 main reasons. First, many users are worried about their privacy. And there is also a question about the real usefulness of the data the toothbrush tracks.
You can read more user reviews on Amazon here!
Advantages and Disadvantages
Here are the essential pros and cons of the Sonicare ExpertClean toothbrush.
Pros
Multiple cleaning modes and intensity levels
Built-in pressure sensor
Ergonomic design
Built-in time and Brushpacer
Long battery life
Brush head replacement reminder system
Progress report via Sonicare App
Suitable for adults and children
Cons
No storage for brush heads
No real-time brushing feedback
Better value options are available.
Box Contents
A box of this product will include the Sonicare ExperClean toothbrush handle, two brush heads – C3 Premium Plaque Control G3 Premium Gum Care, charging travel case, and universal charger.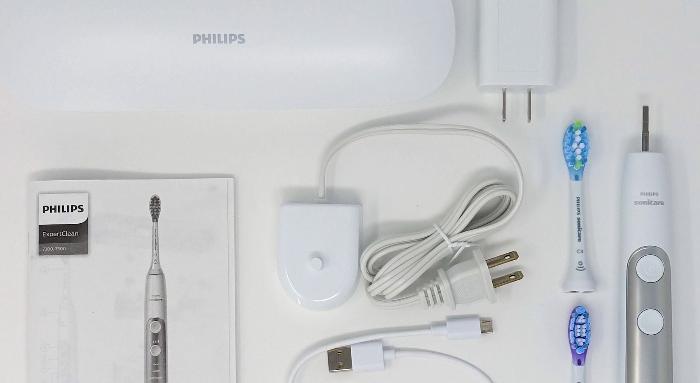 Here is what is included in the box:
1x ExpertClean toothbrush handle
2x Brush heads:

1x C3 Premium Plaque Control
1x G3 Premium Gum Care

1x Charging travel case
1x USB to MicroUSB charging cable
1x 2 pin US USB power adapter
1x Charger base with cable and US standard wall plug
Philips Sonicare ExpertClean 7500 vs 7300
The Philips Sonicare ExpertClean 7500 is a more popular model sold by Amazon and many other retailers.
With the Philips Sonicare ExpertClean 7300 you get exactly the same toothbrush for less money and without a couple of features:
It lacks White+ brushing mode but you can still enjoy 3 modes (Clean, Deep Clean+, and Gum Health) and 3 intensities
It has the travel case WITHOUT a charging function
It is available only in black
It is a lot harder to find a store that carries the Philips Sonicare 7300 ExpertClean. At the moment of updating this review (September 2020), neither Amazon.com nor other popular US online retailers did not offer ExpertClean 7300.
If you do not want to pay the full price of Sonicare 7500 but could not find the 7300 model, please check out the Sonicare ProtectiveClean 6100. The comparison table and a link to ProtectiveClean 6100 review are provided below.
Philips Sonicare ExpertClean 7400
Philips Sonicare ExpertClean 7400 is one of the models I noticed when I was recently browsing the Philips Sonicare website and looking for new updates.
The ExpertClean 7400 is the ExpertClean 7300 toothbrush that comes with 3 replacement brush heads – C3 Premium Plaque Control, G3 Premium Gum Care, and W3 Premium White.
Philips Sonicare ExpertClean 7700
This is another new ExpertClean model. It is the ExpertClean 7500 with a bundled UV sterilizer.
Philips Sonicare ExpertClean 7500 vs DiamonClean vs ProtectiveClean
Here is a quick comparison table of advanced Philips electric toothbrushes – Sonicare ExpertClean 7500, DiamonClean Smart 9300, and ProtectiveClean 6100.
Additional Items To Consider
If you are going to buy Philips Sonicare 7500 electric toothbrush, you may consider buying a few supplies and accessories.
People often add a 2-pack of Genuine Philips Sonicare C3 Premium Plaque Control Toothbrush Heads (HX9042/65) and a 4-pack of Genuine Philips Sonicare W3 Premium White Toothbrush Heads (HX9064/65) in order to replace brush heads when necessary.
Conclusion
After taking a quick look at the specifications I can tell that this model has every chance to become the best electric toothbrush of 2020.
It has the same features as the Sonicare DiamondClean 9300 minus a few questionable design features, and you may have to pay top dollar for if you chose the DiamondClean.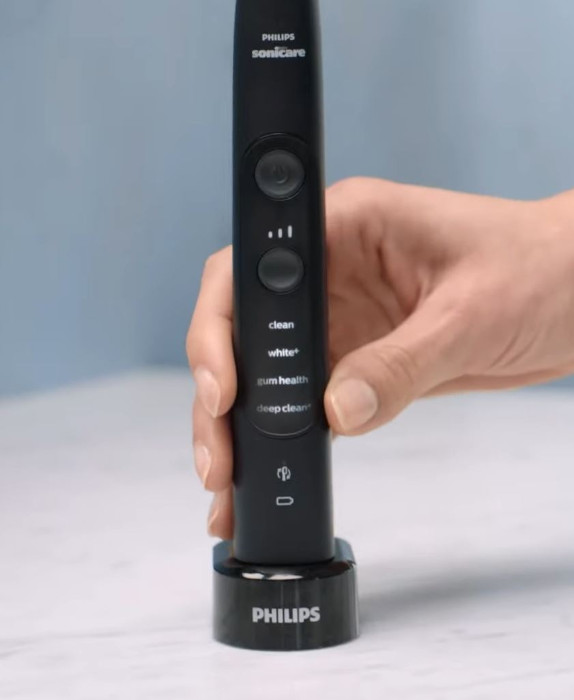 Frequently Asked Questions
Does the Sonicare Expert Clean include a UV sanitizer?
No, the Philips Sonicare ExpertClean comes without the sanitizer.
What is the voltage of the charger?
This electric toothbrush comes with a worldwide dual voltage charger for 110-220V.
Does the smartphone app support multiple user profiles?
No, the app is designed to track one single user. It is still possible for multiple people to share the toothbrush handle if each person uses his or her own brush head.
Is the toothbrush going to work with my old iPhone 3GS?
No, it will not. The app is compatible with iPad 3rd Gen or higher, iPhone 4S or higher, with iOS7 or higher operational system.
Can I use the Sonicare ProResults brush heads I have left from my old toothbrush?
Yes, the ExpertClean brush is compatible with ProResults, DiamondClean, and other click-on brush heads. You should keep in mind that the old heads do not provide BrushSync functionality.
Does this toothbrush have a warranty?
Yes, it has an international 2-year warranty.
Can children use the ExpertClean 7500, or is it safer to get them Sonicare for Kids?
Even a child can use the ExpertClean toothbrush under the supervision of an adult. You can even use Sonicare kids brush heads with this toothbrush.
Should I always use the new expensive BrushSync brush heads?
No, you can also choose cheaper replacement brush heads without BrushSync! The toothbrush is compatible with all Click-on type Sonicare brush heads.
My friend bought Philips Sonic Care 7500? Is it the same model?
Yes, sometimes people omit some words from the long product name and call this toothbrush Philips Sonicare 7500 or just the Sonic Care 7500. It is still the same model reviewed above.
Related Articles