I decided to write the Philips Sonicare Flexcare Platinum Connected review about the toothbrush bundle with UV sanitizer because, in my opinion, it is one of these higher-end toothbrushes that people often are interested in.
All Philips Sonicare Flexcare Platinum models have been discontinued. Please go to my
Philips Sonicare ExpertClean review
to learn about the current midrange Sonicare model and its features and benefits!
I learned that people are somehow afraid to purchase this product because there is not enough information about them except for the manufacturer's advertising and reviews of some sellers promoting it.
So I read all the information about Sonicare FlexCare Platinum I could get my hands on, including the user manual and dozens of user reviews. Please keep reading to discover my findings.
So here are some of the things you should know about this model, which was among the most sold expensive power toothbrushes on Amazon at the moment of writing this review.
Disclaimer – I have not used this product myself, and I do not own it (but I still use a similar HealthyWhite toothbrush), so I will not pretend it is my personal experience. Again, my review is based on product owners' feedback, and I will present the pros and cons of this product to you. Then you can decide if this is the best electric toothbrush for your needs.
Philips Sonicare Flexcare Platinum Models
There are several Philips Sonicare FlexCare Platinum toothbrush models on the market:
Philips Sonicare Flexcare Platinum Grey Non-Connected – model HX9111/12 – discontinued.

Philips Sonicare Flexcare Platinum Connected – model HX9192/01 – the same as above with added Bluetooth connectivity feature – discontinued.

Philips Sonicare Flexcare Platinum Connected with UV sanitizer – model HX9192/02 – the same as above with added UV sterilizer – discontinued.

Sonicare Flexcare Platinum Features
Almost all manufacturers of rechargeable toothbrushes being sold today say they will provide their customers with a fantastic overall mouth cleaning experience.
However, not all such products live up to their promises. I can say that people are often disappointed with the toothbrushes they have been sold because of the promised performance. Many toothbrushes don't clean teeth the way people expect them to.
The Philips Sonicare FlexCare Platinum is not one of these toothbrushes. Thanks to its Patented Sonic Technology, you can be sure that your mouth will be cleaned thoroughly – as if you had just been to the dentist.
The Philips technology has been specifically designed to provide users with the best possible teeth and gum cleaning experience, as it is able to reach places that a manual toothbrush cannot access.
FlexCare Platinum is able to give users a clean feeling in their mouth as it removes up to 83% of plaque, including those in hard to reach areas. It will also make your teeth whiter with continuous use because of its dynamic cleaning action that can eliminate teeth stains caused by coffee or tea.
The Sonicare FlexCare Platinum is safe for all dental restorations (veneers, crowns, and others) and braces.
Timers
Sonicare Flexcare Platinum features two timer technologies – Smartimer and BrushPacer.
Smartimer
As our dentists tell us from the early days, we should brush twice daily for at least 2 minutes.
The Smartimer tracks your brushing time and ensures you clean your teeth and gums for at least 2 minutes. When you have reached 2 minutes, the toothbrush will automatically turn off.
If you want to continue using it, you have to switch it on again. The SmarTimer feature cannot be switched off.
BrushPacer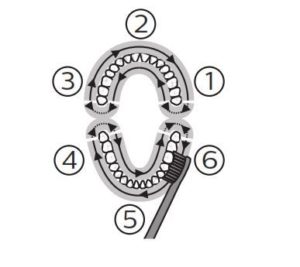 The Brushpacer function has replaced the Quadpacer feature you may be familiar with if you have owned an older Philips Sonicare toothbrush.
BrushPacer is a 20-second timer that ensures you spend equal time brushing all parts of your mouth.
First, you have to divide your mouth into 6 sections. Then turn on your brush and start brushing one particular section until you hear the BrushPacer beeping. After the beep, move to the next section. This way, you will spend 20 seconds on every section.
If you are using the toothbrush in the White mode, you will get two additional 20-second intervals for cleaning your front teeth.
When you buy the Flexcare Platinum brush, the Quadpacer is turned on. You can turn this feature off if you wish.
Brushing Modes
This toothbrush features 3 brushing modes with 3 intensity settings each.
Selecting the brushing mode
When you switch on the FlexCare Platinum toothbrush for the first time, the active mode is the Clean Mode. The backlight indicates the selected mode.
If you want to switch to another mode, you should first switch the brush off. That is because you can not toggle between the modes when the toothbrush is switched on.
When the brush is off, press the Mode button to toggle between the cleaning modes. The selected mode briefly illuminates. When the desired mode is selected, turn it on and start brushing. The selection will remain active even after switching the brush off until you choose another mode.
Clean mode for complete outstanding brushing for 2 minutes
White mode for removing the surface stains – you get an additional 40 seconds to focus on your front teeth
Deep Clean mode for thorough and deep cleaning for full 3 minutes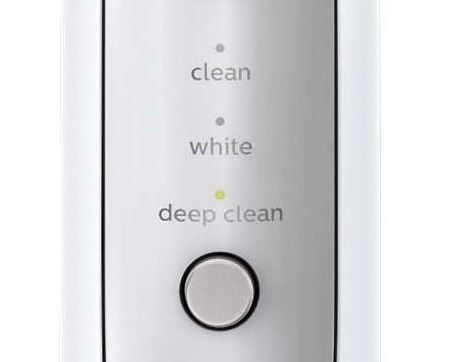 Selecting the intensity level
During the brushing cycle, you can press the + or – button to increase or decrease the brushing intensity level.
3 intensity levels are available in each mode, and you can learn about the selected level from the LED indicator lights:
Low – 1 LED indicator light
Medium – 2 LED indicator lights
High – 3 LED indicator lights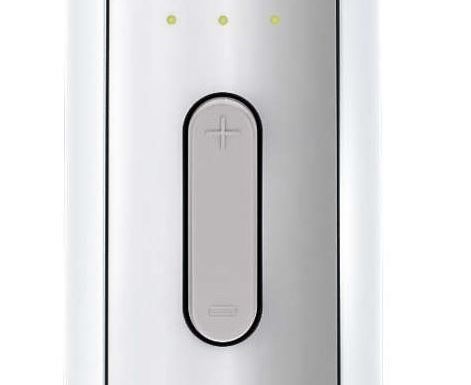 The intensity level selection system replaced the multiple modes the older Sonicare models used to have:
Sensitive mode, as its name suggests, is designed for people with sensitive teeth and gums. It offers thorough but gentle cleaning for 2 minutes.
Refresh Mode is a short 1-minute mode for a quick touch-up cleaning after a quick snack or cup of coffee. In older Sonicare models, it is called Go Care mode.
Massage Mode provides gum stimulation for 2 minutes.
Gum Care Mode is a combined mode for teeth and gum cleaning. First, clean your teeth for 2 minutes and then take care of your gums for an additional 1 minute. The Gum Care mode is further discussed below.
Improving your gum health
One of the reasons why people choose to switch to a rechargeable toothbrush is because they want to treat gum related diseases. While it is true that the toothpaste you use is also a factor, many dentists have said that the poor condition of the gums can be attributed to improper brushing habits.
A couple of years ago, my dentist warned me against using a power toothbrush. She said that toothbrushes with rotating brush heads sold back then were just pushing plaque and food particles under the gum line. This sooner or later led to gum inflammation and gum diseases.
That is not the case with the latest generation brushes, especially those using Sonic Technology and special cleaning modes for improving gum health.
Brushing with an electric toothbrush can significantly reduce gum related problems such as gum bleeding, recession, and inflammation. If that is not enough, the rechargeable toothbrush also has a Contoured Brush Head, which effectively removes plaque along the gum line.
Rechargeable Battery Features and Charger
The FlexCare has a built-in rechargeable battery. When the battery is fully charged, you can use it for around 28 brushing cycles. In other words, one charge lasts approximately 2 weeks.
It takes 24 hours to charge the empty battery fully. The toothbrush will warn you when the battery gets low. In this case, it will beep 3 times, and the yellow recharge indicator will flash.
It is suggested that you keep the brush on the charger when you do not use it. Do not worry about your electricity bills because the charger draws minimal energy from the outlet when the battery is full.
Sonicare FlexCare Platinum chargers
There are 2 multi-voltage chargers bundled with this toothbrush.
charger integrated into the UV sanitizer base
travel charger (marked with 15 in the picture) can be used separately or with a cover-brush head holder (14)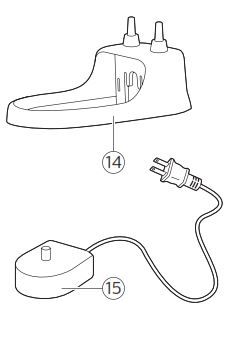 Battery indicator
FlexCare Platinum has a battery indicator that shows you the battery status.
yellow flashing indicator together with 2 sets of five beeps tells you that the battery is low and the toothbrush will turn off soon
green flashing indicator means that the battery is charging
3 green LEDs indicate a 100% charge
2 green LEDs indicate a 67-94% charge
1 green LED indicates 34-66% charge
The manufacturer suggests always keeping the toothbrush on the charger to ensure the battery is always fully charged.
Bluetooth Connectivity
One of the Sonicare Flexcare Platinum models (the Connected version) had a Bluetooth connection built-in. Now, this model has been discontinued.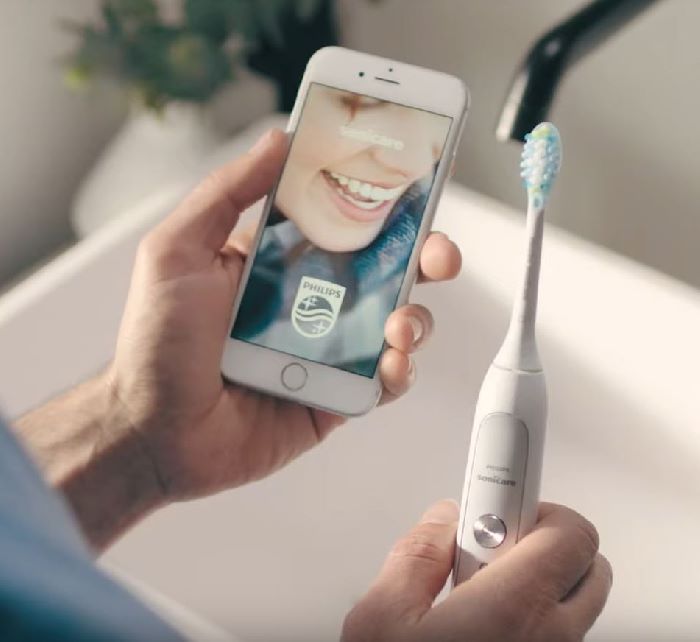 Easy-Start Program
Easy-start program is an additional cleaning mode for first-time electric toothbrush users.
This reduced power mode helps to get used to the vibrations of the power toothbrush. Initially, the brush works with a fraction of full power and increases the power automatically each time you use the brush. The full power is achieved over 7 days (over the first 14 brushing sessions).
The FlexCare Platinum brush comes with the Easy-start program deactivated, but you can turn it on if necessary. The procedure is described in the user manual.
Pressure Sensor and Scrubbing Sensor
Coming soon!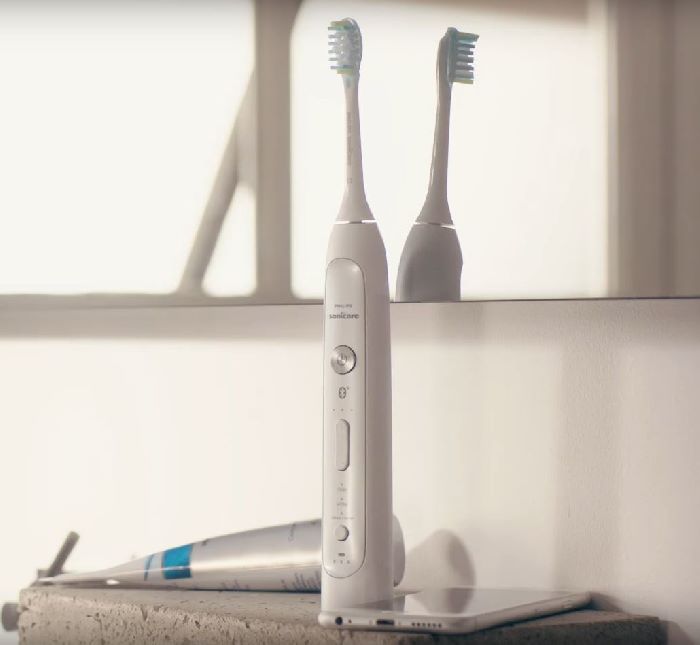 Replacement Brush Heads For FlexCare Platinum
Philips Sonicare toothbrush model FlexCare Platinum is compatible with a broad range of Philips click-on replacement brush heads.
The toothbrush comes with 2 brush heads – an AdaptiveClean and an InterCare brush head. Changing the brush head every 3 months is advised, so the included heads got you covered for half a year.
This toothbrush model does not feature BrushSync technology that adjusts the brushing mode to the chosen brush head. The toothbrush still keeps track of the time and how long you use the brush head and warns you in the app when it is time to replace it.
Brush Head Coding
Philips used to include 3 color rings in each brush kit. They were used to identify the brush heads if multiple persons shared one handle. Just put the colored ring on the bottom of the brush head, and your brush head will stand out from the others.
Now there are no color rings. Now each brush head is marked with one of these symbols – triangle, square, or ring. This way, people can keep track of which brush head is used by whom.
Package Contents
toothbrush handle
1 AdaptiveClean brush head
charger and charger cover with brush head holders for 2 brush heads
travel case
Dimensions
The box size is 3.7 x 6.7 x 9.3 inches, weighing around 2 pounds, with all bundled accessories included.
Design
The FlexCare Platinum design combines different shades of light grey and white. There is also a stylish shiny front panel.
The brush heads are easy to attach and remove for your convenience. It is also effortless to use thanks to its slim ergonomic design and rubber handle, making it easy to grip.
The toothbrush features multiple LED indicators showing you which brushing mode and intensity you use. There is also a battery indicator in the lower part of the handle.
Consumer Reviews – What Are Users Saying?
This Flex Care Platinum toothbrush has high ratings from its users.
Customers also are voting for this product with their credit cards. Flexcare Platinum is one of the best-selling rechargeable toothbrushes in its price range.
Another longtime bestseller was the cheap Philips Sonicare Essence. So people are choosing between the most affordable and the best.
Most of the reviews are very positive.
Related Reading: Philips Sonicare ProtectiveClean 4100 vs 5100 vs 6100 Review
Pros and Cons
Pros
Here are the features and benefits that people like the most:
3 cleaning modes and 3 intensities to choose from
2-week long battery life
easy to clean and sanitize the brush head using the UV sanitizer
suited for travelers with a hard plastic travel case and multi-voltage travel charger
Cons
Some people are saying that the price is too steep and that the brush heads are more expensive compared to Oral B. Still, the higher cost can be justified by the broad range of features this gadget has, so the buyer gets what he is paying for. And Oral B brushes do not come with a UV sterilizer.
Some people have managed to grow mold in the UV sanitizer, but I believe it to be improbable if you shake off the excess water from the brush after using it.
I also came across the complaint the UV sanitizer base takes up too much space in the bathroom. You should keep the space requirements in mind when shopping for any gadget.
Alternatives
If you are looking for the latest technology from Philips, you should check out this toothbrush – Philips Sonicare DiamondClean. I have researched this model and written a comparison article about Philips Sonicare DiamondClean vs FlexCare Plus.
My conclusion is that the DiamondClean model looks fancier and features a few innovative technologies, but FlexCare Plus will do a better job taking care of your teeth and gums.
There are also several power toothbrushes from Oral B with comparable features. You can learn more from my review of Oral B 6000 and 7000 models.
Price
You can buy the toothbrush from Amazon and other online retailers like Walmart, BestBuy, Target, or Drugstore.
After checking offers in online stores that sell dental care products, I discovered that Amazon often offers excellent prices on Philips Sonicare FlexCare Platinum toothbrushes.
Products Frequently Bought Together With FlexCare Platinum
This power toothbrush often is bought together with the replacement heads.
When you buy the FlexCare Platinum toothbrush, you might also be interested in Waterpik Ultra Water Flosser, which helps clean between teeth.
Accessories?
In fact, there are no specific accessories for FlexCare Platinum. The UV sanitizer I usually suggest buying is already bundled with the brush, so buyers get all they need.
Related Articles