In this Philips Sonicare ProtectiveClean review, I will describe the features and benefits of all ProtectiveClean models available on the market – ProtectiveClean 4100, 5100, 6100, and 6500. 
You will also learn about the differences between these models so that you will be able to make the right choice.
Philips Sonicare ProtectiveClean rechargeable sonic toothbrushes feature the latest technology in oral hygiene to ensure that users experience maximum teeth and mouth cleaning.
The Sonicare ProtectiveClean electric toothbrushes have been clinically proven to be more effective than other products of the same price range, including Oral B by Braun and others.
Philips Sonicare ProtectiveClean 6500 Rechargeable Electric Toothbrush with Charging Travel Case and Extra Brush Head, Deep Purple HX6462/09CHECK CURRENT PRICE
If you are in a hurry, here is the quick comparison table of Sonicare ProtectiveClean models.
Philips Sonicare ProtectiveClean Review
What makes Phillips Sonicare ProtectiveClean toothbrushes much more efficient in cleaning the teeth? The ProtectiveClean is able to provide more comprehensive teeth cleaning coverage which means better plaque removal thanks to its newly resigned BrushSync compatible brush heads.
Not only does it ensure gentle yet deep cleaning of the teeth and the gum line, but ProtectiveClean can also clean hard-to-reach places. Moreover, the Philips toothbrush is smaller and lighter than its counterparts and vibrates less without affecting great results.
Growing up, my parents often reminded me that I should brush my teeth after every meal to practice proper oral hygiene. Now, as an adult, I still do it, and I am thankful to my parents for helping me adopt this habit.
Now I am also very much aware of the importance of choosing the right toothbrush. Evaluating my options is something that I should spend on because of its long-standing effects. With such, I do not exactly pay attention to its price. Instead, I value its effectiveness in keeping my mouth healthy and clean.
If you are undecided about the right toothbrush to buy without spending ridiculous amounts of money, the Philips Sonicare ProtectiveClean rechargeable toothbrushes are among the models I can recommend.

I have been using Phillips Sonicare toothbrushes for years and am highly satisfied, just like most other Sonicare users.
Keep on reading, and you will be enlightened on how this toothbrush model can prove to be a choice you will not regret.
Philips Sonicare ProtectiveClean Features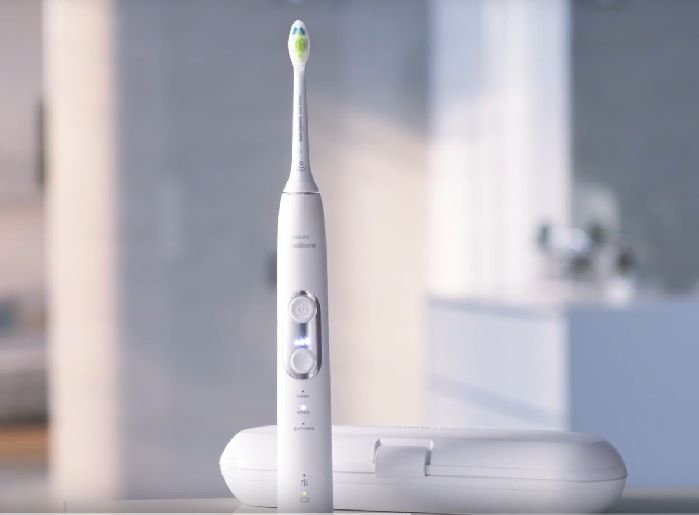 Let's take a quick look at the essential features of the Sonicare ProtectiveClean toothbrush family.
Cleaning Modes
ProtectiveClean toothbrushes offer from a single Clean mode (Protective Clean 4100) up to 3 different modes of brushing in ProtectiveClean 5100, 6100, and 6500 models. They ensure maximum cleaning performance for optimum oral hygiene, sensitive area cleaning for gentle brushing on sensitive areas, and massage to stimulate and soothe the gum.
The ProtectiveClean 6100 and 6500 also offer a choice of 3 brushing intensities.
Comfort
Many ProtectiveClean reviews claim that using the Philips toothbrush is much more comfortable than other rechargeable toothbrushes.
People who have tried using the product love how ProtectiveClean makes them feel like a dentist has just cleaned their teeth. Users rated it highly and said they would definitely choose Philips Sonicare over the other best electric toothbrush brands.
Sonic Technology
Sonic technology, which is not found in manual toothbrushes and those from other brands, is one of the features that I find to be most useful in this toothbrush. This ensures that it can perform up to 62,000 brush strokes per minute, which is highly reflective of its powerful and effective performance.
Rather than struggling with a manual toothbrush, I suggest this Sonic electric toothbrush as a better alternative. It has a better ability to remove plaque that can grow between your teeth, and hence, better at promoting mouth health.
Additionally, Sonic Technology is also the one that is responsible for the creation of a sweeping motion that improves its ability to clean the teeth. This also makes it perfect for those who have veneers, braces, and implants, among others.
Easy Start
The Easy Start feature is another thing worth recommending about this model. I personally like a toothbrush that will require minimal effort on my end. This is exactly what can be expected from the Philips Sonicare ProtectiveClean toothbrush. You just need to apply very light pressure, and it will start working on its own.
Pressure Sensor
All ProtectiveClean models are equipped with a pressure sensor.
If you apply too much pressure, the toothbrush will change the vibration and let you know that you need to reduce the pressure. The pressure sensor feature is activated when you turn on the brush, but you can turn it off if you believe it is useless.
Smartimer
To make sure that brushing is done in the right duration of time, this model has Smartimer. The timer is set to two minutes, which is the recommended time for brushing, according to dental professionals. With this, brushing will never be too short or too long, just the right time.
Quadpacer
You will also know when to move to the next quadrant of your mouth as the Philips comes with Quadpacer, which beeps every thirty seconds.
Brush Sync Reminder
Brush Sync is a brush head replacement reminder built in all ProtectiveClean models. If you use BrushSync compatible Philips brush heads that include C2, C3, G2, G2, W2, W3, and a few others, the indicator on the toothbrush handle will light up when it is time to replace the brush head.
BrushSync Mode Pairing
The ProtectiveClean 6100 and 6500 has BrushSync mode pairing function.
When you attach the BrushSync compatible Philips brush head to the toothbrush handle, the toothbrush handle chooses the most appropriate brushing mode for the brush head:
C2 Optimal Plaque Control head pairs with Clean mode
G2 Optimal Gum Care head pairs with Gum Care mode
W DiamondClean head pairs with White mode
Powerful Lithium-Ion Battery
Lastly, I also like that this toothbrush has a powerful battery.
In fact, with one single charge, the toothbrush will also be functional for about two weeks. This will allow you to save on electricity from charging often and use the toothbrush at least 28 times straight before having to charge it again.
Lithium is also considered more environmentally safe than other battery technologies used in rechargeable toothbrushes.
Travel Case
And if you need to bring it on your vacation, 5100 and 6100 models have a convenient travel case. The Sonicare 6500 comes with a USB charging case.
Box Contents
Here is what is included in the box:
1x ProtectiveClean toothbrush handle
Brush heads:

4100 – 1x C2 Optimum Plaque Control
5100 – 1x G2 Optimum Gum Care
6100 – 1x W DiamondClean
6500 – 2x W DiamondClean

1x travel case

4100 – none
5100 / 6100 – standard travel case
6500 – USB charging travel case

1x Charger base with cable and US standard wall plug
Philips Sonicare ProtectiveClean 4100 vs 5100 vs 6100 vs 6500
Now here is a quick overview of all ProtectiveClean models.
Philips Sonicare ProtectiveClean 4100
The Philips Sonicare Protective Clean 4100 is the most affordable ProtectiveClean model.
It has only one Clean brushing mode without intensity selection. The 4100 comes with one C2 Optimum Plaque Control brush head.
Available colors:
White – HX6817/01
Pink – HX6815/01
Black – HX6810/50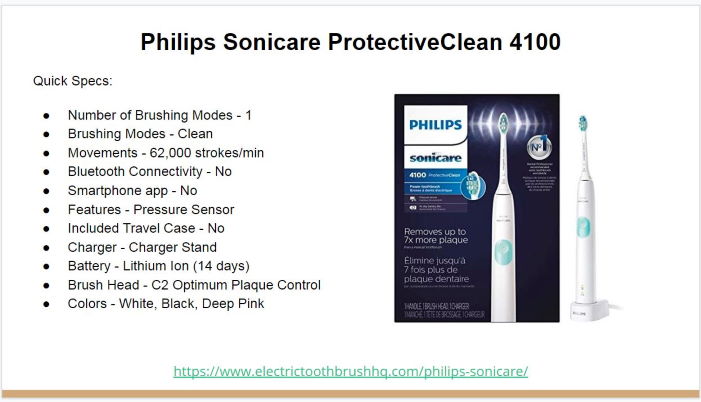 Philips Sonicare ProtectiveClean 4300
Philips Sonicare ProtectiveClean 4300 is the UK version of the ProtectiveClean 4100.
It is similar to the 4100 model with the only difference of having the two brushing intensity options.
While the US ProtectiveClean 4100 has one mode and one intensity, the UK ProtectiveClean 4300 has one brushing mode and a choice of Low and High intensities.
Philips Sonicare ProtectiveClean 4700
Philips Sonicare ProtectiveClean 4700 sits somewhere between the ProtectiveClean 4100 and the 5100. It has 2 brushing modes (Clean and Gum Care) and 3 brushing intensities.
Philips Sonicare ProtectiveClean 5100 and 5300
If you prefer variety to have a single brushing mode, you should consider getting the Philips Sonicare ProtectiveClean 5100.
Sonicare 5100 has 3 brushing modes – Clean, White, and Gum Care. It has one G2 Optimum Gum Care brush head and a travel case without a charging function.
ProtectiveClean 5300
You can also get this model under the name Philips Sonicare ProtectiveClean 5300. It is the same 5100 model with 2 additional DiamondClean W brush heads.
Available colors:
White – HX6857/11
Black – HX6850/60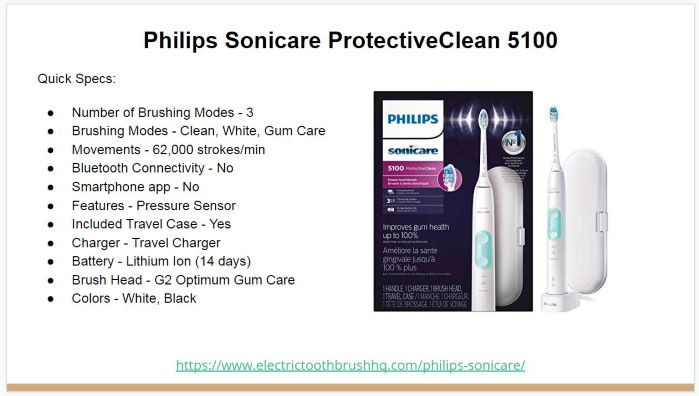 Philips Sonicare ProtectiveClean 6100
Philips Sonicare ProtectiveClean 6100 Rechargeable Electric Toothbrush, Whitening, WhiteCHECK CURRENT PRICE
With Philips Sonicare ProtectiveClean 6100, you get even more choices.
First, you can choose from 4 available colors – White, Pink, Navy Blue, and Deep purple.
When using the Sonicare 6100, you can choose between 3 brushing intensities – Low, Medium, and High.
Available colors:
White – HX6877/21
Pink – HX6876/21
Deep Purple – HX6471/03
Navy Blue – HX6871/49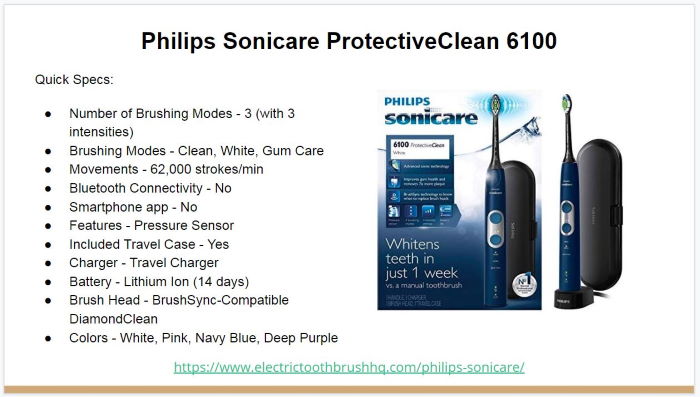 Philips Sonicare ProtectiveClean 6500
What is the Philips Sonicare ProtectiveClean 6500?
Initially, the Philips Sonicare 6500 model was based on ProtectiveClean 6100 and sold exclusively by QVC.
Now the Philips Sonicare ProtectiveClean 6500 is sold by many retailers, including Amazon. The current 6500 model comes with a premium USB charging travel case and two brush heads compared to a regular travel case and a single brush head of 6100.
Available colors:
White – HX6462/05
Pastel Pink – HX6462/06
Black – HX6462/08
Deep Purple – HX6462/09
Navy Blue – HX6462/07
Philips Sonicare ProtectiveClean Comparison Table
Here is a quick ProtectiveClean comparison table.
| Model name | Sonicare 4100 | Sonicare 5100 | Sonicare 6100 |
| --- | --- | --- | --- |
| | | | |
| Model Number | HX6817 | HX6850 | HX6877 |
| Rechargeable | Yes | Yes | Yes |
| Battery | Lithium Ion | Lithium Ion | Lithium Ion |
| External Timer | No | No | No |
| Brushing Modes | 1 - Clean | 3 - Clean, Gum Care, White | 3 - Clean, Gum Care, White + 3 intensities for each mode |
| Brush Movements | Up to 62,000 brush movements/min | Up to 62,000 brush movements/min | Up to 62,000 brush movements/min |
| Visual Pressure Indicator | No | No | No |
| Included Brush Head | C2 Optimal Plaque Control | G2 Optimal Gum Care | W DiamondClean |
| UV Sanitizer | No | No | No |
| Charger Type | Portable | Portable | Portable |
| Travel Charger | No | No | No |
| BrushSync | Yes | Yes | Yes |
| Available Colors | Multiple | Multiple | Multiple |
| Review | | | |
Philips Sonicare 4100 vs 5100
Most often, my readers ask for a detailed explanation of the differences between Sonicare 4100 vs 5100.
There is one significant difference that could be a dealbreaker for some buyers.
The cheapest ProtectiveClean, the Philips Sonicare 4100, has only one brushing mode (Clean) as opposed to 3 brushing modes (Clean, White, and Gum Care mode) of Sonicare 5100.
I have owned toothbrushes with as many as 6 brushing modes. Playing with different modes is fun, but the regular Clean mode gets the work done.
The Philips Sonicare 4100 comes without a travel case. If you are hitting the road often, this could be an annoyance, so ProtectiveClean 5100 will be a better choice for travelers.
Philips Sonicare 5100 vs 6100
If you are looking for a quick answer about the differences between Philips Sonicare 5100 vs 6100, here are the main points:
The Sonicare ProtectiveClean 6100 comes with more choices right out of the box. It has 3 cleaning intensities (Low, Medium, and High) for all 3 brushing modes it shares with the cheaper Sonicare 5100. Are the choice of intensities a valuable feature? Absolutely! The Low Intensity mode will be a Godsend if you have sensitive teeth.
Another nice-to-have feature the 6100 model has is the BrushSync mode pairing that allows using the latest generation smart brush head according to its design. How does it work? If you put in the G2 Gum Care brush head, the brush handle automatically chooses the Gum Care brushing mode that works best with the G2 brush head.
Philips Sonicare 6100 vs 6500
There is not much to say about the differences between Sonicare 6100 vs 6500.
Both toothbrush handles are identical. The difference is in bundled accessories. The Sonicare 6500 comes with a charging travel case and more replacement heads.
Customer Opinions About This Product
In many of the customer reviews about this product, one thing I often see being commended is that it is very easy to use. One reason for such is most probably because of the soft-grip handle that makes it easy to handle when brushing. Additionally, it could also be because of having controls that are easily accessible.
The cleaning performance of this toothbrush is another thing that is commonly praised in many reviews. Since it is electric and can produce thousands of rotations, it can get in between the areas that are generally not reached if you use a manual toothbrush.
Lastly, it is also common for its users to commend the performance of its battery. As earlier mentioned, it can last for up to two weeks. Even if you are traveling and forget your charger, you will not have any problem.
5 Things to Look for in an Electric Toothbrush
Design: This means that the toothbrush should have an ergonomic design, which, in turn, will make it easy to use. For instance, you should make sure that the handle has a nice grip and that it will not cause any discomfort when it is being used. Having a soft grip can also prove to be beneficial to make sure that your brushing experience will be comfortable all the time.
Easy to Use: Brushing is an activity that is done every day. Even if it takes just a few minutes of your time, it is essential to make sure that you buy an electric toothbrush that is easy to use. This will keep you motivated to brush all the time.
Technology: With the innovations introduced recently, you should ensure that the electric toothbrush you purchase is not outdated. Make sure that it has the latest developments in the product category.
Battery: The functionality of electric toothbrushes will depend on their battery. It will be good to buy a model with a long-lasting battery. Within a single charge, it should be able to reserve enough power so that you will not need to charge it again just after a few uses.
Powerful Bristles: One of the essential parts of an electric toothbrush is the bristles that can be found in the brush head. The bristles should be designed in such a way that they can ensure effective cleaning all over, even in the hidden areas and on the spaces in between your teeth.
Replacement Brush Heads
Philips Sonicare ProtectiveClean toothbrush is compatible with all new generation Click-on Philips Sonicare replacement heads.
Box Contents
Philips Sonicare ProtectiveClean Rechargeable Sonic Electric Toothbrush package includes the brush handle itself, one brush head (model can vary), charger, and travel case (not included with 4100 model).
Related Reading: Philips Sonicare DiamondClean Review
Additional Items to Consider
If you purchase this product, I suggest you also buy Philips Sonicare HX9033/65 Optimum Gum Health Brush Heads.
This is because of the need to replace the head of the toothbrush from time to time to ensure its effective cleaning performance.
Genuine Philips Sonicare Optimal Gum Health replacement toothbrush heads, HX9033/65, BrushSync technology, White 3-pkCHECK CURRENT PRICE
Frequently Asked Questions
Can I use Philips Sonicare ProtectiveClean charger abroad?
Yes, you can use the Philips Sonicare ProtectiveClean and its included charger when traveling abroad. It is a universal charger that can be used with 110V and 220V.
Is Sonicare ProtectiveClean toothbrush waterproof?
Yes, the Philips Sonicare PretectiveClean toothbrush is waterproof, but the manufacturer suggests avoiding using it in the shower or bathtub.
Can the ProtectiveClean toothbrush be left on the charger between uses?
Yes, the Philips Sonicare PretectiveClean can always be left on the charger. It has a Lithium-Ion battery that can not be damaged this way. Still, some insist that even Li-Ion batteries should not be constantly recharged as it may potentially shorten the battery life.
Conclusion
The Philips Sonicare ProtectiveClean electric toothbrushes are a great choice for those looking for a reliable, convenient toothbrush.
With features such as pressure sensors and a brush head replacement reminder, these toothbrushes help users keep their teeth healthy and clean. The high capacity Li-Ion rechargeable battery ensures that the toothbrush is always ready to use, and the attractive design makes it a stylish addition to any bathroom.
With all these features and benefits, the Philips Sonicare ProtectiveClean electric toothbrushes are a great choice for anyone looking for a reliable and effective toothbrush.
Related Articles