Philips Sonicare ProtectiveClean Rechargeable Sonic Toothbrush features the latest technology in oral hygiene to ensure that users will experience maximum teeth and mouth cleaning. The Sonicare ProtectiveClean toothbrush has been clinically proven to be more effective than other products of the same kind in the market today including the Oral B Triumph as well as the Sonicare Elite.
What makes Philips Sonicare ProtectiveClean rechargeable Sonic Toothbrush much more efficient in cleaning the teeth? The ProtectiveClean is able to clean wider teeth coverage which means better plaque removal thanks to its newly designed ProResults brush head.
Not only does it ensure gentle yet deep cleaning of the teeth and the gumline, ProtectiveClean is also able to clean hard to reach places. What's more, Philips toothbrush is smaller and lighter than its counterparts and also vibrates less without affecting great results.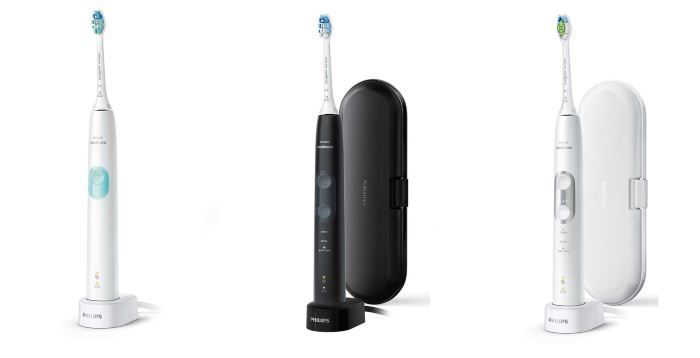 ProtectiveClean toothbrush offers three modes of cleaning. These are maximum cleaning for optimum oral hygiene, sensitive area cleaning for gentle brushing on areas that are sensitive and massage to stimulate and soothe the gum. You can choose from two brushing routines and determine which one works best for you. You will also know when to move to the next quadrant of your mouth as the Philips comes with Quadpacer which beeps every thirty seconds.
Many reviews have said that using the Philips toothbrush is much more comfortable than other rechargeable toothbrushes. People who have tried using the product love how using ProtectiveClean makes them feel as if their teeth have just been cleaned by a dentist. Users have rated it highly and said that they will definitely choose Philips Sonicare over other best electric toothbrush brands.
The lithium ion battery enables you to use the toothbrush for two weeks straight before having to charge it again. Lithium is also considered to be more environmentally safe than other battery technologies being used by rechargeable toothbrushes.
Philips Sonicare ProtectiveClean 4100 vs 5100 vs 6100
More coming soon!
| Model name | ProtectiveClean 4100 | ProtectiveClean 5100 | ProtectiveClean 6100 |
| --- | --- | --- | --- |
| | | | |
| Model Number | HX6817 | HX6850 | HX6877 |
| Rechargeable | Yes | Yes | Yes |
| Battery | Lithium Ion | Lithium Ion | Lithium Ion |
| External Timer | No | No | No |
| Brushing Modes | 1 - Clean | 3 - Clean, Gum Care, White | 3 - Clean, Gum Care, White + 3 intensities for each mode |
| Brush Movements | Up to 62,000 brush movements/min | Up to 62,000 brush movements/min | Up to 62,000 brush movements/min |
| Visual Pressure Indicator | No | No | No |
| Included Brush Head | C2 Optimal Plaque Control | G2 Optimal Gum Care | W DiamondClean |
| UV Sanitizer | No | No | No |
| Charger Type | Portable | Portable | Portable |
| Travel Charger | No | No | No |
| Bluetooth & Smartphone App | Yes | Yes | Yes |
| Available Colors | Multiple | Multiple | Multiple |
| Review | | | |
Replacement Brush Heads
Philips Sonicare ProtectiveClean toothbrush  is compatible with the new generation Click-on replacement heads.
Box Contents
Philips Sonicare ProtectiveClean rechargeable Sonic Toothbrush package includes one standard brush head, brush head storage, deluxe charge with cord wrap, luxury soft travel case, a hygienic travel cap and three additional color code rings.
Related Reading:Philips Sonicare DiamondClean Review
Related Articles