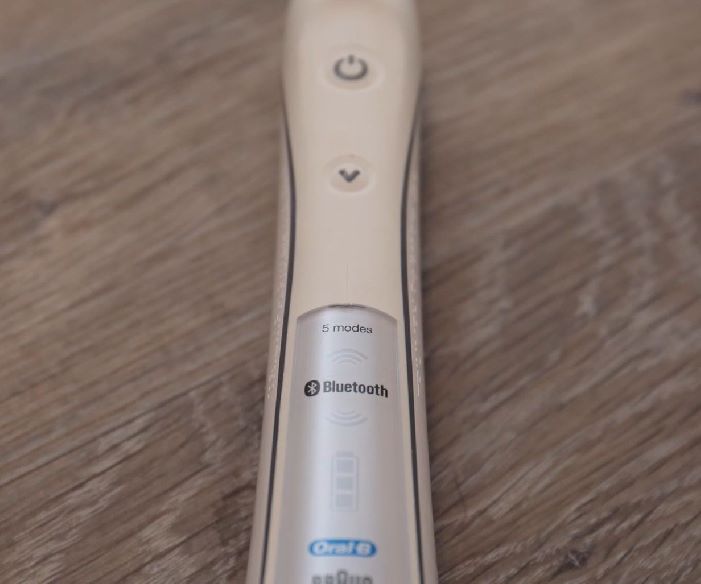 This is my Oral B Pro 5000 review where I will tell you everything I have learned about this toothbrush that you need to know before buying it.
When you buy Oral B 5000 Professional Care SmartSeries Rechargeable Toothbrush, you can make sure that your mouth, teeth, and gums will really get cleaned.
What is Oral B Pro 5000?
This toothbrush also features FlossAction technology which ensures that your mouth will be clean overall. In fact, you will notice having whiter dentures only after 3 weeks of use.
When it is in deep clean mode, it can remove up to 99.7% of plaque particularly on hard to reach places.
Oral-B Pro 5000 SmartSeries Power Rechargeable Electric Toothbrush with Bluetooth ConnectivityCheck Price
It can remove both plaque and stains from the teeth, and this is something that other electric toothbrushes are struggling with.
Using Oral B 5000 toothbrush will also make you notice how fresher your breath will smell only after a few uses. Despite its strong cleaning abilities, it is gentle on both the teeth and the gums.
Oral B Pro 5000 SmartSeries Features
Floss Action Brush Head
A regular manual brush only manages to get the gunk out of the teeth that are on the surface, while the round head manages to reach smaller areas. The micropulse bristles have an arrangement that allows it to reach those tiny corners to get every bit of food out, while the floss action feature gives a clean that is very similar to flossing. This does not replace flossing but lessens the need for it.
3D cleaning action
What we do with a regular toothbrush is that we naturally move it vertically and horizontally which manages to get some food out from the surface. This 3D cleaning action utilizes many sorts of vibrations and movements, so the teeth and gums receive a 360-degree cleaning. It oscillates, rotates, and sends out pulses that get rid of more plaque than a regular old toothbrush.
Pressure Sensor
More often than not we put too much or too little pressure on our teeth while brushing, but the hardest part is to understand when we are doing that.
The pressure sensor feature allows one user to see if he or she is putting too much pressure which can be damaging to the gums and the teeth enamel.
If there is too much pressure, a red LED on the handle will glow, and you will get a notification on your smartphone screen as well.
Bluetooth Communication
Much like everything else today this toothbrush is also automated to a great extent with Bluetooth. Now even though this feature might seem odd in such a device, it comes to a lot of use.
This lets you monitor your brushing habits with real-time feedback which you otherwise could not have done. Things like pushing the bristles too hard or not using the brush too often give off signals which you can see and use to improve your brushing habits in real-time.
Oral B Pro 5000 5 Cleaning Modes
Daily Clean is what one should use every day and is very mild.
Gum Care is one that helps to stimulate the gums, which keeps the teeth healthy and sturdy as well.
Sensitive is for when you feel like your teeth are hurting, or if you have sensitive teeth in general, and uses very moderate speeds.
Whitening changes speeds to eliminate stains from the surface.
Deep Clean extends the cleaning time and should be done every once in a while, but not every day.
Oral-B 5000 Pro Benefits
A lot of people who have tried Oral B Pro Series 5000 brush have noticed the difference only after a few days of using it.
Should you find it confusing to use it in the beginning, you need not worry as Oral B 5000 Smart Series Professional Care toothbrush manual is easy to understand. It also comes with a DVD which explains in detail how their brushing technique works.
This OralB model also has several more features such as visuals on your brushing time, pressure, and mode which will appear on a separate screen that comes with it. It will inform you as well if you are brushing too hard.
You will have every reason to be satisfied with this toothbrush. Maybe except the price. Although this brush costs more than the other same products on the market, it will be worth it since it is rechargeable and you will not need to buy batteries for it to operate.
If you think this brush is too expensive for you, you should check out the Oral B Pro 3000 review and learn about its differences from this model.
Another thing to love about the Oral B toothbrush 5000 is the fact that it is not bulky. The charger is small which means you can bring it along with you when you travel.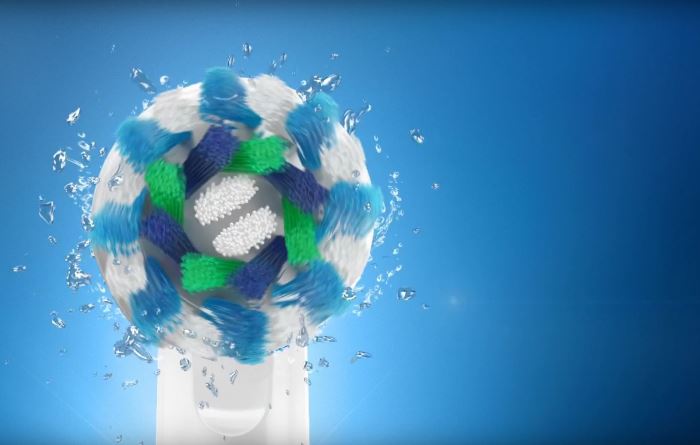 Package Contents
1 Oral-B SmartSeries Handle
1 FlossAction brush head
1 Premium Charger with Refill Head Storage
1 Travel Case
Specifications
Model Number: ND
Rechargeable Toothbrush: Yes
Battery Type: NiMH
Built-in Timer: Yes
External Timer: No
Brushing Modes: 5 – Daily Clean, Deep Clean, Whitening, Massage, Sensitive
Brush Movements: 40,000 pulsations/min; +8,800 oscillations/min
Pressure Sensor: Yes, decelerates brushing and flashes red warning signal
Visual Pressure Indicator: Yes
Included Brush Heads: 1x FlossAction
UV Sanitizer: Not included
Charger Type: Premium
Brush Head Container: Yes
Travel Charger: No
Bluetooth Connectivity: Yes
Smartphone App: Yes
Available Colors: White, Black
Oral B Pro 5000 Reviews From Users
Many customers who bought the Oral B loved that it is rechargeable and does not use a battery since it is much more convenient that way. They also liked that this uses an app because it gives a detailed review of what is going on in the mouth and how to improve.
However, there were complaints because one has to change the "journeys" to change the modes as it does not allow one to test out all the modes at once. This particular feature of the app will need some getting used to and is a bit hard to keep up with.
Several users say it is the best electric toothbrush they have ever laid their hands on. But still many mentioned it takes time to get used to the many different sorts of vibrations and oscillations in the mouth. These sensations can feel weird at first, but over time one will get used to it.
At first, some found the Bluetooth feature to be gimmicky. But after prolonged use, they can all agree because of the Bluetooth technology their dental habits have vastly improved.
One customer said it had done wonders for her and her son who has braces. She said her son had seen drastic changes with this brush and that is mostly due to the round head instead of an elongated one which allows it to reach each tooth separately and with more focus.
The son does not have plaques around the braces anymore, nor any grit, and his teeth are much cleaner and whiter than before as well. The reviewer herself has also seen less grit on her teeth after using this.
Pros and Cons
Pros
Removes Plaque
This brush is very thorough unlike a regular manual brush and gets rid of grit and plaque with daily use. This is especially great for those who have suffered from cavities or plaque all their life. This reduces the need to visit a dentist's office over and over again and gives the same service at home on an everyday basis.
Bluetooth Connectivity and Smartphone App
The Bluetooth feature allows one to monitor their pressure on their teeth and gives a lot of insights on what is going on inside the mouth. This stops one from using excessive force which can be very damaging to the gums, which in turn affects the teeth badly, and also helps them to understand the mechanisms that are best for their teeth. It also gives feedback on the brushing which the user can see as they are doing it.
It comes with an app that is free and is excellent for people who do not like to brush their teeth for it will surely motivate them to do so. It is fun, it lets you know what to do, and it allows you to go on "journeys" and much more, and all of this serves as reason alone to brush your teeth. It helps to motivate non-brushers to start brushing.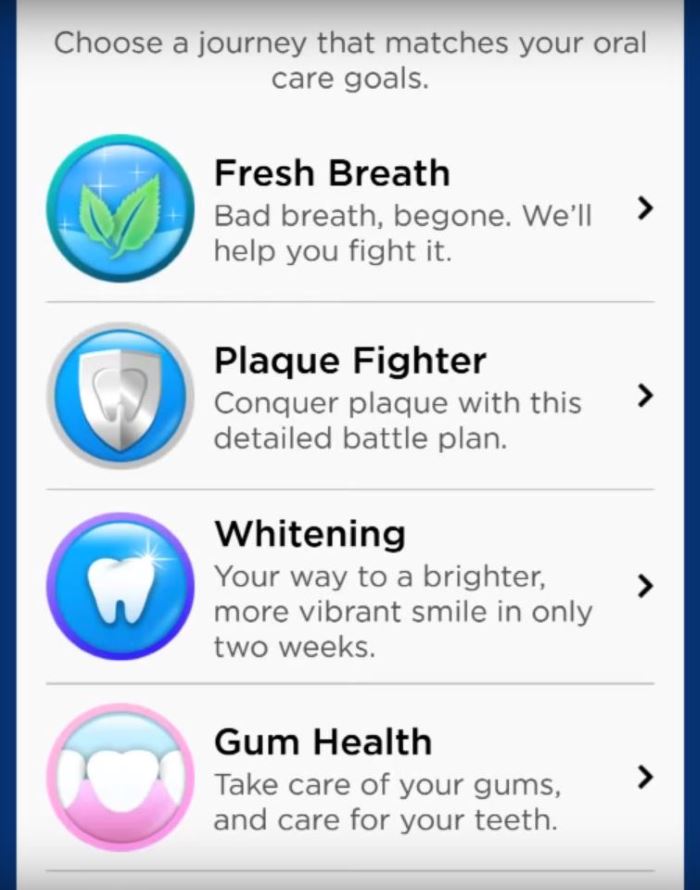 Strong Battery
The battery is a keeper on this one because it can go for a straight 10 days on average without recharging. This is an excellent feature for lazy and forgetful people who often skip out on brushing as a whole for forgetting to charge their brushes.
Cons
Big and Bulky
People who are not used to electric toothbrushes sometimes will have to spend some time adjusting to using Oral-B 5000. The handle is bigger and heavier than the manual brush, and the material of the bristles is a bit rough for some people, and they find it very harsh.  This will come off hard and scratchy to some first-time users.
Pricey
The price too is quite high for some of the people since one can get the Oral B Pro 1000 toothbrush at half the price or Oral B Pro 500 for even less money. And a lot are not willing to invest so much into something like a toothbrush. They dislike having to pay more for a feature they are not using.
Bluetooth Redundant
Some people have a hard time finding a reason to use the Bluetooth feature. Mostly these are the people who do brush regularly with sincerity anyway.
Alternative Names
This toothbrush is also referred to as:
OralB Precision 5000
Oral B Pro Care 5000
OralB SmartSeries 5000
Oral B SmartSeries 5000
Oral B ProfessionalCare SmartSeries 5000
Oral B ProfessionalCare SmartSeries 5000 with Smartguide (the current model does NOT have Smartguide)
Oral B Professional Precision 5000
Oral-B Deep Sweep 5000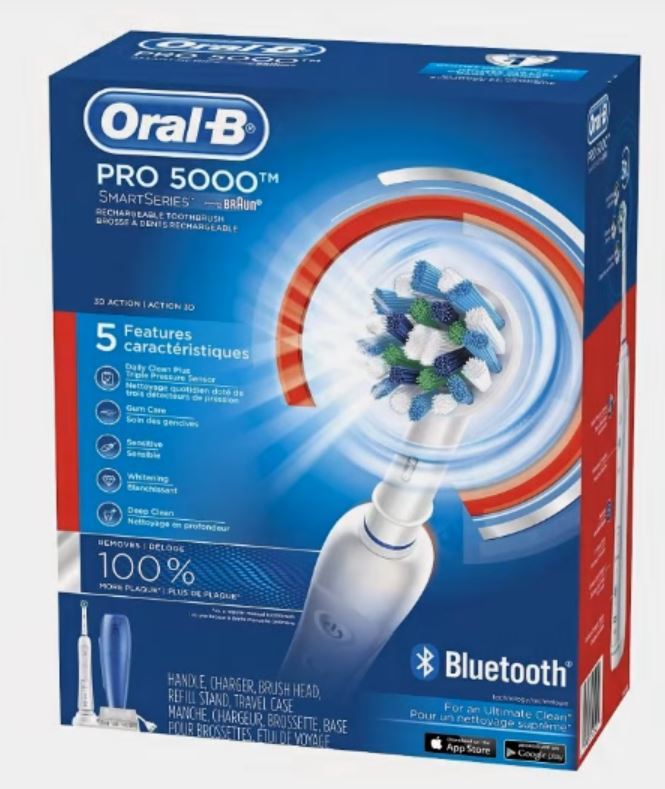 Alternatives
Now let's see if there are any similar toothbrush models you could get for a similar amount of money.
Oral B Pro 5000 vs 7000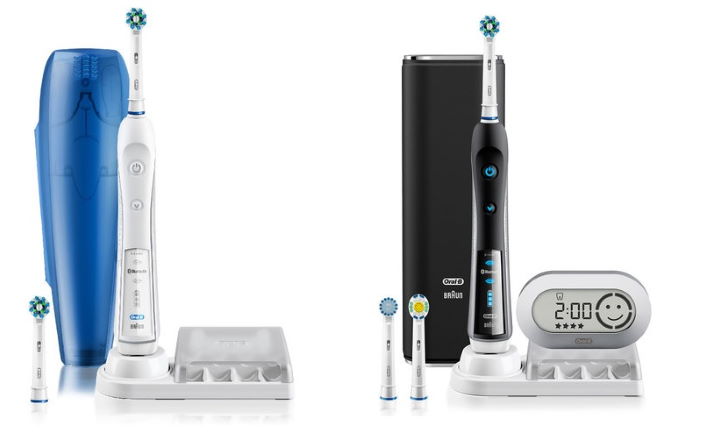 It looks like the main difference between Oral B 5000 vs 7000 is a few extra features that are packed in Oral B 7000 electric toothbrush.
Which come at a price as you may have guessed.
Number of cleaning modes
The cheaper 5000 model features 5 modes – Sensitive, Daily Clean, Whitening, GumCare, and Deep Clean mode.
A more expensive OralB Pro 7000 model has the same 5 modes listed above plus additional Tongue Cleaning mode for complete oral hygiene.
Wireless Smart Guide and Bluetooth
Both models used to feature the Wireless Smart Guide, but currently the latest batches of Oral B 5000 are supplied without it. Smart Guide is a stand-alone timer that helps you to make sure you are brushing your teeth for suggested 2 minutes and shows the selected brushing mode.
It also features a quadrant prompt that guides you thru 4 quadrants of your mouth.
When Smart Guide is not in use, it works like a clock. Each SmartGuide can be paired with one or two toothbrushes.
Both brushes also have Bluetooth connectivity that works with the smartphone app. This makes the SmartGuide redundant.
Battery
The newer Oral B 7000 has a new Lithium-Ion battery, but you can expect to get the same 10 days from one charge you get from Oral B Pro 5000 NiMH battery.
Included Brush Heads
The Oral B 7000 comes with 3 brush heads – 1 CrossAction brush head, 1 3D White brush head, and 1 Sensitive brush head, but the 5000 model has only 1 unit of FlossAction brush head.
Travel Case
The more expensive model has the stylish Premium case but it lacks the charger function.
Which brush would you choose?
It is safe to say that any of these brushes will have the job done. Both units will get those wine and coffee stains off your teeth and remove the plaque build-up. You can be sure you will see the difference in just three weeks or even less.
The question you should ask yourself is – is the price difference worth one additional brushing mode and a couple of nice to have design upgrades? Would you pay extra for an electronic clock for your bathroom that helps to clean your teeth better? I would.
Features compared
| Model name | OralB Professional Healthy Clean + ProWhite Precision 4000 | OralB Professional Healthy Clean + Floss Action Precision 5000 |
| --- | --- | --- |
| Model number | D29.515.4X | D34.515.5X |
| Rechargeable | Yes | Yes |
| External timer | No | Yes, Wireless SmartGuide |
| Brushing modes | 4 - Daily Clean, Sensitive, Whitening, Deep Clean | 5 - Daily Clean, Deep Clean, Sensitive, Massage and Whitening |
| Included brush heads | 1 ProWhite brush head | 1 Floss Action brush head |
| UV sanitizer | No | No |
| Charger type | Portable charging station | Portable charging station |
| Travel charger | No | No |
Oral B 5500 vs 5000
Lately few readers have asked me about the differences between OralB 5500 and 5000 electric toothbrushes.
I have looked into it.
The only difference I have found is you get one extra replacement brush head with the Oral B 5500.
Oral B 3000 vs 5000
Comparison with Oral B 3000 coming soon!
Conclusion
I hope that after reading my article you will have enough information to buy Oral B Pro 5000 and will not have a need to read more Oral B Pro 5000 review articles.
Related Articles