Welcome to my electric toothbrush reviews website where we review top rated products from most popular best electric toothbrush brands and a lot more!
Philips Sonicare
Philips Sonicare's products help users achieve their oral care goals through innovation built upon evidence-based dentistry. Philips Sonicare's advanced technology pulses fluid between the teeth and along the gum-line whilst sonic brush-strokes gently and effectively remove plaque to improve gum health.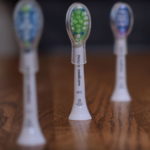 Let's have a look at the current range of Philips Sonicare replacement heads for Philips best electr…
Oral-B by Braun
Oral-B is the World's No.1 dentist recommended toothbrush brand, and is the worldwide leader in the over $5 billion brushing market.
Part of the Procter & Gamble Company, the brand includes manual and electric toothbrushes for children and adults, oral irrigators and interdental products, such as dental floss.
Emmi Dent
Believe it or not – there are also other electric toothbrush brands besides Philips Sonicare and Oral-B/Braun. Emmi-dent is one of these brand names.
Dental Care Tips
Follow Us On Social Media!