Welcome to my electric toothbrush reviews website!
Top Rated Electric Toothbrush Brands
Let's take a look at the two most popular best electric toothbrush brands – Philips and Oral B.
Philips Sonicare
The multiple cleaning modes have been reported as one thing enjoyed by the users of the Philips Sonicare electric toothbrushes. For instance, the FlexCare line has "Clean" mode for thorough brushing, "Sensitive" mode for sensitive cleaning and the "Massage" mode for a stimulating brush.
In addition, another thing that has been asserted as one of the main reasons for the satisfaction of the electric toothbrushes from Philips is its handle. Many of them are equipped with an intelligent design making it easy to hold, even if your hands are wet.
Another important feature of the toothbrushes from Philips is the patented Sonic innovation, which increases its cleaning efficiency to promote overall mouth health. Because of this innovation, the gap between the teeth and the gum line is cleaned thoroughly, which results in the prevention of the buildup of plaque.
There are also electric toothbrushes from Philips that are made specifically for kids. It is easy to operate so that kids will always be motivated to practice proper oral hygiene. To add, it has brushes and functions that are ideal for the sensitive teeth of your child and their special needs.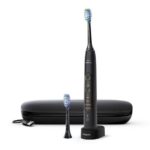 Philips Sonicare ExpertClean is the latest addition to the Philips Sonicare connected electric toothbrush range. There are two models in the product range – Philips Sonicare ExpertClean 7500 and cheap…
Oral-B by Braun
Oral B is a globally reputed brand and is marketed as being the most recommended toothbrush by most dentists all over the globe. This is also true in their electric toothbrushes, which will give you an assurance that its use will be a satisfying experience.
One of the best features of the electric toothbrushes from this brand (except Oral B Pro 500) is the pulsating mechanism at which the mouth is cleaned, unlike others that work primarily through vibration.
In many exerts reviews, it has been noted that pulsating toothbrushes can prove to be much better when it comes to breaking down plaque.
In addition, many have also found it good that their toothbrushes are equipped with indicator bristles. The bristles fade in color, which also serves as an indication that it is already about time to have the toothbrush head replaced in order to make sure of its ability to clean your teeth and gums.
There are many innovative features that are found in Oral B electric toothbrushes. One model, for instance, has Wireless SmartGuide, which leads to the provision of feedback in real-time in order to provide assistance in brushing. Their different models have deep action technology in order to make sure that overall mouth health is promoted, without just concentrating on the teeth.
And the latest (but is it really the greatest?) electric toothbrush from Oral-B by Braun is the Oral-B Genius X.
Emmi Dent
Believe it or not – there are also other electric toothbrush brands besides Philips Sonicare and Oral-B/Braun. Emmi-dent is one of these brand names.
Follow Us On Social Media!