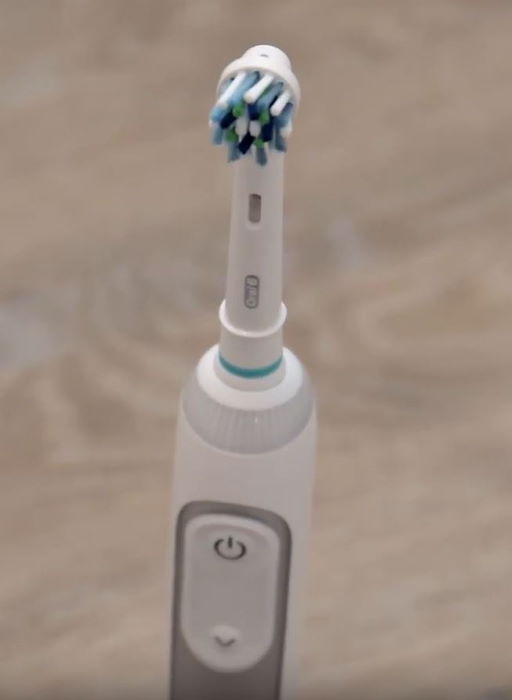 Welcome to my Oral B Pro 6000 Review!
Please keep reading to learn my Oral-B 6000 review to learn why it still remains to be one of the most popular choices for a rechargeable toothbrush.
What Is Oral B Pro 6000?
The Oral B Pro 6000 toothbrush (its full name is 'Oral-B Pro 6000 SmartSeries Power Rechargeable Electric Toothbrush') has been available in the market for quite a time now.
It features an advanced cleaning action that helps keep your mouth clean and healthy and also whitens your teeth.
OralB Pro 6000 uses rounded brush heads are specifically designed to remove plaque from your teeth and gum line, even from the deepest areas of your mouth, improving the overall condition of your mouth.
It is important always to remember that this toothbrush (as well as almost all other electric brushes) is waterproof and it is absolutely safe to use in the bathroom.
Oral-B Pro 6000 Smart Series Power Rechargeable Electric Toothbrush, BlackCheck Price
Oral-B Pro 6000 vs 6500 vs Oral-B Smart 6 6000N
First I want to clear all possible misunderstandings about the similar product names.
The product reviewed in this article is the latest specs Oral B Pro 6000 toothbrush with Bluetooth and visible pressure sensor SmartRing you can buy in the United States.
In Europe you can find 3 models with similar names:
Oral-B SmartSeries 6000 is a white toothbrush that looks like the previous generation US model without SmartRing and with NiMH battery
Oral-B SmartSeries 6500 is a black version of the above model
Oral-B Smart 6 6000N is the latest generation model in Blue and White with Li-Ion battery and SmartRing that looks similar to the current US model
I will add any new information as soon as I will discover something new.
Oral B Pro 6000 Features
Now, let's take a quick look at the most important features of this toothbrush.
While other Genius models offer more features, the Oral-B Genius Pro 6000 has the maximum popularity. It won't break the bank but offers some great features that should be enough for your teeth.
Cleaning Action On Gums And Teeth
Equipped with an advanced cleaning technology, the Oral-B Pro 6000 provides a deep mouth cleaning action leaving you with cleaner and healthier teeth and gums.
It provides 40,000 pulsations and 8,800 oscillations per minute to give the best possible cleaning within the two minutes required brushing time.
Added to that, this rechargeable toothbrush includes a CrossAction brush head, which is designed to remove all plaque between your teeth and gum line thoroughly, and even those in the hard to reach places. With this, you can achieve professional-like teeth and gum cleaning.
Teeth Whitening
Using the OralB 6000 brush, you can get whiter teeth in just a matter of three weeks. You can use the whitening brushing mode to help you get rid of your teeth stains, revealing their natural radiance.
You can also opt-in just replacing your brush head with the ProWhite Brush Head (with a polishing cup) that can also remove teeth stains for whiter teeth. This is an excellent option, especially if you need to use other brushing modes rather than whitening.
Timer Options
This toothbrush comes equipped with a Professional Timer.
This timer beeps every thirty seconds to remind you that you should move to the next quadrant of your mouth. It also keeps you on track of your brushing time by playing the long sound when the recommended 2 minute brushing time is up.
If you are using the Deep Clean mode, the brush beeps every 45 seconds and emits the long beep after 3 minutes.
The timer does not switch the brush off so you can keep brushing even when the recommended time is up.
Bluetooth Connectivity
Oral B Smart Series 6000 has similar Bluetooth connectivity like other Smart and Genius models.
Oral B software  needs either Android OS 4.4 or iOS 9 at least to connect to your device.
The connection shows your brushing time individually for each quadrant and also for the whole time. Besides, it allows you to set colors of the 360 smart ring and keep track of your brushing habits.
Anyhow, not all of the users felt connected to Bluetooth functionality. But from my side, this should be the prime cause of buying this toothbrush. Otherwise, you can go for cheaper models.
Smartphone App
Oral B Genius Pro 6000 app allows you to connect your toothbrush to your mobile through Bluetooth. It takes a few seconds to connect. The app detects your brushing, shows you time, and displays data.
You can even record your brushing time for the whole week or month. The app will also notify you when you need to brush. Anyhow, Oral-B Genius Pro 6000 doesn't have position detection technology other more expensive models.
So, you can't collect live feedback and space where you are brushing your teeth. On the contrary, Oral B Pro 8000 is quite advanced.
You can get the app both in Google play store and Apple store. Even you can download it using the QR code that comes in the box. Installing the app and getting connected is pretty similar and straightforward.
Five Brushing Modes
The Oral-B Pro 6000 takes into account that every user has different dental health needs. So to cater to each and everyone's oral hygiene requirements, it comes with 5 brushing modes.
Daily Clean mode is recommended for day to day complete mouth cleaning
Gum Care mode
Sensitive mode, for people who have sensitive teeth or gums
Whitening mode, as the name suggests, is used to remove stains for whiter teeth
In Pro-Clean mode you get the fastest cleaning speed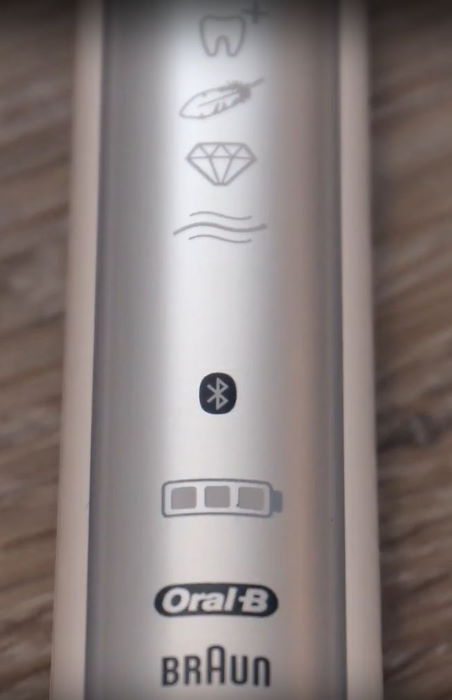 Previously you could quickly find out the number of brushing modes from the Oral-B toothbrush model name – OralB 4000 had 4 modes, Oral B Pro 3000 has 3 modes, and Oral B Pro 1000 (and Oral B Pro 500) has only one mode.
Not it looks like Oral B has broken this system. These days some models have fewer modes than the model name suggests, other models like Oral B Pro 1500 have more modes.
Selecting The Oral B 6000 Brushing Mode
When the toothbrush is switched on it automatically starts in the Daily Clean mode. Oral B 6000 toothbrush features a separate button for mode switching. If you want to switch to another mode, you have to press the Mode button repeatedly.
The modes are in the following order: Daily Clean → Sensitive → Whitening → Deep Clean → Daily Clean.
You can see the selected brushing mode on the toothbrush handle display.
360 SmartRing with LED
Programmable 360 SmartRing with LED lights to customize your brushing experience.
It also works as a Pressure Sensor indicator.
One of the biggest upgrades that Oral B Pro 6000 bought to the market was the 360 Smart app. It has also been followed in the latest Genius.
There are 12 available colors that can be selected from the app. You have the option to choose your preferred color and see this color from all the sides.
It also turns red when you apply pressure on your teeth. You can also collect feedback from the pressure sensors, brushing time, and Bluetooth connectivity. Overall, the 360 Smart Ring hasn't changed and people seem to like this feature.
Pressure Sensor
For more effective brushing techniques, this rechargeable toothbrush has a pressure sensor feature that tells you if you are brushing too hard. Its pulsations stop whenever you are applying too much pressure while brushing.
The pressure sensor in Oral B Genius Pro 6000 also has led light to indicate if you are putting pressure on your teeth. The pressure sensor also reduces the speed of oscillation when the pressure is increased. Thus, it protects your gum and teeth.
This is a signature technology of the Oral B Genius Toothbrush series. We couldn't find any difference in the pressure sensors. They both worked fine and similarly.
Travel Case
The travel box is made with plastic and comparatively thinner than the expensive Deluxe box. It can store your toothbrush and brush heads. Besides it also has holes in the upright to allow the airflow.
Anyhow, it doesn't work as a power bank or has any charging functionalities like the Deluxe charging case. it is just a regular travel case that provides only protection and easy portability to your toothbrush and brush heads. Even it doesn't have docking space for your phone.
Rechargeable Battery Features and Charger
I would say the battery life is decent but not exceptional. The fully charged Oral B 6000 electric toothbrush can be used 28 times (2 minutes each time). That means you can use it for 14 days without additional charging. In other words, if you are leaving your home for 7-10 days, it is safe to leave the charger at home.
The charging process takes more than 10 hours if the battery is totally empty. But usually, a 15-minute charge is enough to for one 2-minute brushing.
The display in the toothbrush handle has 3 segment charge level display – the battery symbol that shows the current battery status and how much charge is left to your toothbrush.
Replacement Brush Heads
Oral-B Pro 6000 rechargeable electric toothbrush is bundled with one Oral-B CrossAction brush head, but it is not the only compatible brush head model.
You can also use Oral-B Pro White, Oral-B Sensitive, Oral-B Precision Clean, Oral-B Dual Clean, Oral-B Power Tip, Oral-B Ortho, and Oral-B Braces Care Essentials replacement heads and even an Oral-B Tongue Freshener.
Indicator Bristles – bristles fade halfway to remind you that you need to replace them. You should replace the brush head every 3 months.
Brush head alert – this feature gives signals to remind whenever you are just ten days away from needing to replace the brush head.
What's In The Box?
The package contents include:
1 ergonomic toothbrush handle
1 OralB CrossAction brush head
1 portable SmartPlug charger
1 travel case
1 charging station with brush head storage
1 rechargeable battery
Dimensions
The Oral-B 6000 box size is 3.4 x 7.8 x 7.2 inches, and it weighs around 1.3 pounds with all bundled accessories.
With its compact size, this toothbrush can easily be stored wherever you want and is very portable for traveling.
Design
The rectangular box looks pretty much decent and smart. After unwrapping, you'll see a user's guide, a travel case, one brush head, charger case, phone holder, and the toothbrush itself. Oral-B Genius 6000 was launched in only white color and which had a lot of negative feedback. So, currently, you can find 4 different color options to choose from.
The brush weighs around 168 grams including the brush head. You can also feel the soft grip rubber material at the backside of the brush which allows you to have a proper grip. After turning on, you'll see lights. By default, you'll also notice that the brush is set in daily clean mode.
By clicking the brushing mode button, you can change the modes. There are five icons for five modes. Thus, you won't get confused like Oral-B Pro 8000. At the lower end, you'll notice the battery icon with three stages. While depletion, the battery icon turns red.
At the lower end, you can see the logos of Braun and Oral-B which is similar to Genius Pro 6000.
The base in Oral B Genius Pro 6000 is also used as the charging port. It comes with water-resistant material to prevent water from entering.
If we bring all the users reviews from different places, we would discover a satisfying vibe. But if we look at a deeper level, Oral-B Pro 6000 also has some space for improvement. Like, their customer support could be better. Or, there are some faulty electrical components complaints. But these are only a few in number. Most of the buyers have made an informed choice. Comparing the price and the features Oral B Genius 6000 has, this is appreciable.
Oral-B Pro 6000 was one of a kind when it first came to the market. It has been upgraded a few times. The outlook, features, and design still remain trendy and effective.
Available Color Options
White
Black
Rose Gold
Orchid Purple
Accessories
Actually, there are no unique accessories for this toothbrush model. The only item I can imagine you would want to get is a UV sanitizer for sanitizing the brush heads.
User Reviews
I should say that this product does very well and can be considered to be one of the best electric toothbrush models you can buy at the moment for a reasonable amount of money.
It is also important to note that many customers have given this product lower ratings (even 1-2 stars) because of issues not directly related to this product quality or performance.
As an example, several users have dropped their toothbrushes on the floor and now are furious that they are broken.
Other users have discovered that their units have stopped charging. Instead of getting in touch with the seller and arranging the replacement, many customers went online and gave low ratings to the product itself.
Users give this product an above-average rating when it comes to cleaning and keeping teeth and gums healthy. However, the toothbrush's design is only on average. The design is not entirely on the wrong side, but it is certainly not the best.
The toothbrush handle is a little bit bulky compared to other rechargeable electric toothbrushes, so it is a little harder to pack in whenever you go for a travel. The rubberized handle can slip out of your hand, especially if it is wet.
Altogether, Oral-B Pro 6000 gets a high recommendation from users since it highly performs on tooth and gum cleaning.
Pros and Cons
Advantages
It is effective yet budget-friendly compared to other smart toothbrushes
It comes with smart wireless guide
The pressure sensor assists to take care of your gum
It is lightweight compared to older models
Brush handle has rubber grips to prevent from slipping
360 smart ring helps to get instant feedback
It has a built-in timer and smartphone connectivity for better cleaning
Most, if not all, users attested to its teeth cleaning capabilities. They felt the difference between using a rechargeable toothbrush compared to the manual brush. After using Oral-B Pro 6000 toothbrush, they can really feel that their mouths cleaner and teeth are whiter.
People also liked that it came with a timer since it keeps them on track of their brushing time, especially for kids.
The rounded brush heads are commendable as they really can reach on those deepest areas.
Recharging is also fast.
Disadvantages
It doesn't have Position detection Technology
The battery life is quite low
Customer service and warranty is weaker
It has fewer modes than Oral-B Pro 8000
The oscillation rate is not so much diverse like the latest models from Oral-B
Though the Oral B 6000 really works for mouth cleaning (which is its primary role), it has still some product flaws.
Some people find the rubber grip to be flimsy as it can easily fall out of their hands, especially when wet.
People also find the unit's handle to be a little bulky, compared to other rechargeable toothbrushes.
Many also find the brush heads to be small, so it is a little uncomfortable to brush.
Alternatives
If you have a bit more money to spend you should check out the Oral-B Pro 7000 toothbrush which is quite similar to the 6000 model but has 5 brushing modes and external timer. You can read more about the differences between these models in the next chapter.
If you think that Braun Oral B brush heads are too small for your teeth, you should check out Philips Sonicare electric toothbrushes. The 5 mode model from Philips that can be compared to Oral B 6000 is the Philips Sonicare Flexcare.
When people are shopping for a mid-range power toothbrush, they are inevitably coming across several brushes from OralB – OralB 5000, 6000, and 7000 models.
These two brushes look so similar that it may be hard to understand their differences. Please keep reading to learn more about the differences between Oral B Pro 6000 vs 5000 vs 7000.
Oral B 6000 vs 5000
Here I will compare the Oral B Pro 6000 and 5000 models.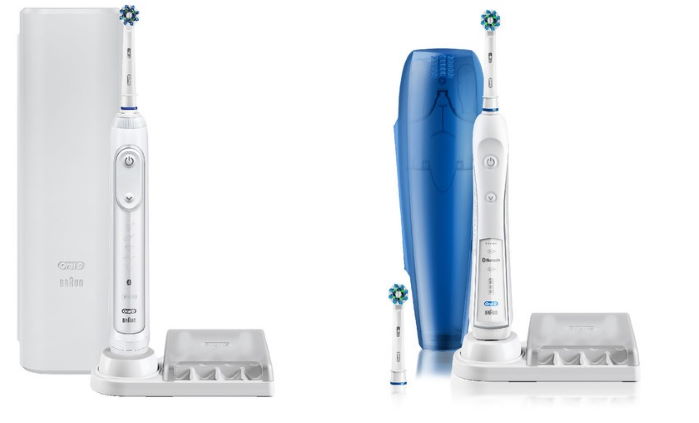 Coming soon!
Oral B Pro 6000 vs 7000
Here I will compare the Oral B Pro 6000 and 7000 models.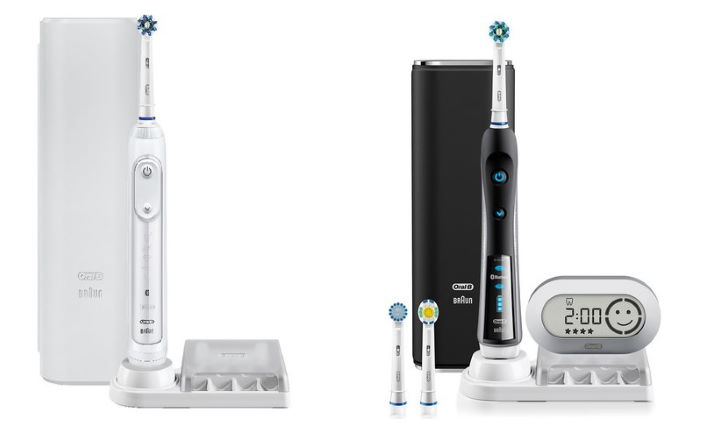 Coming soon!
Price
If you are shifting from manual toothbrushes to this one, the price may shock you a little.
Products often bought together
The OralB 6000 often is purchased along with replacement heads OralB Floss Action 3 pack brush head refill and Oral-B Pro White Replacement Brush Head (3 ct.).
Some people are buying this toothbrush together with Waterpik Ultra Water Flosser. You can read more about water flossers in my other review
Conclusion
It can be a tough decision if you ask me to choose between Oral-B Genius Pro 8000 and Oral-B Genius Pro 6000. They both have many similarities. But Oral-B Pro 8000 is upgraded and comes with modern features.
I would've suggested you Oral-B Genius Pro 8000 if it wasn't so expensive. In fact, the price is almost double. This extra cost will be giving you- Position Detection Technology, extra brush heads, more 2 days of battery life, a smart travel case, and tongue cleaning mode.
If you think you can afford the price, you can go for the Oral-B Genius Pro 8000. Otherwise, it is better to stick to the more popular and budget-friendly Oral-B Genius Pro 6000.
Related Articles