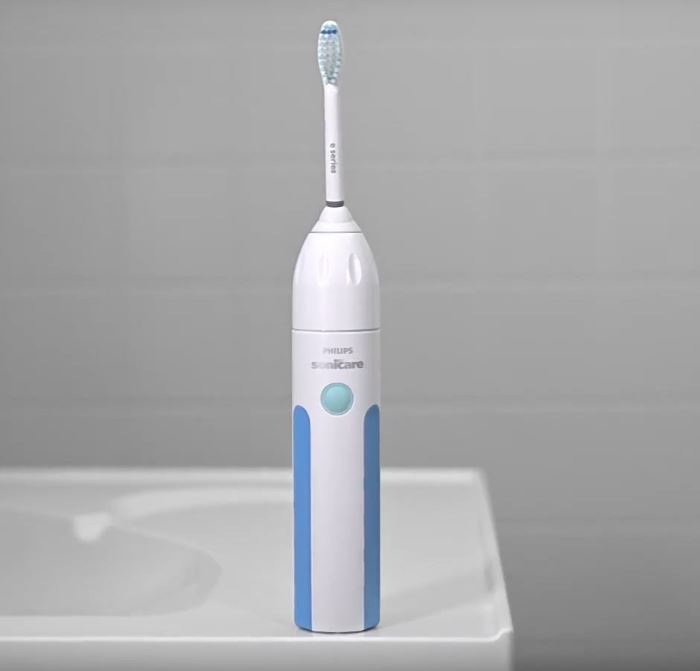 Maintaining your teeth and gums in tip-top shape is easy if you have the right toothbrush. Is it possible to get a decent toothbrush for a reasonable amount of money?
Keep reading my Philips Sonicare Essence review to find out!
Many people have geared towards using rechargeable toothbrushes instead if regular ones. And that would not be surprising since it is clinically proven that electric toothbrushes can go deeper into your mouth and remove twice as much plaque, resulting in a cleaner and healthier mouth.
One rechargeable toothbrush that you can get is the Philips Sonicare Essence 5600. Not only is it competitively priced compared to other models and brands, but it also carries above-average quality and features, leaving your mouth cleaner, healthier, and fresher every time you brush.
Philips Sonicare Essence Sonic Rechargeable Toothbrush, WhiteCheck Price
Philips Sonicare Essence 5600 vs Essence 5300 vs Essence Plus
When looking for information about Philips Sonicare Essence, you may become confused.
You will see three similar product names – Philips Sonicare Essence 5300, Philips Sonicare Essence 5600, and Philips Sonicare Essence+.
Philips Sonicare Essence 5300
Philips Sonicare Essence 5300 is the old plain white Sonicare Essence toothbrush. Sometimes it is referred to as Soniccare e5300 or Sonic Care e5300.
It has been long discontinued and replaced by Essence 5600, but you can still buy it online. But I do not see why you should even consider getting it, especially considering how much some sellers charge.
Philips Sonicare Essence 5600
In 2014 Philips launched the updated replacement for Soniccare Essence 5300 – the Philips Sonicare Essence 5600.
There is only one visual difference between these two Philips Sonicare models. The old 5300 model is plain white. The new 5600 model is white with blue (model #HX5611/01) or pink (model #HX5631/50) rubbery elements.
Some sources claim that the new 5600 model has a Li-Ion battery. After consulting with the manufacturer, I can say that it is NOT true. Both the 5300 and 5600 models have NiMH batteries.
This article reviews the Philips 5600 Series Sonicare Essence model, but it is safe to assume that everything said in the review also applies to the old Essence 5300 model.
Related Reading: Philips Sonicare for Kids Review
Philips Sonicare Essence Plus
Philips Sonicare Essence+ (HX3211/02) looks like a different beast, but it isn't. It is the Sonicare Essence put in a bit more stylish body.
You still get only one brushing mode and up to 31,000 cleaning motions per minute. It has the same NiMH battery that provides even less battery life of 10 days.
The Essence+ model's most important difference is its compatibility with the modern click-on brush head type. In my opinion, it is the only advantage of this model.
The newest toothbrush version has been rebranded as the Philips Sonicare DailyClean 2100 (HX3211/17). It will be reviewed in a separate article.
Sonicare Essence 5600 Features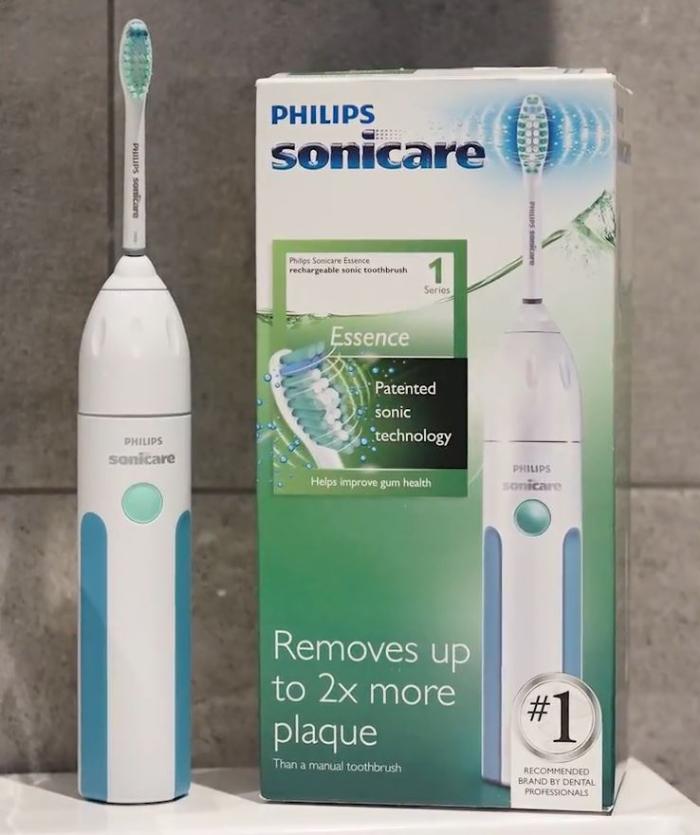 Cleaning Technology
What makes this toothbrush effective lies in its powerful deep mouth cleaning technology.
Using the patented Sonicare Technology, it provides up to 31,000 sweeping motions in between your teeth and gum line for much more precise and thorough mouth cleaning.
These thousand motions go through the deeper parts of your mouth that otherwise be missed by your regular toothbrush, thus removing more plaques and preventing any build-ups from settling in.
Aside from that, it can also help whiten your teeth by effectively and efficiently removing stains to reveal the natural teeth' color.
With this powerful mouth cleaning, it reduces your chance of having cavities or developing gingivitis. And with more consistent use, the brush will not only give you a daily clean but will also help improve the overall condition of your mouth.
Timer
This rechargeable toothbrush comes with a SmartTimer feature to help you keep track of your brushing time.
The SmartTimer is set to two minutes (the recommended brushing time). After it has elapsed, the brush will automatically turn off. If you wish to pause your brushing routine briefly, just press the on/off button. Push this button again to pick up where you left off. However, the timer will reset if you pause longer than thirty seconds or put the handle back on the charger base.
The SonicCare Essence toothbrush does NOT have the QuadPacer feature. The Quadpacer your brushing time in quadrants and alerts you every thirty seconds to let you know when to move to the next quadrant of your mouth.
Brushing Modes
This Philips toothbrush only has one brushing mode, the Clean mode. Not that it is not enough for an average user, because it is, but those with special needs may feel limited by the lack of choices.
However, if you think you can deal with just having one brushing mode, Essence's Clean mode is enough for you. It is an excellent mode for everyday use as it provides thorough and deep mouth cleaning but remains gentle enough to protect your teeth and gums from weakening or inflammation.
Related Reading: Philips Sonicare DiamondClean Review
Rechargeable Battery And Charger
It takes more than 24 hours to charge the Essence 5600 toothbrush fully. The fully charged brush can hold up to two weeks. This translates to 28 regular brushing sessions (twice a day, two minutes per session).
Charging the toothbrush is easy as you will only need to place the handle into the charger with the power button facing forward. Just be sure that it is correctly and securely positioned to make contact complete.
Philips used to bundle the Essence with a large and clunky charger designed for 110V voltage. Now the current model comes with a new design universal 110-230V charger that can be used anywhere in the world.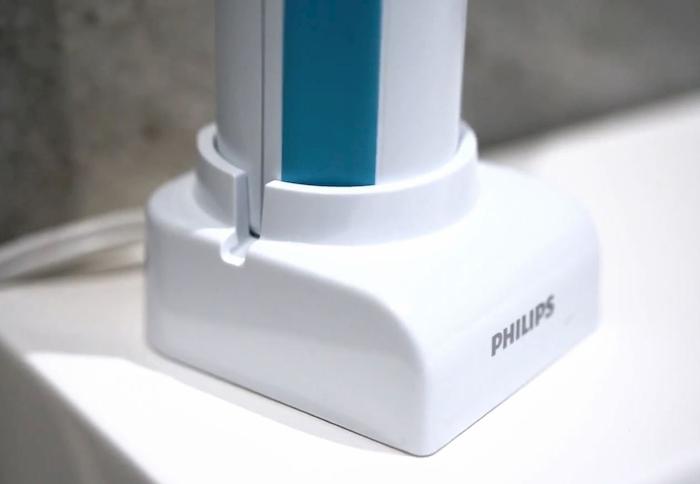 Angled Neck and Contoured Bristles
Its brush head's neck is carefully angled to respond to the natural shape of your teeth to take its bristles to the deepest of your mouth to remove plaque that is in the hard-to-reach areas.
The contoured bristles, on the other hand, provide comfortable brushing. It also comes with extra rounded ends giving your gums additional care.
Easy-Start Program
This feature helps users adjust to the cleaning power of the toothbrush. It slowly increases the toothbrush's power during the first twelve uses until the user is fully adapted to the Sonicare Technology.
Over the first twelve uses, you will hear a double beep when turning the toothbrush as a signal that the feature is activated. After the twelfth use, you will no longer hear the signal.
Design
The Philips Sonicare Essence rechargeable toothbrush has a straightforward but elegant design. It is mostly white with blue or pink grip inserts on the sides. The power button distinguishes itself in a blue color and is placed in front of the unit.
The handle seems to be pretty sturdy for secure gripping. It is also big enough to hold securely, especially when using it.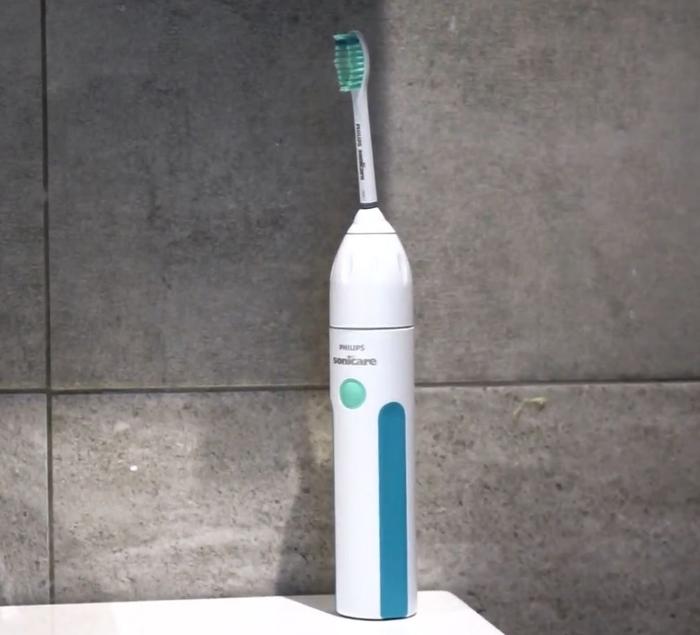 Package Contents
Sonicare Essence toothbrush handle
E-Series Brush head
Charger
Specifications
Model Numbers: HX5611/01, HX5631/50
Rechargeable: Yes
Battery Type: Standard NiMH
Built-in Timer: Yes, 2-minute timer
Quadpacer Timer: No
Brushing Modes: 1 – Clean
Brush Movements: up to 31,000 sweeping motions per minute
Pressure Sensor: No
Visual Pressure Indicator: No
Included Brush Heads: 1 regular-size e-Series  brush head
UV Sanitizer: Not included
Charger Type: Standard
Brush Head Container: Not included
Travel Charger: No
Bluetooth Connectivity: No
Smartphone App: No
Available Colors: White / Blue (HX5611/01), White / Pink (HX5631/50)
Dimensions
The whole package is 1.2 x 1.2 x 8.1 inches and weighs 1 pound.
Compatible Brush Heads
This toothbrush is compatible only with older eSeries screw-on brush heads.
Unfortunately, it does not work with modern click-on brush heads like DiamondClean or ProResults heads.
Sonicare Essence User Reviews
As soon as I started looking into the Philips Sonicare Essence power toothbrush, I noticed lots of positive feedback.
People rate the toothbrush highly, considering that this rechargeable toothbrush does not come with over-the-top features. Being a basic electric toothbrush is also why so many people loved and appreciated this product.
Many attested that it gave them a cleaner and healthier (and fresher) mouth after every use as if they had just been brushed by a professional dentist. It is also straightforward to use and clean. Overall, users think that this toothbrush is worth every penny.
It is important to note that many customers are comparing it to the OralB 1000 model. Scroll down for more details.
Related Reading: Philips Sonicare ProtectiveClean 4100 vs 5100 vs 6100 Review
Pros and Cons
Pros
Great Price
Besides its excellent mouth cleaning capabilities, it is cheaper than other models or brands.
Trusted Brand
And since it carries one of the best electric toothbrush brand names in the dental industry, you can be assured of its quality. With Sonicare Essence, you do not have to spend so much and dig over your savings just to enjoy healthier teeth. This model incorporates all the basic features needed to take care of your teeth and gums.
Compact Design
Also, since it is very compact, users can easily slip this toothbrush into their purses or bags to enjoy a fresher mouth wherever they go.
Good Battery Life
And since it can hold up to two weeks of charge, it is perfect for traveling people.
Cons
The brush only offers basic features.
One Brushing Mode
People with special needs – several brushing mode options, cleaning modes, and alike – may feel that the Philips Sonicare Essence toothbrush is too limited.
However, if you can live with just having one brushing mode and no other features, then there is no reason why you would not want to get this product.
No Quadpacer
Missing the Quadpacer feature may be a dealbreaker for many shoppers. It is essential not only to follow the 2-minute brushing rule (this brush takes care of this) but also to be assured to split the brushing time between the four quadrants of your mouth. And the Sonicare Essence does not help you with this.
Regular Cleaning Required
Many users miss the user manual instructions about disassembling and cleaning the toothbrush every week.
The brush head should be unscrewed, and the gunk should be cleaned from the inside brush head and handle with mild soap water. If not done, the mold can grow inside the handle and damage the toothbrush.
Check out the video below to see what happens if you do not do this!
Alternatives
Let's take a look at a few similar price models.
Philips Sonicare Essence vs Series 2
The takeaway – the Sonicare Series 2 is the cheapest Sonicare with Quadpacer.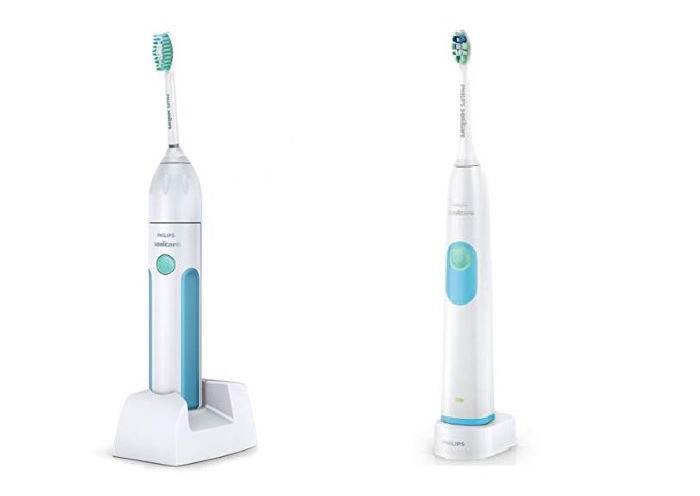 If you have a tight budget, you are probably wondering which of these two cheapest Sonicare models you should get.
Let's start with the similarities.
Both toothbrushes offer only 1 brushing mode. They keep track of your brushing time and automatically switch off after 2 minutes. Both models feature older NiMH battery technology.
Now come the pros of the Series 2 brush:
The 30 seconds timer (QuadPacer) lets you evenly split time between 4 sections of your mouth.
You can use any Philips Click-on toothbrush heads (including the latest DiamondClean, AdaptiveClean, and others). At the same time, you are stuck with a single screw-on replacement head option with Essence.
Series 2 model comes with a universal charger you can use overseas, while the Essence charger works only with 110-130 Volts (update – the new Essence units also come with a multi-voltage charger).
Does the Sonicare Essence have any advantages? Yes, it does!
The Sonicare Essence price should be lower.
If you have healthy gums and do not require your toothbrush to perform any special tricks, the tried and tested Essence toothbrush still is a viable option.
Oral B Pro 1000
Oral B 1000 is another alternative to consider if you are looking for an entry-level electric toothbrush.
Here is the comparison of Oral B vs Sonicare.
Best Price
There are some online retailers that carry Philips Sonicare Essence 5600, e.g., Amazon, Walmart, and Drugstore. Check all of them to see available discounts and coupons.
Frequently Asked Questions
My Sonicare Essence Quadpacer is not working. What should I do?
The Sonicare Essence does not have the Quadpacer feature. Your toothbrush is working OK.
What is the Philips Sonicare Essence 1 Series rechargeable sonic toothbrush?
The Philips Sonicare Essence 1 Series toothbrush (HX5911/10) was the Sonicare Essence 5300/5600 rebranded for Walmart retail chain. It has been discontinued, and now Walmart is selling the regular Sonicare Essence 5600.
Which Sonicare Essence models have the Quad Timer?
None of the Philips Sonicare Essence models has Quad Timer or QuadPacer. Sonicare Series 2 is the cheapest model with this feature.
How to replace the brush head of the Sonicare Essence 5000 series?
The Essence brush heads are screw-on type heads. Please watch the cleaning video above to see how to replace the head.
Conclusion
I hope my Philips Sonicare Essence review has helped you to make the right decision! Please leave a comment below if you have any questions, or click here to get your Sonicare Essence toothbrush!
Related Articles