In my quick Oral B Pro 500 review, I will show you the key features of this entry-level toothbrush from the well-known brand.
Oral B Pro 500 offers you the basic features of a rechargeable toothbrush at a much cheaper price.
So if you are looking to shift from a manual one or is confined within a budget, getting this model is actually a good place to start.
Though not as expensive, its features do not come short. It is equipped with the necessary qualities that you would need in a best electric toothbrush to clean and improve your teeth and gums' condition.
You can choose between two designs – black, and white and blue.
Here is the Oral B Pro 500 black version which is bundled with Precision Clean brush head.
Oral-B Pro 500 Electric Power Rechargeable Toothbrush with Automatic Timer and Precision Clean Brush Head, Powered by Braun (Product Design & Packaging May Vary)Check Price
Here is the Oral B Pro 500 Gum Care version which is bundled with Sensitive brush head.
Oral-B Pro 500 Sensitive Gum Care Rechargeable Electric Toothbrush, Powered by BraunCheck Price
Oral B 500 Features
2D Cleaning
Oral B 500 removes up to 100% more plaque than when using a manual toothbrush, helping you achieve healthier teeth and gums. Its 2D cleaning technology removes all plaques, even those that are in the hard to reach places. This keeps your teeth and gums clean and free from plaque, fighting off cavities and gingivitis.
Brushing Mode
Just like the more expensive Oral B Pro 1000, the OralB Pro 500 is a model that features only one brushing mode. It will remove stains from your teeth, revealing the teeth' natural color.
Timer
In addition, the Oral B 500 electric toothbrush has a built-in timer so that you can keep track of your brushing time, which is the recommended two minutes.
The timer buzzes every 30 seconds to make sure you spend an equal amount of time cleaning all areas of your mouth.
Oral-B Pro 500 Package Contents
1 Oral-B 500 handle
1 Oral-B Precision Clean brush head
1 portable SmartPlug charger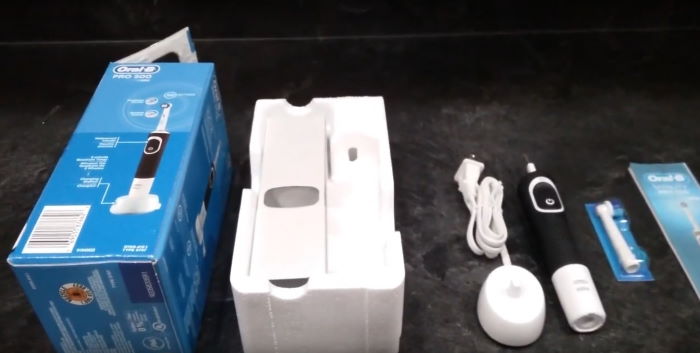 Specifications
Model Number: ND
Rechargeable: Yes
Battery Type: Standard NiMH
Built-in Timer: Yes
External Timer: No
Brushing Modes: 1 – Daily Clean
Brush Movements: 7,600 rotations/min
Pressure Sensor: No
Visual Pressure Indicator: No
Included Brush Heads: 1 PrecisionClean brush head
UV Sanitizer: Not included
Charger Type: Standard
Brush Head Container: Not included
Travel Charger: No
Bluetooth Connectivity: No
Smartphone App: No
Available Colors: Black or Blue/White
Dimensions
The whole Oral-B Pro 500 box package size is 3.3 x 4.4 x 8.8 inches and weighs 13.6 ounces.
Oral B 500 Customer Reviews
Oral-B Pro 500, with its simplicity, gets a high recommendation. Not only is it very economical, but it is also very effective.
It is so simple to use anyone can do it. There is no need to have a smartphone app and multiple brushing modes. This device gets the job done.
It does every day what you should expect from an electric toothbrush. If you let it slip out of your hand too often, or if the battery nears its end, you can throw it away and get a replacement.
Many attested that after brushing with this toothbrush, they really can feel the freshness and cleanliness of their mouths as if they have just visited their dentists.
The timer is also very useful in monitoring brushing time, especially when used by children. Overall, users give this product two thumbs up.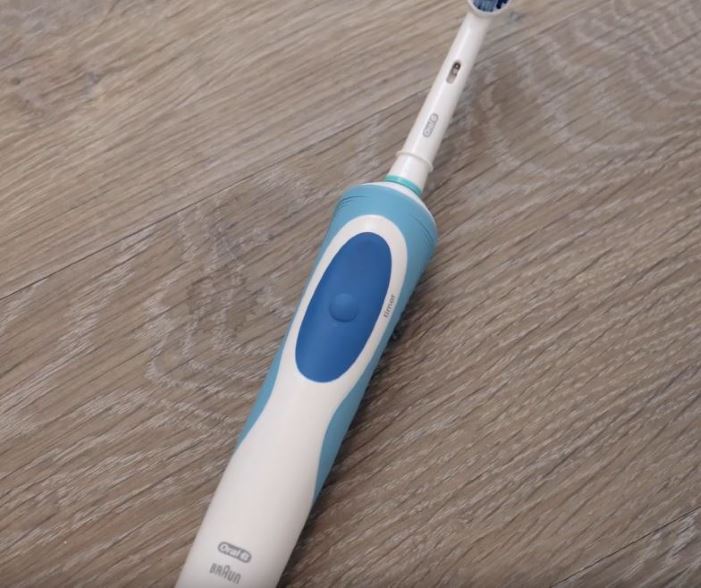 Disadvantages
One Cleaning Mode
Some users are dissatisfied with the lack of 3 cleaning modes.  They want to choose from the three cleaning modes integrated with this rechargeable toothbrush, depending on their oral needs. For everyday total mouth cleaning, you can use the Daily Cleaning mode, and that covers most of the needs. But sometimes people want whiter teeth that can be achieved with the Whitening mode.  Others have sensitive gums and teeth, the Sensitive mode is perfect in this situation as it provides complete yet gentle mouth cleaning. If you are looking for a toothbrush with more than one brushing mode, you should check out my Oral B Pro 3000 review.
Lack of Pressure Sensor
Oral B 500 toothbrush also comes without the pressure sensor. This feature checks the pressure that you are applying when brushing; when you put too much pressure, the toothbrush will automatically stop. This is a very good feature to prevent you from suffering any gum inflammation.
Conclusion
If you are a long-time manual toothbrush user, but you want to try how is it to brush with an electric toothbrush, the affordable Oral B Pro 500 will let you do it without breaking the bank.
Related Articles