With the wide range of rechargeable electric toothbrushes in the market, it may be a little confusing what to get. That is why I decided to look into the Oral B Pro 3000 reviews and put together my own review.
There are a number of toothbrushes that offer over-the-top features, but of course, come with higher prices. But for the types that would rather only pay for the features that he would use every day or just a little tight on a budget, then looking into Oral B Pro 3000 toothbrush can be a wise choice.
This toothbrush offers features that you would need to be able to have cleaner teeth and healthier gums. Though it may come with just basic features, its cleaning abilities are far from being simple.
With its advanced cleaning technology and rounded brush heads, it can whiten teeth in just two weeks and give you healthier gums in a just a month by removing all plaques in between your teeth and gum line.
With much more consistent use, this toothbrush promises to improve the overall condition of your teeth. Is this the best electric toothbrush in this price range? Keep reading to find out!
Oral-B 3000 Smartseries Electric Toothbrush with Bluetooth Connectivity, White Edition, Powered by BraunCheck Price
Oral-B Pro 3000 Features
Oral B has a range of toothbrushes. The Pro 3000 stands out because it is the first one in the series to provide a 'sensitive' cleaning mode.
This is why your dentist may recommend that you buy it. Once you buy it, download the Oral B app and you'll be good to go.
Here are the features of the Oral B Pro 3000 to help you figure out if it is what you are looking for.
Brushing Technology
Featuring the Oral-B Pro technology that provides 40,000 pulsations and 8,800 oscillations per minute, OralB Professional Care 3000 is undoubtedly equipped with a powerful cleaning technology that works up to the deepest areas of your mouth, leaving it cleaner and healthier. The technology helps break and sweep away all plaques in between your teeth and gum line, reaching even the hard to reach places giving a true complete cleaning.
It works with much precision, getting rid of up to 97% of plaques. This keeps cavities from forming and reverses gingivitis. With consistent use, you can already enjoy whiter teeth in just two weeks and healthier gums in a month.
Timer
To ensure its brushing effectiveness, Oral-B Pro 3000 comes with a Professional Timer so that you can keep track of your brushing time. This timer option monitors your brushing per quadrant, giving a short sound every thirty seconds that signals you to move to another quadrant. It will send along sound to indicate that you already have completed the recommended two minutes.
If ever you need to pause from your brushing routine, you can briefly switch the toothbrush off as the handle can memorize the elapsed time. However, it will automatically restart the timer if you switch it off longer than thirty seconds.
Brushing Modes
To address our different dental needs, this toothbrush offers three cleaning modes.
Daily Clean Mode – this mode is recommended for everyday tooth cleaning. It provides complete and thorough brushing to ensure that your teeth and gums are freed of any plaque.
Sensitive Mode – for people with sensitive teeth or gums, this mode is very advisable to use. It offers gentle brushing, but still is very thorough when it comes to cleaning to keep your pearly whites clean.
Gum Care Mode
There used to be a Whitening Mode but it has been replaced by Gum Care mode. If teeth whitening is important to you, you should consider choosing a more advanced electric toothbrushes model from Oral B lineup. It can remove teeth stain to reveal your teeth's natural brilliance.
Selecting The Brush Mode
Oral B 3000 electric toothbrush automatically sets itself to Daily Clean mode when turned on for the first time. If you want to choose the sensitive or whitening mode, you just have to press the on/off button successively.
If you want to turn off the toothbrush from the whitening mode, just press the on/off button once again. On the other hand, if you want to turn off the toothbrush from daily clean or sensitive mode, just long-press the on/off button until the motor stops.
Rechargeable Battery And Charger
A fully charged Oral B Pro 3000 can go up to a week of use (twice daily for two minutes each routine) without charging. It takes at least 17 hours to fully charge the unit.
A red indicator light flashes signaling you that the unit is already low on battery and needs charging. On the other hand, a green indicator light will appear when the unit is being charged.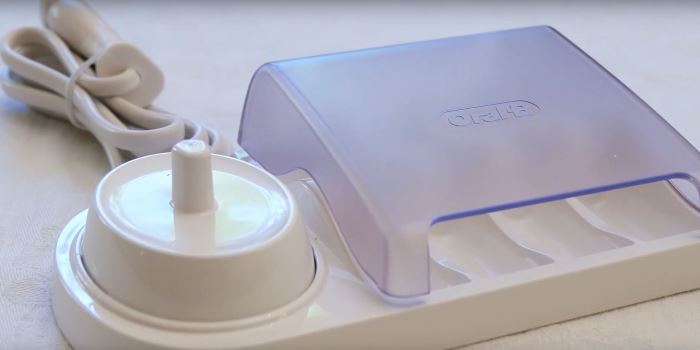 Has a battery life of 7 days
This toothbrush has a rechargeable battery which lasts 7 days. You can, therefore, travel with it and use it whenever you want.
Visible Pressure Sensor
To keep your brushing techniques effective, Oral-B Pro 3000 electric toothbrush is equipped with a pressure sensor to let you know when you are brushing too hard. This helps avoid sores and inflammation. This sensor will alert you when you use too much force in brushing. Therefore, it ensures that your gums are protected.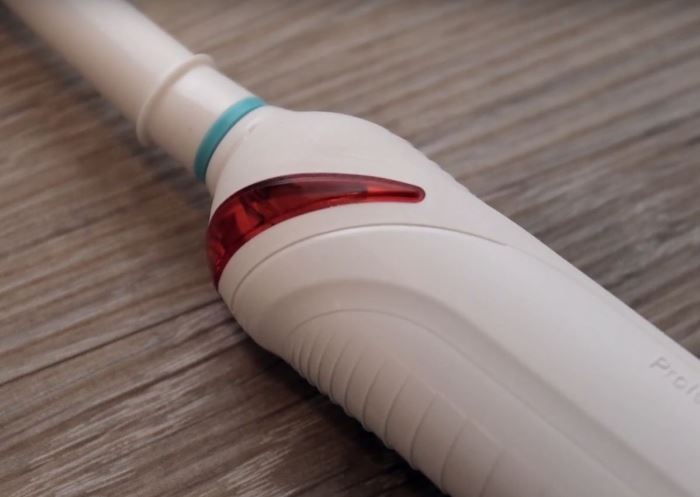 Indicator Bristles
In an effort to help you monitor your toothbrush head wear and tear, all OralB brush heads have an indicator bristles. They fade halfway to remind you that your current brush already needs a replacement.
For a regular user, typically, this will take up to three months.
Slim Design
The slim profile of the device makes it easy to use because it fits well in anyone's hands whether young or old.
The brush does not slip even if it is wet because it has a strong rubber grip and contours that are properly made.
Bluetooth technology
There is a phone app that Oral-B can connect to (Oral-B app). The app then gives you real-time instructions on how to brush.
It is ADA approved
The American Dental Association approved Oral-B as an electric toothbrush in 2017. Before that, no other brand had gotten that approval.
The ADA recognizes that this brush works to remove plaque and also prevents or minimizes gingivitis.
This toothbrush gets rid of plaque that cannot be removed by a manual brush.
Package Contents
What's in the box?
1 toothbrush handle
1 OralB Precision Clean brush head
1 portable SmartPlug charger
1 charging station with toothbrush head storage for four brushes
1 rechargeable battery
Oral B Pro 3000 Specifications
Model Number: D20.515.3
Rechargeable: Yes
Battery Type: Standard NiMH
Built-in Timer: Yes
External Timer: No
Brushing Modes: 3 – Daily Clean, Sensitive, and Gum Care
Brush Movements: 40,000 pulsations/min; +8,800 oscillations/min
Pressure Sensor: Yes, stops brushing
Visual Pressure Indicator: Yes
Included Brush Heads: 1 Pro White
UV Sanitizer: Not included
Charger Type: Portable
Brush Head Container: Yes
Travel Case: ND
Travel Charger: No
Bluetooth & Smartphone App: Yes
Available Colors: White, Black
Oral B Professional Care 3000 Dimensions
The whole package is 4 x 6.9 x 10 inches and weighs 1.3 pounds.
Accessories
There are a number of brush heads that you can choose for your Oral-B Pro 3000. All cater to different oral needs, so you may want to examine first your teeth so you can get the appropriate brush head. Here is a list of available brush heads:
Dual Clean
Pro White
Sensitive
Power Tip
Ortho
Braces Care Essentials
Tongue Freshener
Design
The design of this toothbrush is fairly simple. The front of the handle, where the on/off button and indicator light is placed, is clothed in dark blue while the rest of the handle is in light blue. The handle seems sturdy enough to give a good grip and prevents it from falling off of your hands. It also seems to be just the right size so you can comfortably grip and use it.
Oral B Pro 3000 Reviews From Users
Based on the Oral B 3000 reviews from users, they are truly satisfied with toothbrush even if it does not boast any over the top features.
One of the many great feedbacks given to the model says that its powerful technology delivers to its complete mouth cleaning promise. After every use, they instantly enjoyed and feel a cleaner and fresher mouth, and have no complaints with regard to the quality of the unit. They also liked that it comes with three brushing modes, making it more versatile, especially if compared to the Philips Sonicare products in similar price range.
Just like with the Oral B Pro 1000, this model also gives little sounds, but in no way annoying.
Pros and Cons
Oral B Pro 3000 Pros
The Oral-B Pro 3000 toothbrush is still considered to be inexpensive compared to other brands and models (as an example, comparing it with Oral B Pro 1500), given that it has a little bit more than the basic features.
Its cleaning abilities are superb, as it can brush away most of your plaques. It has three cleaning modes in support of different dental needs, a leap from Oral B 1000's single mode.
It also keeps its minimalist design, which makes it very easy to clean and use. Oral B Pro 3000 electric toothbrush can also easily slipped into your luggage or purse, so you can go around with it.
Are perfect at whitening teeth
Once you start using Oral B 3000, you will notice a significant difference in the color of your teeth.
The brush starts removing surface stains the moment you start using it.
Your teeth will be whiter and cleaner and you will start looking forward to visits to your dentist.
Helps you brush each section of your mouth
When using the ordinary toothbrush, you are likely to concentrate on some areas of the mouth compared to others,
This does not happen with the Pro 3000 because of the pulses it gives you after every 30 seconds. Therefore, you'll be able to spend adequate time in every section.
You don't have to charge it frequently
Most people like the fact that they can travel for days without having to carry the charging base. Once you charge it, it can serve you for 7 days before the battery gets drained.
The units are physically separate
When you get your Oral-B Pro 3000 kit, it will come with a charging base, toothbrush tray, and a toothbrush.
The 3 are not linked together which makes it easier for you to carry some and leave others. For example, if you've charged the brush then you can leave the charging base behind when going out or traveling.
If the units are connected then it would take up unnecessary space because you would have to carry all of it even if you wouldn't need all of them at a time.
Cons
Since, overall, Oral B Pro 3000 gives your money worth, there are no known issues that will make you dislike this toothbrush. The sound that users have noticed can be a deal-breaker for some, but if you can live with it then there really is no reason not to get this.
If you think this brush lacks any feature or brushing modes that is important to you, please check out the more advanced Oral-B Pro 5000 model. Just be aware that having more features means being more expensive.
Battery wears out after some time
Some users feel that the battery should last longer than a year. They say they would feel relieved if they didn't have to replace the battery annually.
One tip that some users pointed out on extending the life of the battery is to avoid plugging it in all the time.
Let the battery drain down before recharging it and you will use it for an extended period.
Rough on teeth
Some people have reported that Oral B 3000 is rough on their teeth and it makes their teeth rattle when using it.
There are users who discovered that it only happens when they use too much pressure while brushing and they solved it by relying on the visible sensor pressure and reducing the pressure applied.
This also happens when the plastic hits one's teeth which is very rare.
Oral B Pro 3000 Price
After reading my Oral B Pro 3000 review I suggest clicking here to see the price on Amazon – OralB Pro 3000.
Frequently Asked Questions
How long does an Oral B Pro 3000 take to charge?
It takes 17 hours to fully charge the Oral B Pro 3000 toothbrush.
Can I use this toothbrush in the shower?
They say that this brush is waterproof and can be used in the shower. I would to more cautious and avoid submerging it underwater.
Conclusion
Oral B has a range of toothbrushes and the Oral B Pro 3000 is one of them. It has the essentials of an electric toothbrush and is averagely priced.
The majority of dentists recommend a device that has a sensitive cleaning mode. Oral B 3000 provides this. If you would like to follow a dentist's recommendation (which is always the best thing to do) then you should get this electric toothbrush.
Another great thing about this toothbrush is that it has a variety of modes (3) which gives you the freedom to decide what you want.
You only need to charge it once a week and you are good to go.
This toothbrush is suitable for individuals who have sensitivity issues, gum diseases, and those who want to whiten their teeth or those who want to track the progress they are making while brushing.
Related Articles