Not so long ago Philips has released its additions to the most advanced electric toothbrush model, the Philips Sonicare DiamondClean model line.
Currently, you can find two types of Philips Sonicare DiamondClean toothbrushes – Philips Sonicare DiamondClean Classic and 3 different models of Philips Sonicare DiamondClean Smart – 9300, 9500, and 9700.
In my review, I will explain the common features of all models and also their differences so that you can choose the best DiamondClean toothbrush for your needs and budget.
If you are in a hurry, please check out the quick comparison of Philips Sonicare DiamondClean models.
Models
Now here is the more thorough overview of DiamondClean electric toothbrush models to give you more insight into what you are getting with each model.
Please scroll down if you want to learn more about Philips Sonicare technologies.
Philips Sonicare DiamondClean Classic
The DiamonClean Classic is the most basic and cheapest DiamondClean toothbrush.
It features 5 brushing modes (Clean, White, Sensitive, Gum Care, and Deep Clean) without the intensity change option.
It also does not have any connectivity features like Bluetooth or BrushSync. There is also no pressure sensor. This model comes with one brush head, so you should get a pack of replacement heads when you buy the brush.
Available colors and corresponding model numbers:
White HX9331/43
Black HX9351/57
Pink HX9361/69
Philips Sonicare DiamondClean ClassicCheck Price
Philips Sonicare DiamondClean Smart 9300
The DiamonClean Smart 9300 is the most affordable DiamondClean Smart toothbrush.
You can already tell from the model name, that this toothbrush is Smart, meaning it has Bluetooth and BrushSync technologies. It also features the pressure sensor.
It features 4 brushing modes (Clean, White+, Deep Clean+, and Gum Health ), and you can choose one of 3 intensity options for each mode.
This model comes with a set of 3 BrushSync-compatible replacement brush heads – C3 Premium Plaque Control, W3 Premium White, and G3 Premium Gum Care.
Available colors and corresponding model numbers:
White HX9903/01
Black HX9903/11
Pink HX9903/21
Grey HX9903/41
Rose Gold HX9903/61
Philips Sonicare DiamondClean Smart 9300Check Price
Philips Sonicare DiamondClean Smart 9500
The DiamondClean Smart 9500 is similar to the Smart 9300 and comes with an additional 5th brushing mode (Tongue Care) and is bundled with 4 brush heads.
The five brushing modes are Clean, White+, Deep Clean+, Gum Health, and Tongue Care with a choice of 3 intensity options for each mode.
This model comes with a set of 4 BrushSync-compatible brush heads – C3 Premium Plaque Control, W3 Premium White, G3 Premium Gum Care, and a brush head dedicated to tongue cleaning – TongueCare+ tongue brush.
Available colors and corresponding model numbers:
White HX9924/01
Black HX9924/11
Pink HX9924/21
Grey HX9924/41
Rose Gold HX9924/61
Philips Sonicare DiamondClean Smart 9500Check Price
Philips Sonicare DiamondClean Smart 9700
This is the most expensive model of the line, the DiamondClean Smart 9700!
Actually, you are only getting a few extras compared to the Smart 9500 model. The extras are the unique Lunar Blue color and the double amount of bundled brush heads.
Available colors and corresponding model numbers:
Rose Gold HX9957/61
Lunar Blue HX9957/51
Philips Sonicare DiamondClean Smart 9700 Rechargeable Electric Toothbrush, Rose Gold HX9957/61Check Price
Philips Sonicare DiamondClean Smart 9750
Maybe you don't need 8 brush heads but instead would appreciate the handy brush head storage solution? Then you can choose the DiamondClean 9750 model.
It is the same Smart 9500/9700 model, but you will get one set of 4 brush heads and the brush head holder. This brush is also available in Lunar Blue or Rose Gold.
Available colors and corresponding model numbers:
Rose Gold HX9924/65
Lunar Blue HX9954/56
Philips Sonicare DiamondClean Smart 9750Check Price
Features
Philips DiamondClean features the most advanced teeth and gum cleaning technologies available at the moment. Scientists have proven that this brush will help you to get rid of more than 99% of plaque from hard to reach places of your mouth. Mostly it is due to the new angled design of DiamondClean toothbrush head that allows better get to the back teeth which usually suffer from inadequate cleaning.
Studies also show that this brush will improve the condition of your gums after using it only for a couple of weeks and make your teeth a couple of shades whiter at the same time. So it will not only clean the teeth more thoroughly than other oral care products but also take care of your gums and even reduce the gum sensitivity.
Sonicare Technology
Diamondclean toothbrush features sonic technology which is unique to the brand. The said technology can produce great teeth cleaning action which provides users with results fast.
It works by gently whipping the toothpaste and saliva into an oxygen-rich foamy liquid and drive it between and behind the teeth and on the gum line where bacteria usually accumulate.
Philips Sonicare's sonic technology is gentler than a manual toothbrush making it useful in keeping your teeth healthier over an extended period of time.
Timers
This brush has the two regular timer features – Smartimer and Quadpacer – you might be familiar with from older Philips toothbrushes.
Smartimer is a simple 2-minute timer that makes sure you are brushing for 2 minutes as dentists are suggesting.
Quadpacer beeps every 30 seconds to inform you that you should move to the next quadrant of your mouth. This way you will spend equal time on all parts of your mouth.
I have noticed people mentioning that DiamondClean Smartimer works a bit different from previous Philips models.
Smartimer used to beep when 2 two minutes were up, and the brush kept working as long as you switched it off. The DiamondClean version of Smartimer switches the brush off when the brushing time is up. If you want to do some more brushing, you should start another brushing cycle.
Brushing Modes
DiamondClean Classic
What makes the DiamondClean brush to stand out (and lines it up among the best electric toothbrush models) is its five different brush modes that have been designed for different purposes with dental professionals' advice in mind.
Clean mode is the standard mode that it uses for overall mouth cleaning
White mode is, as its name suggests, used to remove stains on the teeth surface and make it whiter
Deep Clean mode can brighten the teeth to reveal its natural brilliance. In early DiamondClean models, this mode was called Polish mode (related to polishing, not Poland).
Gum Care mode is for people who have gum-related problems as it is gently stimulating and massages the gum line
If you have sensitive teeth, the Sensitive mode has been designed for you as it uses an extra-gentle method of brushing.
Now there is a tricky part. What I said about the modes applies to the DiamondClean Classic model.
DiamondClean Smart
DiamondClean Smart toothbrushes feature 4 or 5 slightly different modes with a twist. The twist being the introduction of 3 intensities for each mode.
DiamondClean Smart 9300 modes (with 3 intensities for each mode):
Clean
White+
Deep Clean+
Gum Health
DiamondClean Smart 9500 and 9700 feature same 4 modes plus additional Tongue Care mode (with 3 intensities for each mode):
Clean
White+
Deep Clean+
Gum Health
Tongue Care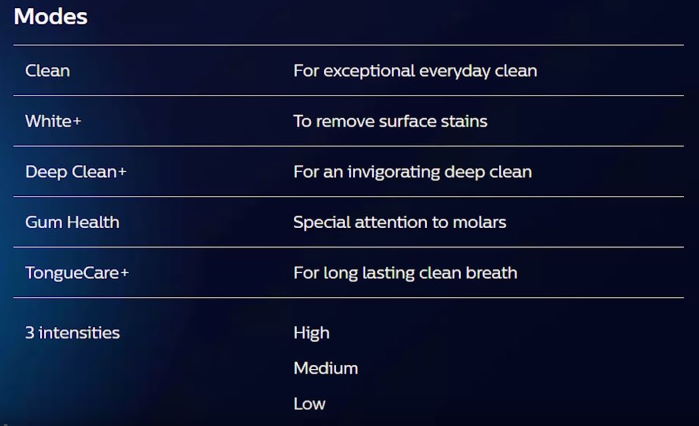 Charging Technology
This toothbrush can work up to 2 weeks from one charge. It is indeed above average. The brush features a Lithium-polymer battery which is responsible for longer working time.
Recharging
DiamondClean features new inductive charging technology. It means that the brush does not have to be plugged in the charger anymore. It is sufficient just to put it on the charging surface.
There are two charger accessories bundled with the brush.
USB travel case-charger
The DiamondClean features an innovative USB travel case that also works as a charger. You can connect it to the computer's  USB port or use the included USB AC adapter and have your toothbrush charged while it is sitting in the case. This is a great feature to have, particularly if you are often traveling.
Charging glass
This toothbrush has a chrome base that features a charging glass that has two purposes. It can be used for mouth rinsing, and because it also has the latest in the conduction technology, it can charge your toothbrush as it rests in the glass.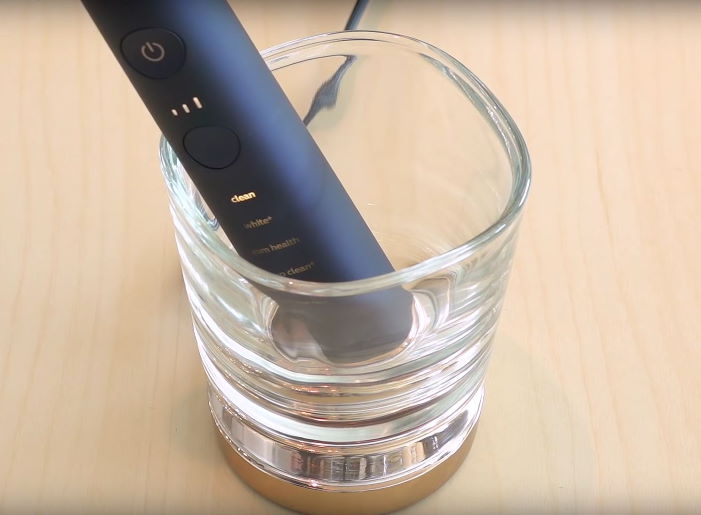 Design
When it comes to its design, the DiamondClean is simple and stylish. Its handle has a ceramic finish, and its well-designed neck is highlighted because of the chrome accent ring.
Its electronic displays on the handle are hidden so that it does not interfere with the sleek white finish of the rechargeable toothbrush.
Colors
Philips Sonicare DiamondClean Classic – White, Black, and Pink.
Philips Sonicare DiamondClean Smart 9300 and 9500 – White, Black, Pink, Rose Gold, and Grey.
Philips Sonicare DiamondClean Smart 9700 – Rose Gold, and Lunar Blue.
Related Reading: Philips Sonicare ProtectiveClean 4100 vs 5100 vs 6100 Review
Comparisons
There are several Diamondclean models available.
I know that many readers are puzzled about the differences between Classic and Smart models and different model numbers like 9300, 9500, 9700 and so on.
Here is what I have found.
DiamondClean Classic vs Smart
As you can see in the Sonicare DiamondClean Classic vs Smart 9300 comparison table above, there are two differences between these models.
Connectivity
The first difference is the connectivity feature build in the Smart models. They feature Bluetooth technology that works with the smartphone app and the BrushSync technology that pairs the toothbrush with the brush head.
Modes and Intensities
The second difference is the number of brushing modes and intensities. The older Classic model features 5 modes without the possibility to chose the brushing intensity level. The Smart models have 4 or 5 modes (you can find more about the modes in the next chapter), and you can switch between 3 intensity levels in each mode.
Sonicare DiamondClean 9300 vs 9500
There is only one difference if you compare the DiamondClean 9300 vs 9500.
The Sonicare Diamond Clean 9500 is designed to take care of your tongue. It is equipped with the extra tongue cleaning mode and comes with a tongue brush.
Sonicare DiamondClean 9500 vs 9700
It is easy to explain the differences between DiamondClean 9500 vs 9700.
Colors
The top-of-the-line 9700 model is available in exclusive Lunar Blue and not so exclusive Rose Gold colors while the 9500 is available in Rose Gold and regular colors like white, black, etc.
Brush Heads
Another difference is the number of bundled brush heads. The Sonicare 9500 comes with a set of 4 brush heads, but with Sonicare 9700 you will get 2 such sets or 8 replacement heads.
Then there is this Smart 9750 model which basically is the 9500/9700 with 4 brush heads and a brush head holder.
DiamondClean vs Sonicare FlexCare
People often have a hard time to choose between DiamondClean and former Philips top of the line brush Sonicare FlexCare Plus.
If you also have not decided between these two brushes, read our Sonicare DiamondClean vs FlexCare Plus article.
Philips Sonicare HealthyWhite vs DiamondClean
Another alternative to Diamond Clean brush is Sonicare HealthyWhite, so I have also compared these brushes in the chapter about DiamondClean vs Healthy White differences in my Philips Sonicare HealthyWhite+ Review.
Replacement Brush Heads
People will be able to have a more efficient brushing experience thanks to Philips Sonicare DiamondClean brush heads that now have a new diamond-cut design.
The brush head provides the user with more effective plaque removal and whiter teeth as it has 44% more bristles than the previous ProResults brush heads. There are two different sizes of brush heads which are Standard and Compact.
Conclusion
If you are looking for an advanced toothbrush that has innovative features and a great design, look no further than the new DiamondClean toothbrush from Philips Sonicare.
Related Articles