Philips Sonicare Diamond Clean electric toothbrush at this moment is the top of the line Philips power toothbrush. Many owners of the previous top model, the Sonicare Flex Care Plus are now wondering if it is worth it to upgrade to DiamondClean.
That is why I decided to compare Sonicare DiamondClean vs Flexcare Plus to find out what is the deal.
Sonicare Diamond Clean vs Flex Care Plus Toothbrushes Compared
Model name
DiamondClean
FlexCare Plus

Philips Sonicare DiamondClean

Check Price

Philips Sonicare FlexCare Plus

Check Price

Model number
HX9903
HX6972
Rechargeable
Yes
Yes
Quadpacer timer
Yes
Yes
Brushing modes
5 (Clean, White, Sensitive, Polish, Gum Care)
5 (Clean, Sensitive, Massage, Refresh, Gum Care)
Included Brush Heads
2 (DiamondClean)
2 (1 Standard ProResults and 1 Compact ProResults)
UV Sanitizer
No
Yes
Charger type
Charger glass and USB charger case
Regular charger
Travel Charger
Deluxe travel case with USB Charger
Regular travel charger
Review
Read our review!
Read our review!
Differences of Sonicare DiamondClean and Flexcare Plus Features
As you can see both toothbrushes has 5 brushing modes but the new Diamond Clean brush has new White and Polish modes instead of Massage and Refresh.
The new model features innovative charging technology and also can be used from computer USB port which may be handy while on the road. At the same time, DiamondClean does not have bundled UV sanitizer and that is considered to be a big drawback by many users. You can always buy the sanitizer separately but it will cost you between $10 and $30 depending on make and model.
There are also some design differences. Philips Diamond Clean brush features a button that works as On/Off button. The same button is also a brushing mode selector. The problem is that you can change the mode only when the brush is working. In other words, you will either select the mode on working brush while it sprays everything around you with toothpaste, or you will have to learn to dial thru modes with a toothbrush in your mouth.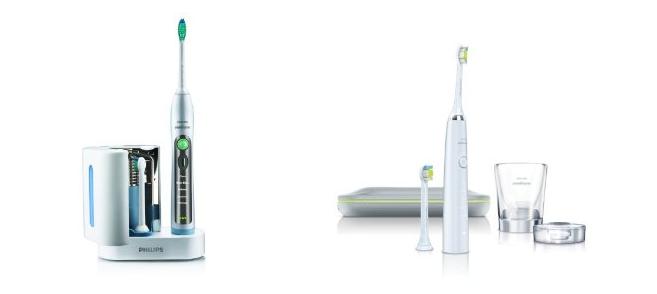 Which Model Should I Chose?
There have been reports stating the reason why DiamondClean offers superior cleaning performance is the new DiamondClean brush head design. Can you really feel the difference? I don't know. But you will see the difference in your bank statement because you will pay some extra money for the newer toothbrush model and then also extra every year for the more expensive replacement brushes.
I also believe the one button design mentioned above and lack of UV sanitizer is a step back.
If you are looking for the latest and greatest toothbrush that looks great and performs nicely and are ready to pay the premium price and don't worry about missing UV Sanitizer, the Sonicare Diamond Clean model is a perfect choice.
If you pay more attention to functionality and being trendy is not your goal then Sonicare Flex Care Plus will work better for you.