An oral irrigator is a dental hygiene device used to remove the plaque and food particles trapped between the teeth.
Sometimes dental irrigator is called a water flosser because it does the same job as dental floss. It is often called a Waterpik after one of the most popular brands, just like a copying machine is often called Xerox.
The flosser produces a stream of water or water and air mixture that flosses space between the teeth and gently massages the gums.
Let's have a look at the best oral irrigator brands and models!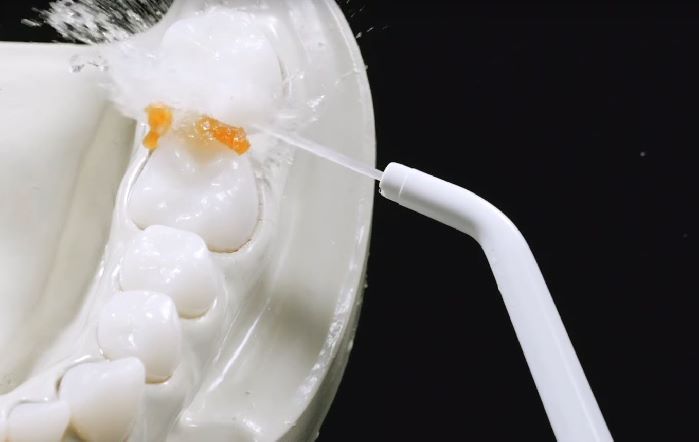 Benefits of Dental Irrigators
The oral irrigators have been around for almost 50 years since the first prototype was developed in the early 1960ies. Since then, dental care professionals have tested the device extensively and found out that it is nearly as effective as traditional dental floss.
The added benefit of flosser is strengthening the gums and reducing gum bleeding. It is proven that the stream of water the device produces massages gums very effectively and improves gums' condition 50% better than regular dental floss.
Irrigators are also a very effective means of taking care of your crowns, dental implants, and orthodontic appliances like brackets. I was wearing braces for almost 3 years in my early 20ies. I remember how difficult it was to remove food like cookies from around the braces using a toothbrush. It will be an easy job if I have had an irrigator.
Using the irrigator will be a great addition to your oral care routine.
Best Oral Irrigator Reviews
Now let's have a look at the 5 best oral irrigator models.
Waterpik Aquarius WP-662 (Best Countertop Flosser)
WP-662 Aquarius Electric Water Flosser by Waterpik is one of the best oral irrigators because of its incessant performance. Coming corded, it comes with 4 feet power cord that powers it up it to run without any break.
Moreover, the water flosser can be 50-percent more efficient than its rivals. It can remove up to 99.9-percent of plaques from treated areas to help improve the health of your gum.
Not just that, this oral irrigator boasts massage mode to help stimulate your gums. Besides, it comes with enhanced pressure to adjust from 10 to 100 psi using its 10 settings for customized cleanup.
You will find an in-built timer/pacer, similar to one built-in electric toothbrushes, too, that will pause at 30 and 60 seconds briefly to help you track the time spent flossing. With the delivery of 1400 water pulses a minute, the WP-662 can get the job done quickly.
The oral irrigator further features a 22-ounce removable reservoir that is enough to provide 90-second of water capacity. The big plus is you don't need to refill it in the middle. You can also control water flow with the on/off switch.
Waterpik has included 7 rotating tips that will swivel 360 degrees, so you get easy access to different areas of the mouth. These include three Classic tips, one Orthodontic tip, one Toothbrush tip, one Pik Pocket, and one Plaque Seeker.
The Waterpik Aquarius flosser is also available in white, gray, orchid, and blue color.
Pros:
Nonstop performance
Rotatable tips
Giant reservoir
Comes with 7 rotating tips
Cons:
Waterpik Sonic-Fusion Professional Flossing Electric Toothbrush (Best Flosser/Toothbrush Combo)
Another one of the best water flossers by Waterpik is amazing for its brush and floss system. Waterpik Sonic Fusion has combined water flosser efficiency with the advanced electric toothbrush to give a powerful 2-in-1 performance.
The device features three modes. Brush mode focuses on brushing the teeth only. Floss mode provides a flossing session. And the brush and floss mode gives you the privilege of brushing and flossing at the same time. It has a button that just needs a push to switch from one mode to another.
Regardless of the mode, the water flosser can surely improve gum health as well as reduce plaque.
The big plus of the device is that it features 10 pressure settings along with advanced water-flow control. The range is 10PSI on low and 100PSI on high.
Besides, it features a 2-minute timer with a 30-second pacer to ensure a thorough brushing and/or flossing session. The removable water tank will hold around 14 ounces. So, you can get 60 seconds of flossing time without any halt.
The oral irrigator is basically electric. You need to attach the flosser to the device with a small coiled hose to use the flosser and brush mode simultaneously. It requires a hose to use the flosser mode, but you can use the brushing-only mode cordlessly by detaching the handle.
You will also get two color-coded brush heads with the device so that two persons can identify and use them.
Pros:
Brush and floss simultaneously.
Two color-coded brush heads
Easy to use controls
Cordless brush mode
Cons:
MosPro Portable Oral Irrigator (Best Portable Flosser)
MosPro Professional Cordless Water Flosser is another best device you can have, especially if you are a traveler. With its cordless feature, you can enjoy flossing anytime, anywhere.
The water flosser features an upgraded detachable water reservoir that lets you fill 300ml water. As a result, you can clean the lime-scale and dental plaque thoroughly.
The unit's big plus is that it features IPX7 waterproof design that the brand adopted internally and externally to give you dual protection. You won't even have any leakage issues because of such construction.
Not just that, the water flosser weighs very light. So, you don't have any issue holding or carrying it.
Moreover, there are three modes in the water flosser that can meet different oral care needs. These include Normal, Gentle, and Pulse. Besides, you will get a rotatable nozzle too that swivels 360 degrees so you can clean the areas that are hard to reach.
Since it is cordless, it has a 1400mAh rechargeable battery to run the device. This battery should last 7 to 10 days after you charge it fully. Speaking of the charge, the device comes with a charger and a charging cord for the job.
The brand has included 4 interchangeable jet tips so your family can take care of their teeth using them.
Pros:
Waterproof and leak-proof
Lightweight and portable
Longer runtime
Comes with 4 jet tips
Cons:
Harsh for sensitive teeth
Oral Breeze ShowerBreeze (Best Shower Flosser)
This is a prevention-focused tool that helps to prevent oral diseases. It helps to strengthen the gums and prevents bleeding.
Shower Breeze oral irrigator is easy to use to store, and there is no risk of bacteria breeding inside it. The materials used to make it are also very high quality, which is chrome-plated brass.
The ShowerBreeze Water Jet dental irrigator helps clean areas that one can never reach with a brush or floss. This also has volume control for convenience of use, which can be turned entirely on, completely off, or anywhere in between. This device is one that gives immediate results and provides excellent oral health.
Oral Breeze QuickBreeze (Best Faucet Flosser)
This faucet oral irrigator focuses on preventing oral diseases and helps to fight lots like halitosis and gingivitis. Considered to be part of a dental plan, this device helps make the gums stronger and prevents bleeding in these areas.
The QuickBreeze irrigator can be very easily installed onto the sink without the help of other extra tools and detached just as quickly. It is convenient for there is no risk of bacteria growing inside it.
There are no loud motors that can be a nuisance, nor does it use any hard chemicals to make it safe. There is a valve that diverts the flow of water, and it has a 24-inch hose that funnels water narrowly with two heads. The QuickBreeze flosser replaces the discontinued RediBreeze model.
Best Oral Irrigator Brands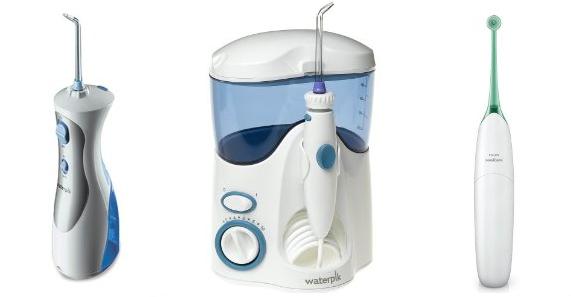 According to consumer votes, Waterpik, Philips, and Oral Breeze are the most popular irrigator manufacturers. People often refer to irrigators from other manufacturers such as Panasonic waterpik, Jetpik waterpik, and so on.
Waterpik offers many countertop models, cordless handheld flossers, and electric toothbrush combos. You can learn more about the product range from this brand in my Waterpik Water Flosser Review.
Panasonic sells only a handful of models, but Panasonic water flossers are well regarded and among the popular shoppers' choices.
Philips introduced its Philips Sonicare Airfloss in late 2010. Sonicare Airfloss is a portable flosser that uses patented Microburst technology that produces a mix of water droplets and air. Flossing with the Philips Sonicare Airfloss is less messy because it uses only one teaspoon of water per cleaning. In 2020 Philips was launching its second water flosser model, the Philips Sonicare Power Flosser.
QuickBreeze and ShowerBreeze irrigators from Oral Breeze dental irrigators attach to your faucet or shower and provide a powerful stream of fresh water every time you use it. You will never have to worry about the germs growing in the water reservoir. It is a low-cost solution with its benefits and drawbacks.
Oral B irrigators are very popular in the UK and Germany. You can also find Oral B dental flossers in US online stores. Search for Oral B Oxyjet and Oral B Aquacare.
Instafloss – Instafloss is the World's first 10-second floss. Instafloss will start shipping later this year. I will tell you more as soon as I will have more details.
Here is how it works.
Water Flosser Buying Guide
Here is a quick overview of features you will encounter when you are shopping for an oral irrigator.
Types of Water Flossers
There are several types of water flossers you can find on the market. Of them, these 4 are the most common.
Countertop Corded
The first type features a stationary water tank connected to the handpiece by a hose (Waterpik Ultra WP-100W and Waterpik WP-662, for example). This way, the handpiece is much lighter and, therefore, more comfortable to use. The tank capacity can be higher because the user does not have to move or hold it constantly.
Corded water flossers will sit on a countertop close to a socket when flossing. Since the flosser is powered by electricity, it comes with a cord.
Usually, it is more powerful than other kinds because of the power it comes with. Depending on the device, the flosser can have 6-10 water pressure levels ranging from 10-100PSI.
You will find it has a bigger reservoir, so you don't have to refill in the middle. It can offer more than 90 seconds of water flossing time.
Such water flosser also comes with more accessories, including replaceable tips so you and your family can solve different issues. The accessories include a toothbrush tip, pocket tip, plaque seeker, and orthodontic tip, along with the classic ones.
One hassle is that most of the devices include shorter length cords. So it can limit the movement a bit. Moreover, you cannot carry it too as it is not portable.
Countertop Corded
Countertop corded flossers like Waterpik Ion are similar to countertop corded models but are battery-powered. That means while you are not likely to travel with this unit, you can freely choose a location in your bathroom for your flosser because you are not tied to the wall outlet.
Handheld Cordless
The second type of irrigator has the water tank integrated into the handle (like the Panasonic EW1211A).  These portable and cordless models have less water per tank filling available, but you do not have to deal with the hose.
Cordless oral irrigators come battery operated without any cord. You will find them slim, small as well as easy to carry. If you are a frequent traveler, then a cordless device will be a perfect option for you because of its lightness and easy portability.
Typically, such water flossers come with lesser features and accessories. You will find it has 2 to 3 pressure settings ranging from 45 to 75PSI. It will be great if you want one for personal use.
The reservoir usually comes small and can last up to 2 sessions, with each offering 30 to 45-second flossing time. Although refill is easy, frequent refill can be a hassle.
Shower Flosser
The one that requires to be attached to a shower system is basically the shower flosser. It helps you floss inside the bathroom.
One main benefit of such water flossers is that it neither is powered by electricity nor batteries. For instance, Oral Breeze Showerbreeze is a shower flosser that comes with a 6-foot hose.
Such a device also doesn't need any reservoir as it is attached to the shower system. So, you will find it convenient to use it nonstop.
However, a shower flosser may not be ideal for portability since you have to use it in the bathroom.
Faucet Flosser
A faucet flosser is a device that requires to be attached to the faucet. Depending on the brand, such oral irrigators may or may not need refills. For instance, Oral Breeze QuickBreeze is a faucet flosser that does not need refills. Use it for 15 seconds regularly and then get the desired result.
With this, you can easily shift from floss to faucet with just a diverter button and an in-built aerator. However, some models may not have this system.
Like the shower flosser, it is also not a good option for portability as it requires a faucet to work.
Which type is the best?
In the end, it is a matter of taste and, depending on personal factors, which of the two variants you prefer. There are great oral irrigators in both camps.
Flosser vs. Flosser And Toothbrush Combo
Some oral irrigators come combined. For instance, Waterpik CC-02 Complete Care is a device that includes both Water Flosser and Oscillating Electric Toothbrush.
Unlike the single product, the combo lets you enjoy brushing and flossing altogether. The toothbrush has a 2-minute timer, a 30-second pacer, and a recharge indicator. The features of toothbrushes are the extra benefits that you can enjoy from the combo package.
However, depending on the brand, the combo may or may not come corded. When it comes to Waterpik CC-02, it features a 3.5-feet cord.
Portability
Not all oral irrigators will have portable benefits. Cordless devices are run by batteries. Hence it can benefit you with portability. If you are someone who travels a lot, this should be one of the initial factors you must consider.
Moreover, the water flosser should not be bulky and heavyweight. These can make it tough for you to use the device. Make sure the batteries used in the device are easy to carry. Plus, make sure the batteries offer longer runtime and multiple uses on a single charge.
Water Tank Size
The size of the water tank can depend on the type and design of the oral irrigator. The reservoir of the countertop oral irrigator can hold up to 35 ounces. Meanwhile, cordless oral irrigator ones can hold around 7 ounces.
Regardless of the type of tank, the available volume is an important factor when choosing an oral irrigator. The tank capacity is often measured in seconds instead of milliliters. Depending on the size and water flow, the tank capacity is usually between 20 seconds for handheld models and 90 seconds for large countertop models.
Here is a general guideline of flossing time per tank capacity.
5 ounces (150ml) = over 30 seconds of flossing-time
7 ounces (210ml) = over 45 seconds of flossing-time
15 ounces (450ml) = over 60 seconds of flossing-time
22-35 ounces (650ml-1000ml) = over 90 seconds of flossing-time.
Oral Breeze flossers belong to a more exotic type of water flosser with no water tank. These flossers connect directly to the bathroom faucet.
If you love to take your time and thoroughly rinse your teeth, you should either opt for a large tank countertop model or choose a tankless model.
Modes
Most mouth showers have two operating modes and allow normal flossing operation and a massage mode. While the former is intended for rinsing and clean the spaces between the teeth, the usually softer massage mode can gently clean and massage the gums.
Some models also allow a pulsed water jet or air bubbles in the water.
Massage Mode
Right after daily flossing, using a massage mode of oral irrigator offers extra benefits. It provides you with a terrific water pulsation pattern to enhance gum stimulation while improving circulation.
For instance, the Hydro Pulse Massage Mode of Waterpik massages your gums gently with pulsation. You will just need to press the mode button and point the tip on your gum to let it work.
Adjustable Pressure Settings
Water pressure settings enable you to adjust the force of the water-spray that the oral irrigator produces. In case you are new to using such devices, make sure to begin with the lowest pressure setting. After that, level it up over time according to your preference.
Water pressure is an important factor for many people. If the pressure is too low, the cleaning performance suffers. If it is too high, using the flosser becomes uncomfortable. That is why most models feature multiple water pressure levels you can choose from to fit your own requirements.
Depending on the device, cordless oral irrigators can come with 2 or 3 pressure settings from 45PSI to 75PSI (sometimes designated Soft, Medium, and Hard). Meanwhile, corded oral irrigators feature 3, 6, or even 10 settings from 10PSI up to 100PSI.
Different Tips and Nozzles
If you are looking for a water flosser that the whole family can use, buy one that comes with additional tips. Make sure they are color-coded so you can identify yours easily.
If you want to use it alone, you can buy one that includes various tips. There are different types of them that you can get. Each one has been specifically designed for different purposes.
The classic is surely for general use. It comes with a regular tip that you need to use regularly.
There is another water flosser that is designed for general purpose, and that is the toothbrush tip. It lets you brush your teeth as well as floss them simultaneously. If you want to complete the flossing task fast, then consider having it.
In case you are wearing braces, you need to buy a flosser that includes an orthodontic tip. The manufacturers have designed this especially for cleaning all the areas of teeth that the traditional one cannot reach because of retainers.
Many water flossers also include periodontal tips. It is a perfect pick for cleaning periodontal pockets and beneath the gum-line.
If you want a flosser that will take care of implants, crowns, and bridges, then you can get one that includes a plaque seeker tip.
The oral irrigator's tip must be replaced after a certain period of time, similar to an electric toothbrush, usually after about 6 months. Many manufacturers do already include one or more tips with the device. This is especially useful if you want to share the waterpik with other family members. Everyone has their own mouthpiece.
Adjustable or Rotatable Nozzles
The majority of the water flosser comes with a rotatable base that holds the tip. This gives you more convenience to position the tip easily and reach all parts of the mouth. So, make sure you get a nozzle that can particularly rotate 360 degrees.
You can also pick models that have swiveling water hose attached to the base of the handle. It serves the same purpose too.
Noise Levels
None would prefer a loud oral irrigator. Since water flossing can occur in the morning when your family members are sleeping, you must take the noise levels into consideration.
In general, the sound of water flosser can range from 55 decibels to 65 decibels from 6 feet away. The range can be quiet enough to give you a calm flossing session.
If you don't want any noise, you can consider a shower or faucet flosser. Because these water flossers don't run with a motor, they won't give off any sound.
Internal or Removable Batteries
All cordless devices would require batteries be it internal or removable. Some oral irrigator models feature 2-3 AA-type replaceable batteries, while some come with in-built rechargeable batteries.
The former is ideal for travel and international use since it is easy to carry and does not require charging. The latter one includes a charging adapter and can offer multiple uses on a single charge.
Warranty
The warranty period varies from one manufacturer to another. It can be from a year to three. For instance, the MOSPRO water flosser gives a year of warranty, while models of Waterpik offer a three-year warranty.
Budget
It is not essential that you have to go over the budget to get the best oral irrigator. Many devices on the market are indeed pricy, but that doesn't mean they are the best. You may get the top-notch one at affordable prices too.
However, make sure to take features into consideration. The more features a water flosser will have, the pricier it can be. So it will be wise to note down the features you want the device to have. Then get one that matches the requirements the most.
Mouthwash Use
Many dentists recommend using mouthwash instead of pure water, with a mixture of water and medicinal mouthwashes. This removes food residue and plaque and helps to fight bacteria and unpleasant odors more effectively.
However, not all flossers allow the use of such mouthwashes without the risk of loss of warranty. Check out the description or ask the sales rep if you are shopping for a model that can be used with mouthwash.
Other Attachments and Accessories
Cases or bags are handy when traveling, as the mouth shower can be stored in your luggage in a space-saving and hygienic way. Such features are not decisive for the overall assessment of a mouth shower, but they are plus points.
Frequently Asked Questions
Can the flosser be used with mouthwash?
Yes, the water flosser can be used with clear water, water and mouthwash mix, or even pure mouthwash. You should keep in mind that mouth wash can be sticky, so it is a good idea to rinse the nozzle now and then.
Showerbreeze vs Waterpik – which one is better?
Coming soon!
Related Articles