The oral irrigator or water flosser is the healthcare device that is used to remove the plaque and food particles that are trapped between the teeth. Sometimes dental irrigator is called water flosser because it does the same job as dental floss.
The flosser produces a stream of water or water an air mixture that flosses space between the teeth and gently massages the gums.
Let's have a look at best oral irrigator brads and models!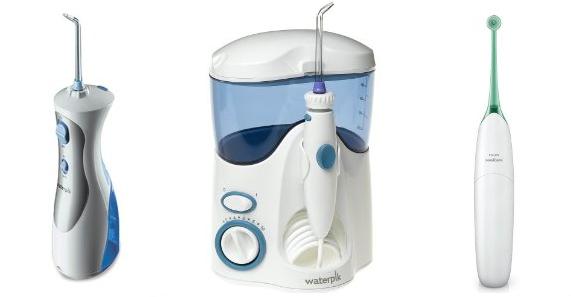 Benefits of Dental Irrigators
The oral irrigators have been around for almost 50 years since the first prototype was developed in early 1960-ies. Since then dental care professionals have tested the device extensively and found out that it is nearly as effective as traditional dental floss. The added benefit of flosser is strengthening the gums and reducing the gum bleeding. It is proven that the stream of water the device produces massages gums very effectively and improves gums condition 50% better than regular dental floss.
Irrigators are also a very effective means of taking care of your crowns, dental implants and orthodontic appliances like brackets. I was wearing braces for almost 3 years in my early 20-ies, and I remember how difficult it was to remove food like cookies from around the braces using a toothbrush. It will be an easy job if I have had an irrigator.
Using the irrigator will be a great addition to your oral care routine.
Best Oral Irrigator Brands
The according to Amazon customer votes the most popular irrigator manufacturers are Waterpik, Philips, and Oral Breeze.
Waterpik offers 6 flosser models – 4 countertop models and 2 wireless flossers. The countertop model range includes Classic and Ultra Water Flosser, a model for kids, and compact Traveller Water Flosser. There are also 2 cordless irrigator models.
Philips introduced its Philips Sonicare Airfloss in late 2010. Sonicare Airfloss is a portable flosser that uses patented Microburst technology that produces a mix of water droplets and air. Flossing with the Philips Sonicare Airfloss is less messy because it uses only one teaspoon of water per cleaning.
QuickBreeze and RediBreeze irrigators should be permanently attached to your bathroom faucet. It is a low-cost solution with its benefits and drawbacks
Oral B irrigators are very popular in the UK and Germany, but you can find them in the US online stores as well. Search for Oral B Oxyjet and Oral B Aquacare.
Waterpik Oral Irrigators
Let's start with the Waterpik desktop models.
Waterpik Complete Care WP-900
Waterpik Complete Care Water Flosser and Sonic Toothbrush, WP-900Check Price
This Waterpik irrigator comes with a covered reservoir and covered tip storage.
The water control is on the handle, and it has 10 pressure settings.
The reservoir capacity of this model is 90 seconds, and it has 5 tips. It comes with a two-year warranty.
Waterpik Aquarius WP-660
Waterpik Water Flosser Electric Dental Countertop Oral Irrigator For Teeth – Aquarius Professional, WP-660 WhiteCheck Price
This model has a covered reservoir and tip storage. The handle on this carries the water control feature. There is also a hydro pulse massage mode that uses an LED indicator. With 10 pressure settings and 90-second reservoir capacity, this model has 7 tips and a three-year warranty.
Aquarius flosser is available in multiple colors:
Black WP-662
Blue WP-663
Orchid WP-665
Gray WP-667
Waterpik Ultra WP-100W
Waterpik WP-100W White Ultra Water Flosser, 1 EachCheck Price
Waterpik WP100W Ultra dental water flosser has a covered reservoir and tip storage. The reservoir capacity is 90 seconds.
The water control is on the handle, and it has ten pressure settings. There are six tips included with this and it has a three-year warranty.
Ultra flosser is available in multiple colors:
Black WP-112
Blue WP-113
Orchid WP-115
Waterpik For Kids WP-260
Waterpik Water Flosser For Kids, WP-260Check Price
This model like its name is designed specifically for kids and has the look of one as well with its colorful and fun exterior designs.
There are three pressure settings and 60-second reservoir capacity. It has two tips included with it, and a warranty of two years.
There are also a couple of handheld models.
Waterpik Cordless Advanced WP-560
Waterpik Cordless Water Flosser Rechargeable Portable Oral Irrigator For Travel And Home – Cordless Advanced, WP-560 WhiteCheck Price
This Cordless Advanced (WP-560) handheld model uses inductive charging, has an electronic pressure control feature and 360-degree tip rotation.
With three pressure settings and 45-second reservoir capacity, this model is waterproof. It has 4 tips and a two-year warranty and is one of the best travel oral irrigator models available.
Waterpik Cordless Freedom WF-03
Cordless Water Flosser, Waterpik Cordless Freedom ADA Accepted Oral Irrigator, Battery Operated and Portable for Travel and Home, Waterproof with Travel Bag and 3 Jet Tips, WF-03Check Price
This model is waterproof and has two different pressure settings.
The reservoir capacity of this flosser is 30 seconds, and it comes with three tips. It, however, does not have inductive charging, electronic pressure control or the 360-degree rotation feature. It has a one-year warranty.
Waterpik Cordless Plus WP-450
[This model has been discontinued.]
This cordless model features a 360-degree rotation of the tip and has two different pressure settings. The reservoir capacity is also a larger  45 seconds, but the downside is that it is not waterproof. It has 4 tips and a two-year warranty.
Waterpik Cordless WP-360
[This model has been discontinued.]
This one features total 360-degree rotation and 30-second reservoir capacity. It has a single pressure setting and two tips. The warranty is one year. The downside is it is not waterproof and does not have inductive charging.
Waterpik Comparisons
People often want to what exactly is the difference between Waterpik wp-100 vs wp-660 vs WP-900 and other models. Say tuned!
Panasonic Oral Irrigators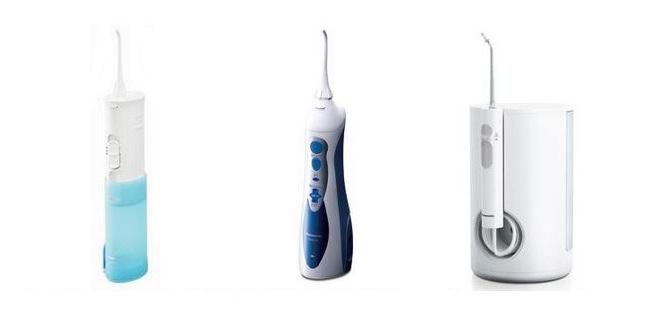 Panasonic EW-DJ10-A
Panasonic Portable Dental Water Flosser and Oral Irrigator EW-DJ10-A, Dual-Speed Pulse for Dental Care/Oral Health, Cordless, Battery Operated, Collapsible Waterproof Design for Travel and CleaningCheck Price
The cheapest of these 3 models, the Panasonic EW-DJ10-A dental irrigator has a maximum pump frequency of 1400 pulses a minute.
The pump type on this is a Jet, and it has 2 water pressure settings. The 5.5 oz reservoir capacity covers approximately 40 seconds of use. The water tank part of this is dishwasher safe, and this has a collapsible design as well. It is powered by an AA battery. The Panasonic flossers are covered by 2-year limited warranty.
Panasonic EW1211A
Panasonic EW1211A Dental Water Flosser / Oral Irrigator, 3 Speed/Pressure Settings, Rechargeable, Cordless, 100% Waterproof for Easy Cleaning and MaintenanceCheck Price
The Panasonic EW1211A Portable water irrigator has a maximum pump frequency of 1500 pulses per minute. It has three different settings for the pressure while the pump type is a Jet an Air-In. The reservoir capacity is 35 seconds, and the volume is 4 oz. It is powered by an Induction charge, RC. The water tank part is dishwasher safe.
Panasonic EW1611W
Panasonic Dental Water Flosser and Oral Irrigator EW1611W, Ultrasonic Waterjet Technology for Dental Care and Oral Health, 10 Power Settings and 20-Ounce Water ReservoirCheck Price
The Panasonic EW1611W dental irrigator has a maximum pump frequency of 1900 pulses a minute and comes with ten different pressure settings.
The pump uses ultrasonic technology. This water tank is also dishwater safe, but not the entire device. The reservoir has a capacity of 115 seconds and volume of 20 oz. It is powered by an AC current.
Oral Breeze
Oral Breeze ShowerBreeze
Oral Breeze ShowerBreeze Water Jet Dental Irrigator, Easy Shower Installation, Treats Gum Disease Naturally, Use 15 Seconds DailyCheck Price
This is a prevention-focused tool that helps to prevent oral diseases. It helps to strengthen the gums and prevents bleeding.
ShowerBreeze is easy to use, to store and there is no risk of bacteria breeding inside it. The materials used to make it are also very high quality, which is chrome-plated brass.
The irrigator helps to clean those areas that one can never reach with a brush or floss. This also has volume control for convenience of use which can be turned entirely on, completely off, or anywhere in between. This device is one that gives immediate results and provides excellent oral health.
Oral Breeze QuickBreeze
Oral Breeze QuickBreeze, Oral Irrigator, Easy Faucet Installation, Treats Gum Disease Naturally, Use 15 Seconds DailyCheck Price
This faucet oral irrigator focuses on the prevention of oral diseases and helps to fight lots like halitosis and gingivitis. Considered to be part of a dental plan, this device helps to make the gums stronger and prevents bleeding in these areas.
The QuickBreeze can be very easily installed onto the sink without the help of other extra tools and detached just as quickly. It is convenient for there is no risk of bacteria growing inside it.
There are no loud motors which can be a nuisance, nor does it use any hard chemicals, making it safe. There is a valve that diverts the flow of water, and it has a 24-inch hose that funnels water narrowly with two heads.
Oral Breeze RediBreeze Oral Irrigator
Oral Breeze RediBreeze Oral Irrigator has been discontinued. Please check out the similar QuickBreeze model above!
Water Flosser Design Features
Water Tank Location
There are two different types of water flossers.
The first type features a stationary water tank connected to the handpiece by a hose (Waterpik Ultra WP-100W for example). This way the handpiece is much lighter and therefore more comfortable to use. In addition, the tank capacity can be higher, because user does not have to move or hold it constantly.
The second type of irrigator has the water tank integrated into the handle.  These portable and cordless models have less water per tank filling available, but you do not have to deal with the hose.
In the end, it is a matter of taste and depending on personal factors which of the two variants you prefer. There are great oral irrigators in both camps.
Tank Capacity
Regardless of the type of tank, the available volume is an important factor when choosing an oral irrigator. The tank capacity is often measured in seconds instead of milliliters. Depending on the size and water flow, the tank capacity is usually between 20 seconds for handheld models and 90 seconds for large countertop models.
Oral Breeze flossers belong to a more exotic type of water flosser that has no water tank at all. These flossers connect directly to the bathroom faucet.
If you love to take your time and thoroughly rinse your teeth, you should either opt for a large tank countertop model or choose a tankless model.
Water Pressure Settings
The water pressure is an important factor for many people. If the pressure is too low, the cleaning performance suffers. If it is too high, using the flosser becomes uncomfortable. That is why most models feature multiple water pressure levels you can choose from to fit your own requirements.
The cheap portable devices offer 2-3 fixed operating modes, such as "soft", "medium" and "hard", but advanced countertop models let the water pressure to be adjusted in up to 10 levels.
Modes
Most mouth showers have two operating modes and allow normal flossing operation and a massage mode. While the former is intended for rinsing and cleaning the spaces between the teeth, the usually softer massage mode can be used to gently clean and massage the gums.
Some models also allow a pulsed water jet or air bubbles in the water.
Mouthwash Use
Many dentists recommend using mouthwash instead of pure water, with a mixture of water and medicinal mouthwashes. This not only removes food residue and plaque but also helps to fight bacteria and unpleasant odors more effectively.
However, not all flossers allow the use of such mouthwashes without risk of loss of warranty. Check out the description or ask the sales rep if you are shopping for a model that can be used with mouthwash.
Various Attachments and Accessories
The tip of the oral irrigator must be replaced after a certain period of time, similar to that of an electric toothbrush, usually after about 6 months. Many manufacturers do already include one or more tips with the device. This is especially useful if you want to share the mouth shower in the family anyway and everyone has their own mouthpiece.
Cases or bags are especially useful when traveling, as the mouth shower can be stored in your luggage in a space-saving and hygienic way. Such features are not decisive for the overall assessment of a mouth shower, but they are plus points.
FAQs
Q: Can the flosser be used with mouthwash?
A: Yes. A water flosser can be used with clear water, water and mouthwash mix, or even pure mouthwash. You should keep in mind that mouth wash can be sticky, so it is a good idea to rinse the nozzle now and then.