There are several reasons why you should choose kids electric toothbrush over regular electric toothbrush – regular toothbrush can be too big, vibrations too powerful, and sound too loud. Keeping all that in mind Philips Sonicare created the Philips Sonicare for Kids Bluetooth Connected Rechargeable Electric Toothbrush for children.
It it the best electric toothbrush for kids? Please keep reading to find out!
Scientists have discovered that children who use electric toothbrushes have cleaner teeth. They say that children brushing with electric toothbrushes remove up to 75% more plaque in several areas of the mouth than using the manual toothbrush. It sounds like a difference. So should you just give your kid your Philips Sonicare toothbrush? Wait a minute. It might be too much for a little kid.
I wrote this review about the HX6311/02 model of Sonicare kids' toothbrush. Since then Philips has released 3 updated models – the HX6311/07 model in 2014, the HX6321/02 Bluetooth model in 2018, and the HX6351/41 Bluetooth model in 2019.
The new Philips Sonicare kids toothbrush model has the same features, but the design and replacement brush head have been updated. I will address the differences between these products further in the article.
Philips Sonicare for Kids Bluetooth Connected Rechargeable Electric Toothbrush, Interactive for Better Brushing, BlueCheck Price
Sonicare Kids Toothbrush Features
KidTimer let's get used to using the electric toothbrush
If you will give your kid this brush and tell him to brush for a full 2 minutes, this will be the last time he or she uses the electric toothbrush.
Children should slowly get used to brushing with the electric brush. KidTimer progressively increases cleaning time and power over a 90 day period, so that kids get used to buzzing and tingling sensation.
Kid-friendly power modes
To provide gentle cleaning HX6351/41 kids electric toothbrush has 2 power modes – Low for ages 4-7 and High for ages 7-10.
These power settings are 60% and 40% less powerful than regular Sonicare Essence mode. That is also the reason why this kids toothbrush is noticeably quieter than regular FlexCare.
KidPacer tells when to move on
The musical tone informs when you should switch to another side of your teeth.
Small brushing head with softer bristles cleans gently and protects kid's teeth while they are learning correctly using the electric toothbrush.
Interchangeable panels makes brushing fun
Philips Sonicare Kids HX6351/41 toothbrush comes with 3 interchangeable color panels.
This toothbrush is not a water-down version of a Sonicare. It has all advanced features of an 'adult' Sonicare toothbrush. It is getting outstanding ratings from Amazon.com's customers.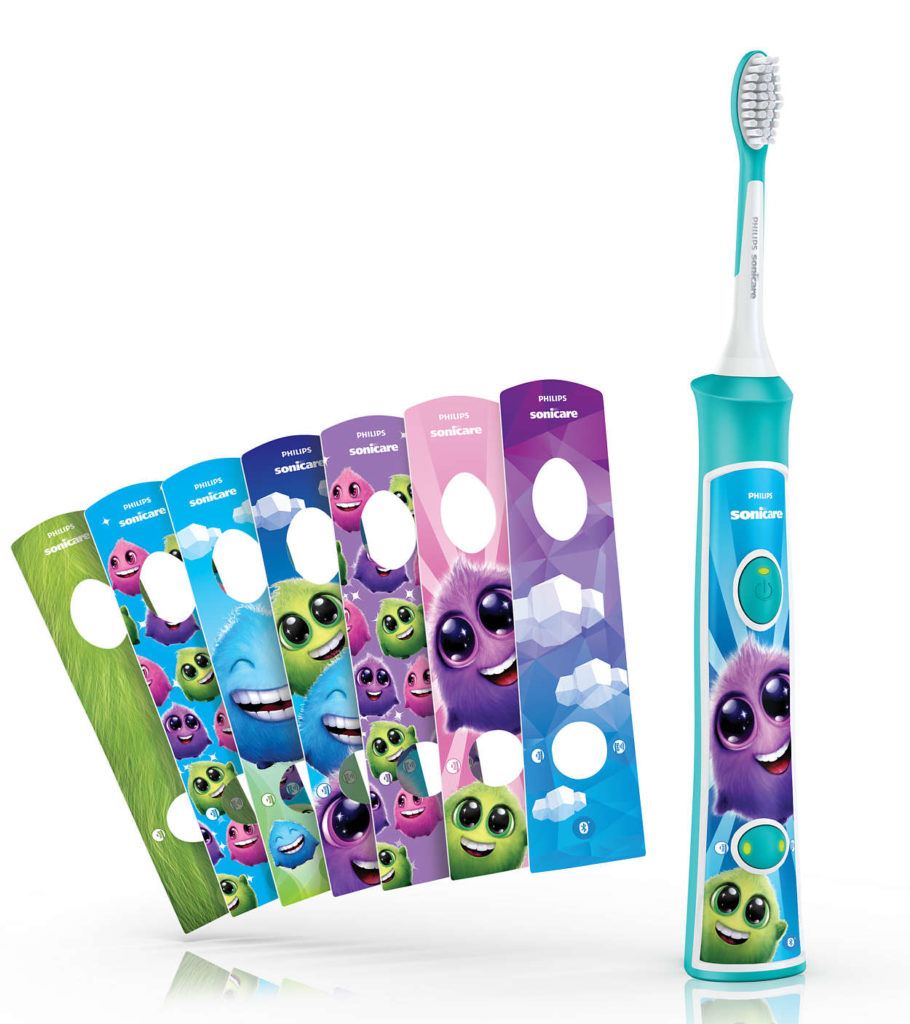 Pros and Cons
Many users have had amazing experiences with the Philips Sonicare toothbrush for kids because of the benefits associated with it. A few people have reported some complaints because of the drawbacks it has.
Here are the pros and cons of the Philips Sonicare children's toothbrush.
Pros
It removes stains
One thing that users of the Sonicare toothbrush agree on is that it removes stains from teeth. This is something you will notice immediately once your kids start using it. You will see a significant change in the color of their teeth.
It's fun for kids
This electric brush has a different way of alerting you to switch sides so you can brush other areas of your mouth. Apart from the normal vibration, it also gives off musical alerts which are perfect since it makes brushing fun for kids.
This is good news to parents especially since most kids hate brushing their teeth.  Some kids have even been known to break into laughter when they hear the alerts.
Comes with an effective app
There is an app that comes with the brush and it is free and everyone can use it provided they have Bluetooth. More parents have discovered that the app helps kids to brush their teeth effectively.
The app displays the photo of a cartoon's mouth which excites kids and they emulate how the cartoon brushes its teeth.
It's great for sensitive kids
Parents with sensitive kids (such as those with mild autism) have praises for the toothbrush. These parents reported that brushing their children's teeth was always a difficult task because the kids didn't want a toothbrush near them.
With the Sonicare toothbrush, the kids look forward to brushing their teeth especially when they get their presents on the app for brushing their teeth properly.
Prevents kids from getting cavities
The majority of parents who use the Philips toothbrush on their kids' teeth reported that their children went for years without getting cavities.
Even more advantages
Different power levels and brush head sizes for different age groups – for ages 4-7 and 7-10 – provide gentle cleaning
Quadrapacer (old model) or KidPacer (new model) timer let the child know when to move to next quadrant of the mouth
KidTimer mode allows kid slowly get used to the toothbrush and reach suggested 2 minute brushing time
Age 7-10 brush head is interchangeable with regular Sonicare toothbrushes
Cons
Some people have complained that their kids Sonicare toothbrushes suddenly stopped working and they couldn't understand why.
When the brush is on the charger, the light indicator does not come on. Sometimes, it charges but the toothbrush does not come on to enable one to brush.
Luckily, the Philips electric kids toothbrush comes with a warranty so if there's a problem, you can always return it and get a replacement.
Sonicare Kid Toothbrush Heads
Philips Sonicare for Kids kids toothbrush is compatible with 2 replacement brush models:
HX6032/94 Brush Heads for Ages 4-7
HX6042/60 Brush Heads for Ages 7-10
HX6032/94
Philips Sonicare for Kids Replacement Toothbrush Heads, HX6032/94Check Price
Sonicare for Kids electric toothbrush head HX6032/94 has been designed for growing kids in the 4-7 age group to encourage healthy brushing habits.
Just show your kids how to brush, and the Sonicare brush will deliver excellent results, even when kids will start cleaning on their own. Children love their Sonicare brushes that make brushing teeth a fun game.
Philips Sonicare Kids replacement heads HX6032/94 feature soft bristles that are gentle on children's teeth and developing gums as well as a rubber over-mold that protects sensitive teeth. There are two brush heads in the pack – one red and one blue.
Related Reading: Philips Sonicare ProtectiveClean 4100 vs 5100 vs 6100 Review
Features
HX6032/60 electric toothbrush replacement heads – Philips Sonicare for kids brush heads – are specially designed for smaller mouths of kids ages 4-7
Soft bristles are gentle on kids teeth and still developing gums
Sensitive teeth are protected by rubber overmold on the brush head
Set of 1 red and 1 blue brushing head
Alternatives
Lanveda, Bobohome, and SonicPRO are a few brands offering cheaper alternative brush heads to Philips.
HX6042/60
Philips Sonicare HX6042 Kids Brush Head, StandardCheck Price
Sonicare for Kids electric toothbrush heads HX6042/60
have been designed for growing kids in the 7-10 age group.
These are the regular size Philips Sonicare replacement brushes with a different design. If you run out of these brushes, you can use your regular adult size replacement brush instead.
Features
HX6042/60 brush heads are specially designed for mouths of kids ages 7-10
Soft bristles are gentle on kids teeth and still developing gums
Sensitive teeth are protected by rubber overmold on the brush head
Set of 1 red and 1 blue brushing head
Box contents
HX6311/02 old model set includes
1 toothbrush handle
two brush heads for ages 4+ and 7+
3 interchangeable panels
1 charger base with brush head storage.
HX6311/07 new model set includes
1 toothbrush handle
1 standard size brush head
8 interchangeable stickers
2 additional sticker sheets
1 charger base
Conclusion
The manual toothbrush is no match to the Philips Sonicare For Kids. Dentists will recommend this brush for your kids because it removes teeth stains and encourages your children to get into healthy habits such as brushing their teeth.
With this toothbrush, brushing time won't be a nightmare for you.  Sonicare is designed for kids and that's why it has colorful stickers, musical alerts when brushing and app with cartoons that make kids excited to brush their teeth and get rewards.
The app serves to educate children on how to properly brush their teeth through its visual guide. Your kid's teeth will look clean and sparkling when they start using this toothbrush.
Related Articles