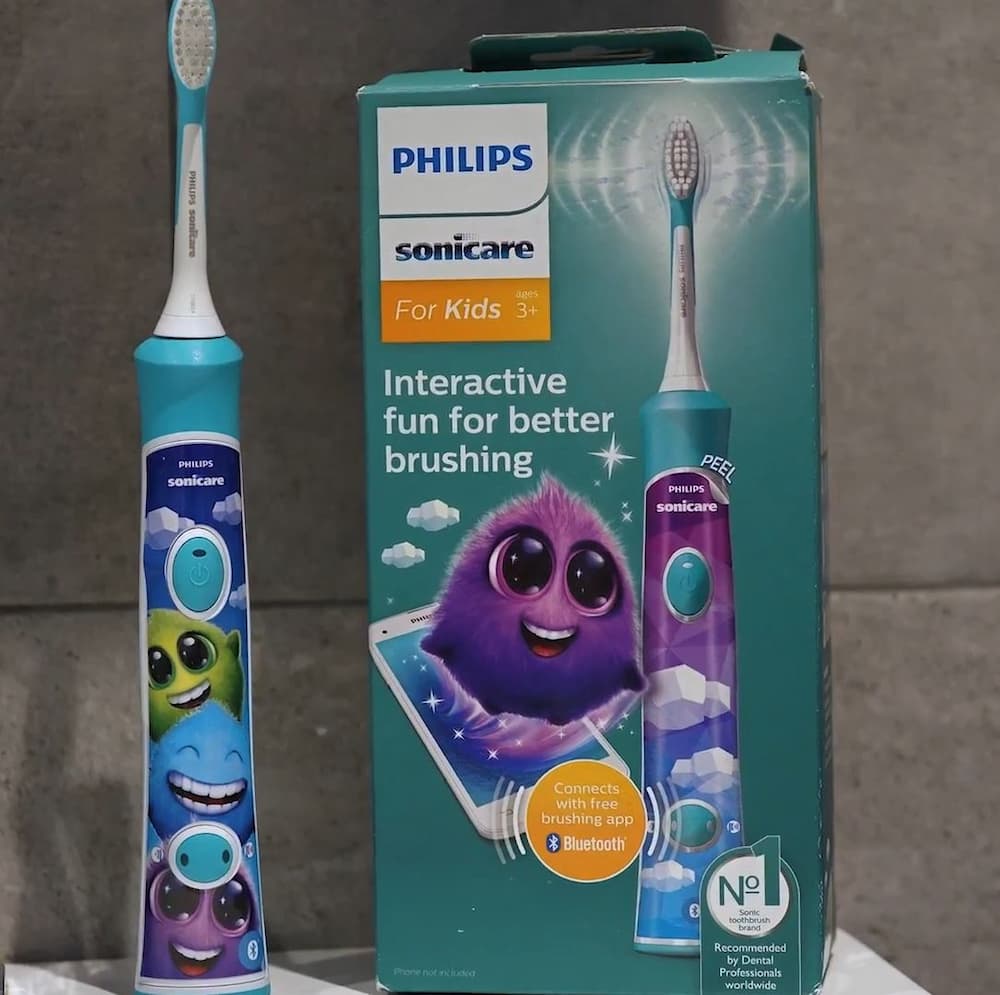 There are several reasons why you should choose kids electric toothbrush over regular electric toothbrush – regular toothbrush can be too big, vibrations too powerful, and sound too loud. Keeping all that in mind Philips Sonicare created the Philips Sonicare for Kids Bluetooth Connected Rechargeable Electric Toothbrush for children.
Is this the best electric toothbrush for kids? Please keep reading to find out!
Scientists have discovered that children who use electric toothbrushes have cleaner teeth. They say that children brushing with electric toothbrushes remove up to 75% more plaque in several areas of the mouth than using the manual toothbrush. It sounds like a difference. So should you just give your kid your Philips Sonicare toothbrush? Wait a minute. It might be too much for a little kid.
I wrote this review about the HX6311/02 model of Sonicare kids' toothbrush. Since then Philips has released 3 updated models – the HX6311/07 model in 2014, the HX6321/02 Aqua Bluetooth model in 2018, and the HX6351/41 Pink Bluetooth model in 2019.
The new Philips Sonicare kids toothbrush model has the same features, but the design and replacement brush head have been updated. I will address the differences between these products further in the article.
Sonicare Kids Toothbrush Features
This toothbrush is not a water-down version of your regular Sonicare toothbrush.
It has all the advanced features of an 'adult' Sonicare toothbrush and some extra perks that make brushing more fun.
Dynamic Cleaning Action
Philip's sonic technology does most of the cleansing work while kids move the toothbrush around their mouths. The enhanced dynamic action of Sonicare electric toothbrush effectively does deep within the gum line and between the teeth while being very gentle.
Small brushing head with softer bristles cleans gently and protects kid's teeth while they are learning correctly using the electric toothbrush.
As expected from this range, Sonicare for kids delivers excellent cleaning for the teeth with its 500 strokes per second. This feature makes Philips Sonicare for Kids toothbrushes 75% effective than manual toothbrushes. 98% of parents said that it was easier to make their children brush better and longer thanks to the interactive sonic power toothbrushes.
Kid-friendly Brushing Modes
To provide gentle cleaning the Sonicare kid's electric toothbrush has 2 power modes – Extra Gentle for ages 4-7 and Gentle for ages 7-10.
I did some research and found out that these power settings are 60% and 40% less powerful than regular Sonicare Essence mode. That is also the reason why this kids' toothbrush is noticeably quieter than regular FlexCare.
The Gentle mode is the more powerful option between the two. Why's it named gentle even if the company claims it's the most powerful clean offered? It's because they're made for kids, and it's hard coming up with a technology that's efficient and gentle at the same time – or that's what made sense in this context.
The gentle mode is designed for the older kids, ones who can brush independently. It's the strongest clean. The brushing cycle is 2 minutes.
Extra Gentle mode is a lesser power mode made to introduce children to the sonic experience and train them in using it. In this mode, the brushing timer starts at 1 minute and slowly rises to 2 minutes over time, to help children get accustomed to it. Dentists recommend 2 minutes every brushing cycle even for young children.
You have to change the cleaning mode prior to turning the brush on. There's an LED light on both sides of the button. When the left LED is lit, it represents Extra Gentle mode is one. And when the right LED is lit, it means that Gentle mode has been selected. To switch modes, press the button once. The mode can't be changed during brushing to prevent kids from playing with different brushing speeds and getting distracted.
EasyStart Mode
The starting of the toothbrush and the brushing time is the feature known as EasyStart. It's a staple in many Sonicare brushes which has been introduced into the Sonicare for kids range as well.
If you will give your kid this brush and tell him to brush for a full 2 minutes, this will be the last time he or she uses the electric toothbrush.
This feature eases the transition process from a manual to a more technical sonic brush. This takes place over the first 14 sessions, where the intensity is notched up bit by bit every time.
Children should slowly get used to brushing with the electric brush. KidTimer progressively increases cleaning time and power over a 90 day period, so that kids get used to buzzing and tingling sensation.
KidPacer Timer
Kidpacer is the Sonicare for Kids version of Quadpacer where the toothbrush divided the mouth into four quadrants and helps the user brush.
From the moment the brush is turned on, the timer starts. After every 30 seconds, a musical tune is played to indicate that it's time to move onto another quadrant that needs to be brushed.
There are four quadrants: lower left, lower right, upper left, and upper right. Ideally, each quadrant needs to be cleaned for 30 seconds. The in-built timer takes care of this.
After the designated 2 minutes cycle, the brush will turn off automatically as a sign to end the clean and also to save battery power. A very handy feature indeed, especially if you're dealing with kids who don't really care about these issues.
Kidtimer
After connecting with the Sonicare app via Bluetooth, the toothbrush will increase brushing time steadily. The aim is to get them to brush for 2 minutes – dentist-recommended time. If the app is used, kids will be able to mimic the in-built brushing coach as it guides on carefully brushing each segment of the mouth.
Kids love interacting with basically anything, so when the brushing coach will motivate them to brush for longer, they'll definitely go along with it. As they brush for longer, Sparkly with the really bright teeth with rewarding them. It's just a great way to engage the kids in something they otherwise don't like.
Interchangeable Stickers Make Brushing Fun
As an added treat for the kids, a sheet of 8 stickers is added. They can be fitted to the removable panel.
Children can choose whatever sticker they prefer the most for an instant customer feel. Parents will have to come forward to help the stickers on, though. These stickers are easy to pull off and replace.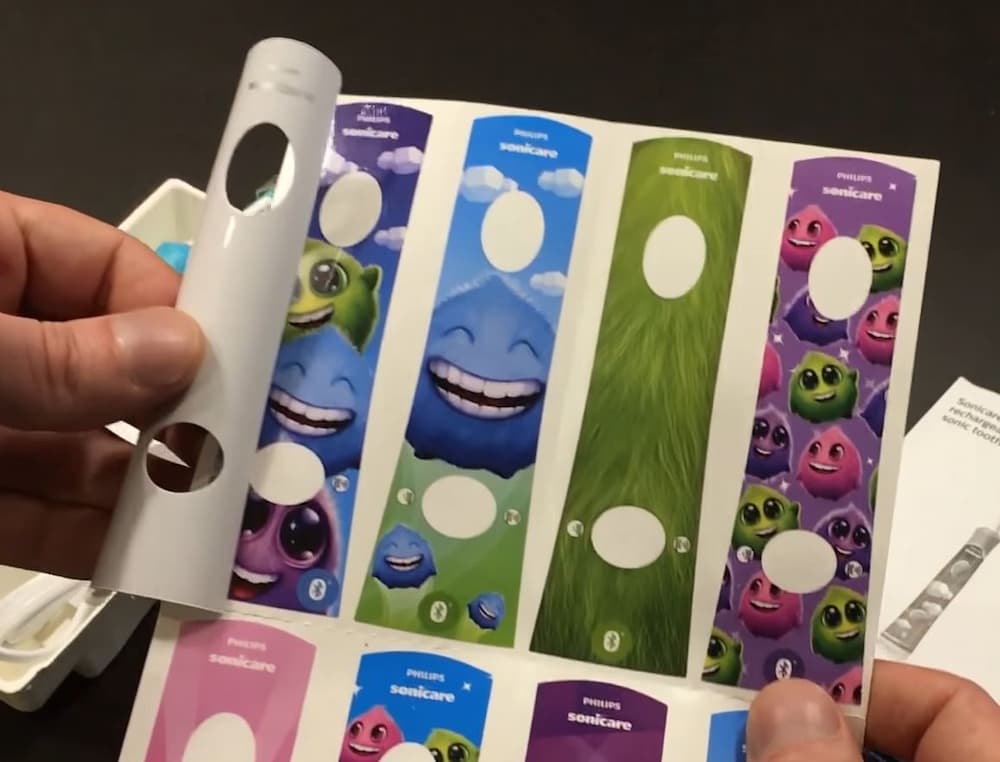 Bluetooth
Perhaps one of the best features of the Sonicare Kids toothbrush would be Bluetooth connectivity.
Download the free Sonicare Kids app from iTunes Store or Google Play Store and connect it to your toothbrush via Bluetooth on your mobile device. The smart device must have Bluetooth 4.0 for it to work.
Basically, connecting helps to keep track of your children's progress so you can monitor it when you want to.
Sonicare App
For the young and playful audience, the app introduces a fun character named Sparkly, alongside an interactive on-screen brushing and progress tracking interface.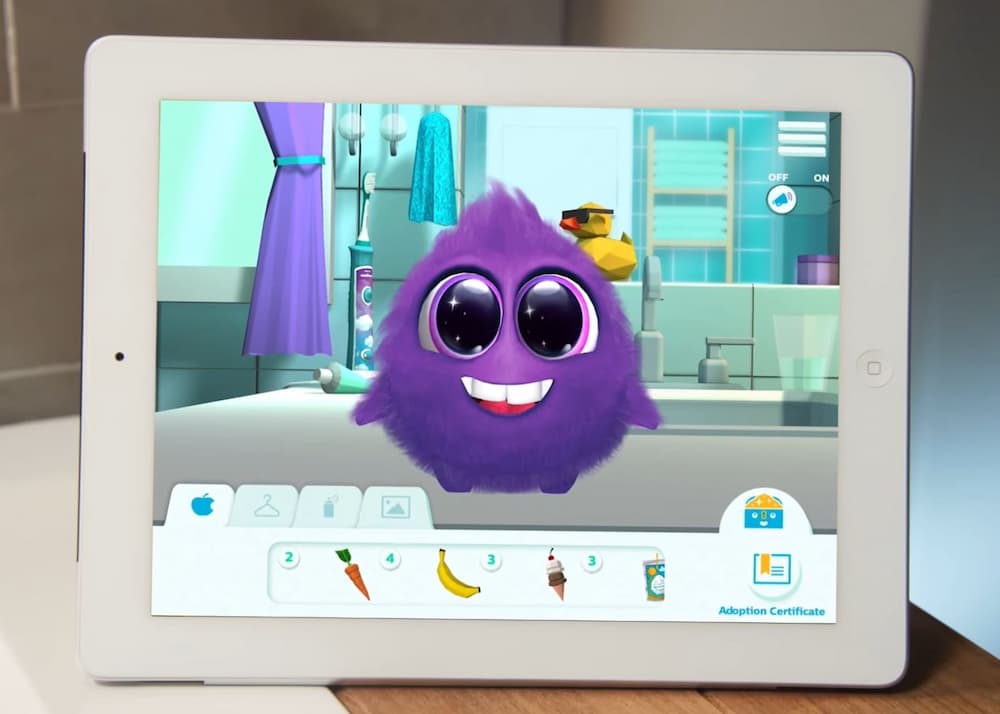 The story revolved around Sparkly hatching from an egg and it's up to the child to take care of it. You create user profiles on the app for every child that will use the brush, and then during their brushing, on-screen tutorials and colorful graphics instruct them on how to brush correctly and for how long.
If they manage to do a good job with the brushing following all instructions, they're given in-game rewards that allow them to personalize and enhance their experience, whilst receiving educational tips throughout the way. Parents can even select the prizes the kids are meant to receive. Kids get the job done in a fun, informative, and creative way.
Long-life Battery
Sonicare Kids function on Lithium-Ion batteries that are fully rechargeable. After every recharge, the toothbrush will be operational for 2 weeks. That's a decent time giving all the features that come with it.
A total of 14 days of use, or 28 brushing sessions with 2 minutes brushing cycles each. There's a charging stand which you can double as a toothbrush holder.
It could take up to 24 hours to completely charge the battery.
Compatible Brush Heads
Philips Kids Sonicare can use any Philips snap-on replacement head but I suggest using the specially designed brush heads.
You can read more about the features and benefits of children's brush heads in my blog post about Sonicare Kids Toothbrush Heads.
Design
The overall size and shape of the toothbrush are like that of a generic electric toothbrush, but the handle isn't as round, but more like tapered towards the edges. The sides and back of the handle are a bright Aqua color, with a significant number of 3D dots running from top to bottom in three different rows at the rear end.
In the mid-section of the handle, an extra 2 rows of 5 dots are placed to widen the gripping area. This is where the fingers usually fall.
The base is wider to accommodate erect standing on most holders. The middle of the grip is slightly thicker to make grabbing the toothbrush easier, and this works well for both adults and kids. Especially if your hands are wet. The handle slims down significantly as you reach the joint between the head and the lower body.
There are 2 prominent convexed green buttons on the Sonicare for Kids. The upper one is the power button, and the lower one changes the cleaning modes. Both of them have built-in LED lights to indicate certain instructions.
The buttons fall on a smooth, glossy white panel that covers the majority of the lower body. This is the part where you can attach stickers.
There are two handle color options available – Aqua (light blue) you can see at the beginning of this blog post, and Pink.
Pros and Cons
Many users have had amazing experiences with the Philips Sonicare toothbrush for kids because of the benefits associated with it. A few people have reported some complaints because of the drawbacks it has.
Here are the pros and cons of the Philips Sonicare children's toothbrush.
Pros
It removes stains
One thing that users of the Sonicare toothbrush agree on is that it removes stains from teeth. This is something you will notice immediately once your kids start using it. You will see a significant change in the color of their teeth.
It's fun for kids
This electric brush has a different way of alerting you to switch sides so you can brush other areas of your mouth. Apart from the normal vibration, it also gives off musical alerts which are perfect since it makes brushing fun for kids.
This is good news to parents especially since most kids hate brushing their teeth.  Some kids have even been known to break into laughter when they hear the alerts.
Comes with an effective app
There is an app that comes with the brush and it is free and everyone can use it provided they have Bluetooth. More parents have discovered that the app helps kids to brush their teeth effectively.
The app displays a photo of a cartoon's mouth which excites kids and they emulate how the cartoon brushes its teeth.
It's great for sensitive kids
Parents with sensitive kids (such as those with mild autism) have praises for the toothbrush. These parents reported that brushing their children's teeth was always a difficult task because the kids didn't want a toothbrush near them.
With the Sonicare toothbrush, the kids look forward to brushing their teeth especially when they get their presents on the app for brushing their teeth properly.
Prevents kids from getting cavities
The majority of parents who use the Philips toothbrush on their kids' teeth reported that their children went for years without getting cavities.
Even more advantages
Different power levels and brush head sizes for different age groups – for ages 4-7 and 7-10 – provide gentle cleaning
Quadrapacer (old model) or KidPacer (new model) timer let the child know when to move to the next quadrant of the mouth
KidTimer mode allows kid slowly get used to the toothbrush and reach the suggested 2 minute brushing time
Age 7-10 brush head is interchangeable with regular Sonicare toothbrushes
Cons
Some people have complained that their kids Sonicare toothbrushes suddenly stopped working and they couldn't understand why.
When the brush is on the charger, the light indicator does not come on. Sometimes, it charges but the toothbrush does not come on to enable one to brush.
Luckily, the Philips electric kids toothbrush comes with a warranty so if there's a problem, you can always return it and get a replacement.
Absence of pressure sensor.
Lack of indicator bristles on brush head.
No travel case included.
Related Reading: Philips Sonicare ProtectiveClean 4100 vs 5100 vs 6100 Review
Box contents
HX6321/02 connected model set includes
1 toothbrush handle
1 standard size Sonicare Kids brush head
8 interchangeable stickers
2 additional sticker sheets
1 charger base
Conclusion
The manual toothbrush is no match to the Philips Sonicare For Kids. Dentists will recommend this brush for your kids because it removes teeth stains and encourages your children to get into healthy habits such as brushing their teeth.
With this toothbrush, brushing time won't be a nightmare for you.  Sonicare is designed for kids and that's why it has colorful stickers, musical alerts when brushing and app with cartoons that make kids excited to brush their teeth and get rewards.
The app serves to educate children on how to properly brush their teeth through its visual guide. Your kid's teeth will look clean and sparkling when they start using this toothbrush.
Related Articles