In my Oral B Pro 1000 review, I will describe how this simple model meets all the basic demands one would need in an electric toothbrush.
Even the entry-level Oral B electric toothbrush like Oral B Pro 1000 offers an easier way of daily complete mouth cleaning.
Compared to using a manual brush, electric toothbrushes can get through most of your plaques, even those in the hard to reach places. As a result, you can expect to have a cleaner and healthier teeth and gums.
What Is Oral B Pro 1000?
OralB Pro 1000 is an economical choice for a power toothbrush that comes cheaper compared to many similar models from other brands.
This may be the very reason why more and more people shift from using a manual brush to a rechargeable electric toothbrush.
With its advanced cleaning technology, Oral B Pro 1000 electric toothbrush has been proven to remove up to 97% of plaque, including those in between your teeth. With this, your mouth can enjoy an overall improved condition.
Now, this toothbrush is available not only in white and black but also in Pink and Green!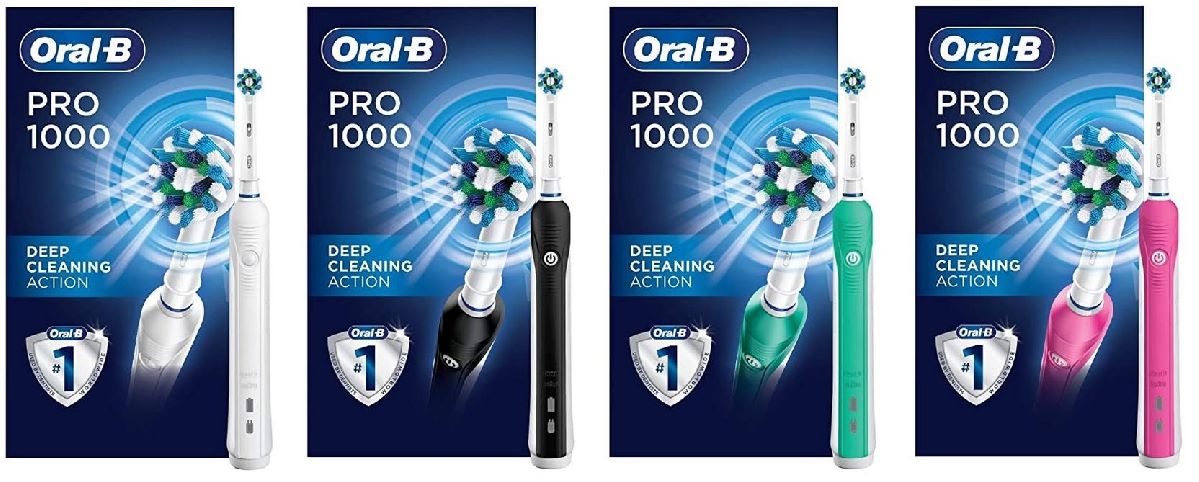 Oral B 1000 Features
Technology
The Oral-B Pro 1000 uses Floss Action Technology to get rid of two times the plaques compared to using a manual toothbrush. This advanced cleaning technology goes through every part of your mouth, getting rid of the plaque where normal brush misses.
Technically, this technology provides an ultimate complete dental cleaning, removing plaques between your teeth and gum line. It leaves you with healthier gums and teeth and makes you feel like you just have gone to a dentist's visit.
With consistent use, this Oral B 1000 Professionell Care brush promises to improve the general health of your oral cavity. This sits very well, especially for people who have oral health problems.
Timers
Just like many Oral-B Pro electric toothbrushes, the Oral B Pro 1000 comes with a 2 minute timer that makes sure you brush full 2 minutes. Though the expensive high-end models usually come with more than one timer option, having just this one is proven to be enough for an average user.
The quadrant timer sends a short stuttering sound every 30 seconds for you to equally brush your mouth's four quadrants. A longer stuttering sound is sent out after the 2 minutes recommended brushing time has elapsed.
Oral B Pro 1000 Brushing Modes
Oral-B Pro-1000 comes with one cleaning mode. The Daily Clean Mode is recommended for everyday use. It provides complete and thorough cleaning action to ensure that your pearly whites are clean and free from plaque.
If you are looking for a toothbrush with more brushing modes, you should check out Oral B 3000 or 5000 models.
Battery And Charger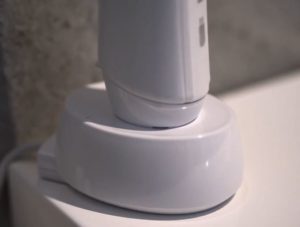 Oral-B Pro 1000 also comes with a charger unit that you can use for recharging the toothbrush. It takes about 22 hours to fully charge the toothbrush. The charge typically lasts up to 2 weeks, if used twice daily for 2 minutes.
The red low charge indicator lights up to signal you that the battery is low. And a green indicator light flashes up telling you that the toothbrush is being charged.
To keep the maximum capacity of the built-in rechargeable battery, it is advisable to unplug the charging unit and fully discharge your handle every after 6 months of regular use.
Pressure Sensor
The Oral-B Pro 1000 electric toothbrush comes equipped with a pressure sensor.
This feature monitors the pressure that you put on your teeth and gums when brushing.
It will automatically stop the toothbrush's rotation if it senses that you are applying too much pressure. This helps to prevent inflammation of the oral mucosa.
Package Contents
1 Oral-B Pro 1000 toothbrush handle
1 brush head (Oral-B Precision Clean or CrossAction brush head)
1 portable SmartPlug charger
Oral B 1000 Pro Specifications
Model Number: D16.513.U
Rechargeable: Yes
Battery Type: Standard NiMH
Built-in Timer: Yes
External Timer: No
Brushing Modes: 1 – Daily Clean
Brush Movements: 20,000 pulsations/min; +8,800 oscillations/min
Pressure Sensor: Yes, stops brushing
Visual Pressure Indicator: No
Included Brush Heads: 1 PrecisionClean or CrossAction brush head
UV Sanitizer: Not included
Charger Type: Standard
Brush Head Container: Not included
Travel Charger: No
Bluetooth Connectivity: No
Smartphone App: No
Dimensions
The whole box package size is 2.2 x 4.4 x 10 inches and weighs 12.5 ounces.
Toothbrush Heads
With this toothbrush, you can replace the existing brush head with a different type, if you think it will suit you more.
The following are the different types of brushes you can choose from and are sold separately.
Dual Clean
Pro White
Sensitive
Power Tip
Ortho
Braces Care Essentials
Tongue Freshener
I suggest getting an extra brush head when you buy a new toothbrush.
Indicator Bristles
This advanced technology from OralB is designed to remind you that your brush heads need replacement every three months through the halfway faded bristles.
Design
The Oral-B Pro 1000 toothbrush handle has a simple design, coming in a combination of blue and white colors.
The front (where the button is placed and where you can see battery light indicators) is dominantly white, black, green, or pink,  and then the rest of the handle is coated in white.
The handle seems to be pretty easy and comfortable to use. It seems to be rigid when handled, even when wet with water.
The brush head also seems to be very easy to attach and detached from the handle, for the user's convenience.
User Reviews
Oral B Pro 1000 rechargeable power toothbrush is getting great reviews, especially since it mostly offers basic features. This speaks greatly about the quality of the toothbrush.
One positive feedback point that I got from the user review says that its design is very well thought and impeccably made. The brush heads may be small but are very effective since it tightly hugs your teeth and gums, resulting in more thorough clean.
However, several people pointed out in their Oral B 1000 review that this toothbrush is a bit noisier than other models. Though it does not really give out the annoying sound, it something you might want to consider if you think having a little sound can distract you.
Pros
So why would you want to buy the OralB 1000 rechargeable toothbrush? Aside from its mouth cleaning capabilities, it is undoubtedly very inexpensive for an electric toothbrush.
Its price tag is not as high, but you can still get and enjoy the same cleaning abilities and qualities.
It can hold up to two weeks of charge and is very compact in size, making it very easy to bring around just about everywhere. The available brushing modes may be basic, but it is more than enough to cater to different dental needs.
It cleans teeth properly
If you are looking for an electric toothbrush that thoroughly cleans your teeth then the Oral B Pro 1000 is a great choice because it gets the job done.
This is possible because of the CrossAction brush. The head has bristles that cover each tooth at an angle of 16 degrees and when turned on, it moves around and pulsates to get rid of plaque in your teeth.
The manufacturers say it removes 300% more plaque than when you use your ordinary toothbrush.
It has a timer
When we rely on ourselves to know how long we should brush our teeth, we normally fail the test and brush for a longer or a shorter time. Oral-B toothbrushes solve that problem through its timer which alerts you when the 2 minutes of brushing recommended by dentists are up.
This brush goes a step further to give you alerts every 30 seconds so you can switch to other sections of the mouth that you may not have covered. At the end of the brushing period, every part of your mouth will be clean.
It prevents you from hurting yourself
It is normal to go crazy when brushing and get lost in trying to make your teeth as clean as possible and this is how we sometimes injure our gums and teeth.
The Oral-B Pro 1000 toothbrush comes with a pressure sensor that significantly minimizes the chances of this happening if you listen to it.
When you apply too much pressure when brushing, the pulsing movement stops and so you will know what's going on and hopefully, you'll become gentler with your teeth.
It doesn't require daily charging
Instructions from Oral-B say that you need to charge it for 22 hours. Once you do that, the battery can last for seven days if you brush your teeth twice every day. Another plus to it is that it will indicate when you need to recharge the battery.
Manufacturers recommend that you fully deplete the battery before recharging it to help the battery to serve you for an extended period.
It is easy to handle
The slim nature of the Oral-B Pro 1000 electric brush makes it easy to handle. It is also light and the grips are well designed which makes it easy and comfortable to hold.
It is ADA approved
The fact that the toothbrush passed the tests by the American Dental Association (ADA) means that it is a quality and healthy product. Therefore, you don't have to worry about being in any danger when using it.
It comes with a guarantee
The manufacturers of the device give you the option of getting your money back if you don't like the toothbrush.
You can try it out and if you feel like it's not for you then you have the option of taking it back within 60 days and you'll get a full refund.
Protects your teeth from cavities
One testament that people who have always suffered from cavities gave is that the problem disappeared after using the Pro 1000 for a while.
These are people who have always made trips to the dentist to have their cavities filled and after a while, the fillings would also get cavities. When their dentists recommended Oral-B and they tried it, their subsequent visits to the dentist showed that they had no cavities.
It can be used by multiple people
You can't share an ordinary toothbrush with other people but there's a way you and your family members can all use the same Oral-B Pro.
The head of the brush is removable so all of you can have separate heads. When you want to brush, you put your head on the brush and when you are done, you take it off so the next person can also put on their head and brush.
This can save you money instead of buying a complete kit for everyone.
Cons
For a basic rechargeable toothbrush and a practical price, the Oral B Pro 1000 seems to be a very wise choice.
There really is no solid issue on why you would have to think twice in buying this toothbrush. Though, as said, it may give a little sound but if you can deal with a little but not annoying sound, then this is definitely not enough to break the deal.
It is loud
Some people complain that it makes a loud noise when you turn it on. Others do not find the noise to be a problem.
It is tall
A minority of people with small bathroom cabinets said the toothbrush could not fit inside it standing. This is because it is tall.
Users would like a longer battery life
Most users wished the battery would last more than 7 days. Also, they said that they would appreciate if the manufacturers would include a way of knowing how much power it has at any given time.
The device only gives you a signal when the battery is low but you can't track the power it has before then.
Alternatives
There are several alternative models you can get in similar price range:
Oral B 500
Philips Sonicare Essence 5300
To make your life easier, we have already compared this toothbrush with OralB 3000 and 1500 and with Philips Sonicare Essence 5300.
Oral B Pro 500 vs 1000
You may be tempted to explore the possibilities to save even more money and buy the cheaper Oral-B Pro 500 model.
The quick answer – don't do that.
Here is the longer answer. While it is true that both brushes have only one mode and no frills if you choose the Pro 500 model, you will lose a handful of features.
The cheaper model offers less brush head movements (7600 vs 8800, and no pulsations vs 20000) and an even less limited battery time of 8 days.
Frequently Asked Questions About Oral-B Pro 1000
How to change mode with Oral-B Pro 1000?
There is no mode-changing option. This model has only one brushing mode, so there are no modes to change. You can only switch it on and off.
Where can I find Oral B Black 1000 reviews?
The Oral B Black Pro 1000 technically is the same model as Oral B White 1000, so everything described in this Oral-B Pro 1000 review applies also to the black model.
What battery does the Oral B 1000 have?
Oral B 1000 has an old-style NiMH battery.
How long to charge an Oral B 1000 electric toothbrush?
The Oral-B 1000 charging time is 22 hours.
How to tell when Oral B 1000 battery is done charging?
While your toothbrush battery is charging, the green indicator keeps blinking. As soon as it is fully charged, the indicator turns off.
What is the difference between Oral-B 1000 black and white?
The color of the toothbrush handle is the only difference between Oral-B White Pro 1000 and Oral-B Pro Black 1000.
Where can I buy the toothbrush?
You can get it online on Amazon, BestBuy, or in the supermarket near you.
Is Oral-B 1000 a CrossAction brush?
CrossAction is one of the Oral-B replacement brush head types. Oral-B 1000 is not a CrossAction brush, but sometimes it comes with a CrossAction brush head.
What is the replacement brush for Oral-B Pro 1000?
This toothbrush is compatible with all current Oral B replacement heads mentioned here.
How to replace Oral B 1000 toothbrush head?
Just grab the brush head and pull it away from the handle. If it does not come off, toothpaste buildup may have bonded the head to the shaft. Try running warm water over the brush head for 10-20 seconds and repeatedly try to pull it off.
Why does my Oral B 1000 light up?
Some Oral-B models have a visible pressure sensor indicator, but the Oral B Pro 1000 does not have this feature. I think you are seeing the low battery warning flashing.
What color charger comes with Oral-B Black Pro 1000?
The black model comes with the same white Oral B charging base the white unit has. There is no color matching.
Is Oral B Pro 1000 available in Europe?
No, Oral B Pro 1000 toothbrush is not available in Europe, but you can find similar models with comparable features.
Which model similar to Oral B Pro 1000 can I buy in the UK?
The UK alternatives to Pro 1000 are Oral B Pro 600,  Pro 650, and Pro 670. Technically they are very similar models with a few design differences.
The Oral B Pro 600 is exactly the same model and is available with different brush heads from the get-go. Oral B Pro 650 comes with a 75ml tube of toothpaste (several options available). Oral B Pro 670 comes with 2 brush heads and a small stand for2 heads.
Which model similar to Oral B Pro 1000 can I buy in Germany?
The German alternative to Oral B Pro 1000 is Oral B Pro 750. It is the same model with a travel case added.
What is the Oral-B Deep Sweep 1000 electric rechargeable power toothbrush?
The Oral B Deep Sweep 1000 electric rechargeable power toothbrush is the same old regular Oral B Pro 1000 model reviewed in this blog post. The only difference is it comes with Deep Sweep brush head that looks like a manual toothbrush (instead of a round CrossAction head)
Conclusion
Is it the best electric toothbrush in the budget price range? Yes, I believe it is! I hope that after reading the Oral B Pro 1000 reviews, you will see why.
If you are looking to try out an electric toothbrush or to take your oral hygiene to the next level, then this is a good brush to have.
The Oral B Pro 1000 will thoroughly clean your teeth, and you will love the results.  The head bristles are designed to surround each tooth and give it a good cleaning.
The timer also allows you to clean the various sections of your mouth as opposed to concentrating on some areas and neglecting others which normally happens when using the ordinary toothbrush.
The cleaning process is smooth because you can comfortably hold the brush in your hands. As for the battery life, one week may not be the most but it's okay. You can always charge it and use it again.
Related Articles