I used to think that there is only one kind of Oral B rechargeable electric toothbrushes – the Oral B ProfessionalCare brushes.
It turned out I was wrong.
In fact, there are 3 Oral B rechargeable power toothbrush lines:
Genius Series – most advanced and expensive
Smart Series – premium models
Pro Series / Vitality – affordable
Let's have a look at the most important features of these brushes and try to find out how do they differ and which one is the best electric toothbrush from OralB.
In some parts of the world, these models are also known as Braun electric toothbrushes.
Here is the full list of Oral B toothbrush models (click on the product name to go to the product reviews):
Oral-B Genius

Oral-B Genius 9600
Oral B Genius 7500

Oral-B Smart Series

Oral B 4000 (discontinued)

Oral B Pro / Vitality
Oral B Pro & Vitality Series
If you need an Oral-B rechargeable electric toothbrush that gets the job done without any extra features and does not cost like a used car, the Vitality and Pro Oral B models are something you should consider.
You will not get weeks of battery life and diversity of brushing modes from these toothbrushes, but they will do the required 2 minute brushing as good as the more expensive models.
Oral-B Pro 1500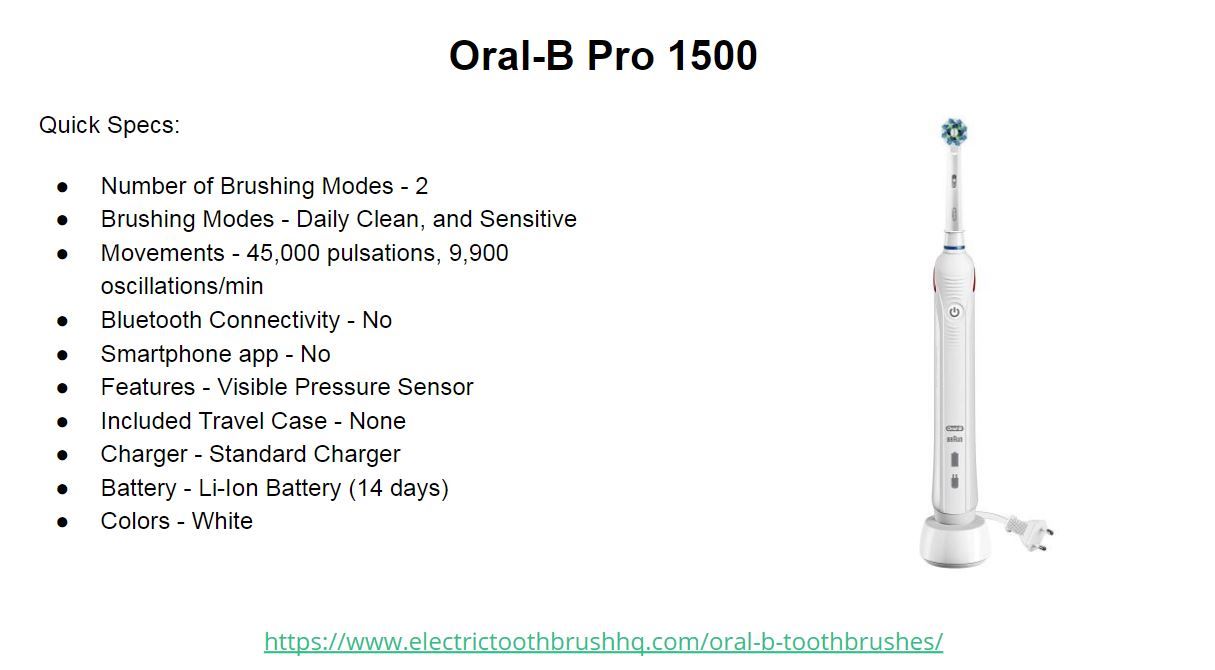 The Oral-B Pro 1500 is the outlier in this series. It is the only model with more than one mode (Daily Clean and Sensitive) and 2-week battery life thanks to the new Lithium-Ion battery.
It is worth mentioning that it has the most powerful motor any Oral-B toothbrush has, with exceptional 45000 movements per minute.
More information: Oral B Pro 1500 Review
Oral-B Pro 1000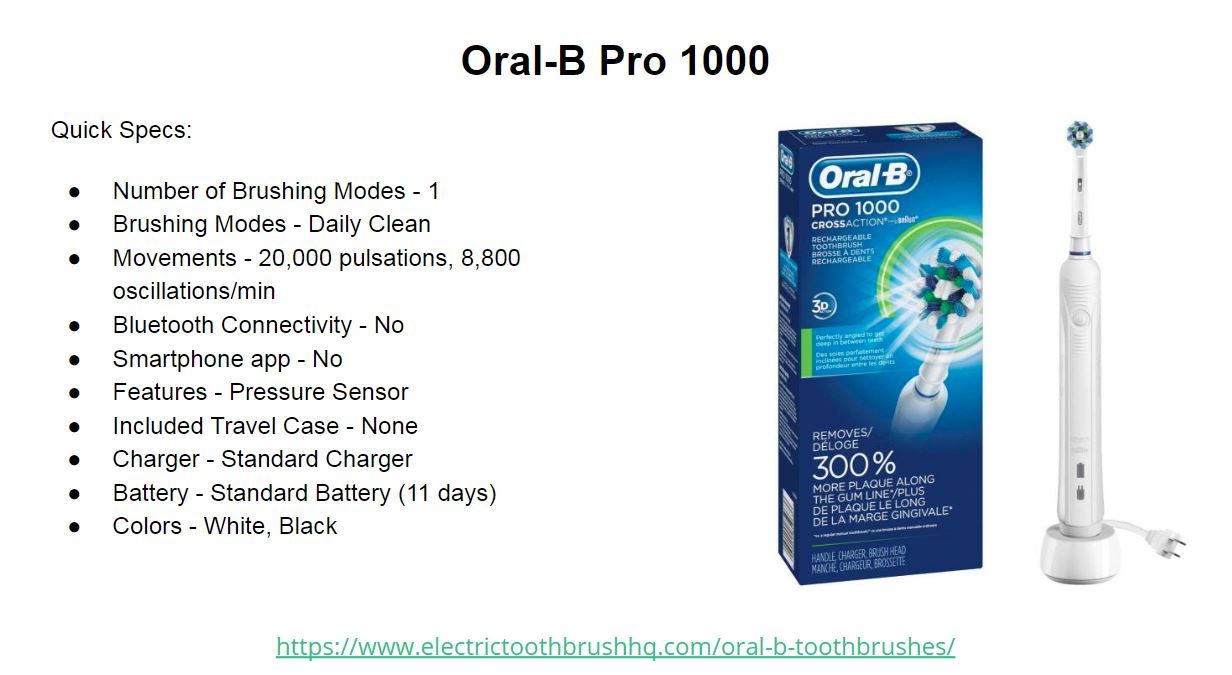 Are you looking for an electric toothbrush that pulsates and oscillates, prevents scrubbing too hard, and has to be charged every other week? The Oral-B Pro 1000 does all these things and nothing more.
More information: Oral-B Pro 1000 Review
Oral-B Pro 500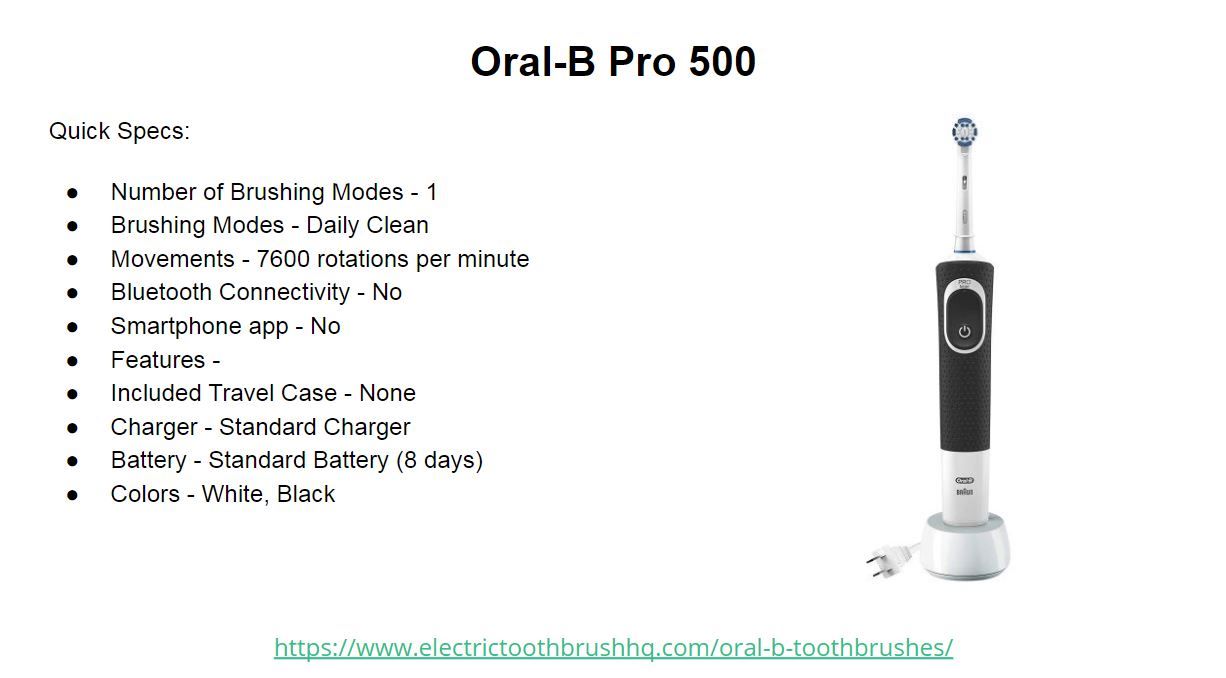 The first thing you will notice when you look at this toothbrush – it looks different. Previous century different. Does it realy work different.  Look kids. When we were growing up, all toothbrushes looked like that. Get over it.
Is it worth buying? Check out the review linked below.
More information: Oral-B Pro 500 Review
Oral-B Vitality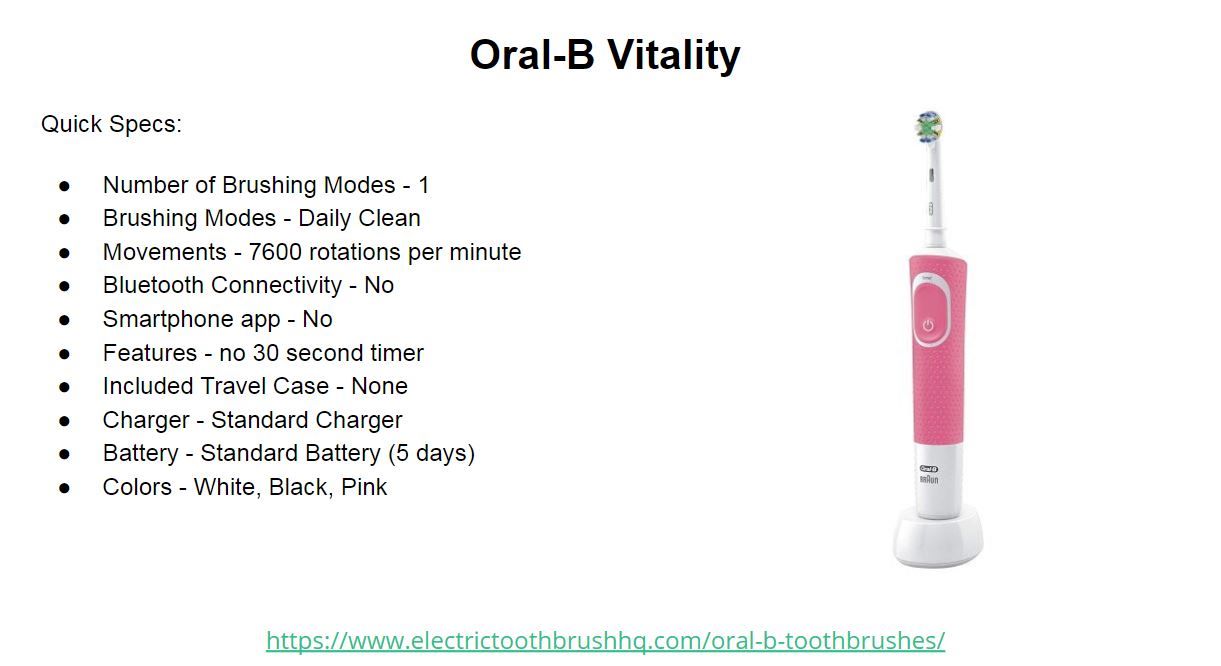 This is another model from the 20th century. Take the Oral B 500 model and remove all functions except brushing the teeth, and you get the Vitality. My advice – save up these additional $5-10 while you keep using your manual toothbrush and get a Pro model. I do not see any point in getting this old piece of technology.
Oral-B Smart Series
You have probably noticed that 5000 and 4000 models are called the 'SmartSeries'
What does it mean?
SmartSeries models feature the Smart Display which is built into the toothbrush handle. The display provides the brush user with information about battery charge level, brushing time and few more things that improve the brushing experience.
You will find more information about SmartSeries toothbrushes in my Oral B Pro 5000 review where I compare Oral B 4000 vs 5000.
Coming soon!
Oral-B Genius Series
Coming soon!
Oral B Genius X is the latest Oral B electric toothbrush model.
Other Oral B Rechargeable Electric Toothbrush Models
I will review the Oral B Pulsonic, Vitality, and CrossAction toothbrush product families later and provide you with more information about these products.
Braun Oral B European Models
If you check out European retail stores and shopping websites, you will see models like:
Oral-B Genius 10000N
Oral-B Genius X 20000N
Oral-B Smart Expert
Oral-B PRO 2 2900
Oral-B PRO 4
Oral-B PRO 690
Oral-B PRO 600
Oral-B PRO 750
Oral-B Pro 790
Oral-B PRO 900
Oral-B PRO 1 200
Oral-B Teen Electric Toothbrush
Please leave a comment below if you would like to read a review of any of these models.
Frequently Asked Questions
Here is the list of the FAQs about the Oral-B electric toothbrushes. I am addressing them as soon as I can.
Is the Oral B Pulsonic discontinued?
Yes, the Oral-B Pulsonic has been discontinued back in 2014. I did a quick search and found that you can still buy brand new Pulsonic toothbrushes on eBay. If you decide to go for it, make sure you also stock up on Pulsonic replacement brush heads. The current brush heads are not compatible with this old model.
More questions:
What is the difference between Oral B and Sonicare?
How do I remove stubborn black gunk from Oral B electric toothbrushes?
Does anyone know the type of my Oral B electric brush?
Is there a difference between the OralB replacement heads?
Which Oral-B tooth brush to choose?
How long does an Oral B replacement head last?
Oral B Customer Support