After using the old battery-powered toothbrush for years, I was considering upgrading to a much more advanced smart toothbrush.
My old toothbrush used to move side-to-side. It was quite effective, but I didn't find it comfortable. So, I needed something more effective and convenient to use.
While browsing Amazon's Health and Beauty section, I discovered the Oral-B Genius Pro 8000. It has rotary-motion with better cleaning options. Additionally, many of the features looked very innovative and thrilling to me.
So, I decided to look into this  Smart Toothbrush and write down my findings in this Oral B 8000 review.
As I started my journey with Oral-B Pro 8000, I discovered that there are many more to explore inside it.
Things to Consider Before Buying Oral-B Pro 8000
Oral-B Genius Pro 8000 was launched two years after the blockbuster success of Oral-B Pro 6000. Oral B Genius 8000 has some additional features.
For some of the users, especially those who are not so friendly with tech, this upgrade would seem redundant. Maybe they might not use these features ever.
But, for the updated generation, it surely has some great things to offer. Tracking teeth-cleaning with a smartphone sounds valuable to the young generation.
We can undoubtedly say that Oral-B Genius 8000 has some of the most modern technologies. Oral-B has won the 2019 Tech Award from Men's Health. The brush itself oscillates and moves side by side.
Like any other technology, this is not actually suitable for everyone. I've listed some of the criteria and things you need to consider before buying.
User Age
Oral-B Genius Pro 8000 toothbrush is not a good choice for children under 3. Other than that, anyone can use it.
For children aged under 3 years, try the Oral-B electric toothbrushes for kids.
Lifestyle
If you're a regular traveler, I would definitely recommend Oral-B Pro 8000.
Coming with a charging travel case, you can charge your toothbrush even outside your home.
Comfort
Oral hygiene is not only about two minutes of brushing. It's about how you start your day and how your mouth smells all over the day.
Oral-B Pro 8000 comes with 3 brush heads for different needs. Comparing to the previous versions of Oral-B and Philips Sonicare, Oral-B is highly comfortable.
Different Names Of Oral B 8000
The full name of this toothbrush is Oral-B Genius Pro 8000 rechargeable electric toothbrush powered by Braun, but you will often see many different variations of the product name including:
Oral-B Genius 8000 rechargeable electric toothbrush
Oral B 8000 electric toothbrush
Oral-B 8000
Oral-B Genius Pro 8000
Oral B Genius 8000
Oral B Pro 8000
Oral B toothbrush 8000
Oral B Genius Pro 8000
Oral B 8000 toothbrush
Using or omitting Genius and Pro does not change anything – it is still the same Oral B 8000 toothbrush.
Overview of the Oral-B Genius Pro 8000
Oral-B was founded in the late 1930s. The first toothbrush from Oral-B came to the market in the year 1950. Within the next decade, Oral-B held two patents of different types of toothbrushes.
But electric toothbrush came into the business in the year 1978. Their D1 model was their very first model. Since then, Oral-B has grown a lot.
By the dint of their R&D, they have produced some of the most advanced toothbrushes for mankind.
Oral B Genius 8000 is a smart toothbrush with advanced features that have been recommended by dentists from all across the globe.
It comes with Bluetooth Technology, charging capability, 3 different heads, and several other features. After Oral-B's grand success with the Pro 6000 and Pro 7000, they decided to push their technologies further.
So, they brought Bluetooth Technology. With more than one million downloads, the app technology seems to have been working as a successful invention by Oral-B.
Though it started its journey with only black color design, now there are more varieties to it. With six separate brushing modes and a Li-Ion battery that can last up to 14 days, any adult from anywhere can enjoy this smart brush set.
The package contains a smart travel case, 3 separate brush heads, and refill head storage for 4 heads. So, multiple family members can use this toothbrush with ease.
Oral B 8000 Features and Benefits
Till now, you might have got a basic idea about the Oral-B Pro 8000.
Now, let's dig deeper into its features and benefits.
6 Cleaning Modes
Different toothbrush models have a different number of cleaning modes.
Some have 1, some have 2 while Oral-B Genius 8000 has 6 different modes:
Daily Clean
Gum Care (also known as massage mode)
Sensitive
Pro Clean (earlier known as Deep Clean)
Whitening
Tongue Cleaning
Daily clean is more about the standard daily teeth cleaning. With 30 seconds of each quadrant, the cycle lasts for 2 minutes.
The brush will give you an automatic reminder at 30 seconds intervals and after 2 minutes with its in-built audible tone.
The cross-actions, deep sweep, precision clean, or the deep sweep are more suitable brush heads for this action.
Gum care is especially for those who have bleeding or sore gums. Gum care provides a gentle massage to your gum tissues so that your blood flow develops and tissues grow stronger.
The timer and process are similar to the daily clean mode. But the Oscillations reduce to 2,600-9,900 from the Daily mode 8,800-10,500.
Sensitive mode is designed for thorough cleaning inside your mouth, especially the sensitive areas. The Sensitive and Pro Gum Care are more suitable for Sensitive mode.
This mode has been suggested by many dentists as this mode provides sensitive brushing.
Pro Clean has a similar structure as Daily Clean but tends to last longer. It has a total time of 3 minutes with 45 seconds interval per quadrant. If you're going to occasions and thinking about clean and white teeth, whitening is your proper choice.
The 3D brush Head is the best choice for this mode. Anyhow, this is not recommended for regular use.
Tongue cleaning mode cleans the interior of your cheek along with your tongue. It lasts for only 20 seconds. This gentle method can be used both regularly and occasionally.
Pressure Sensor
At the top of the Oral B 8000 toothbrush, you also have a pressure sensor. The LED smart ring light will turn red when you are putting too much pressure on your teeth.
Besides, you can also notice the change in the speed of oscillation. The brush will slow down. It'll also send feedback to your smartphone.
Putting pressure on your teeth can cause harm to your teeth. The pressure sensor understands the pressure you are applying to your teeth and responds accordingly.
This might sound like a minor upgrade. But this also shows how much Oral-B cares about your teeth in the long run.
360 Smart Ring
There's a LED smart light at the top. You can customize the color by using the smartphone app. There are 12 colors available in total. You can choose your preferred color via the app.
You can change the color anytime and actually give yourself the feeling of using a new toothbrush. The best part of this light is that it is a ring rather than a regular dot on the toothbrush.
So, you can see the color from every angle without trouble. 360 Smart Ring allows you to get feedback from the brushing timer, pressure sensor along with the easy Bluetooth Connection.
While using mobile is not possible every time you brush, the SmartRing takes care of all your needs whenever and wherever you brush your teeth.
Bluetooth Connectivity
The Bluetooth I knew earlier was used just for transferring files or streaming audio.
But Oral-B has taken Bluetooth on another level. Though Philips, Sonicare has followed Oral-B, they hardly have beaten the quality and features. Oral-B uses Bluetooth to connect your toothbrush with your smartphone and share relevant information.
Though we saw the first Bluetooth connectivity in Oral-B Pro 3000, Oral-B 8000 has pushed it farther. You can see the regions inside your mouth where you have brushed and where you haven't.
It'll also give a timer for each quadrant while brushing. Besides, you'll see alerting messages if you're brushing harder than usual.
You can connect your smartphone with your toothbrush in these 4 simple steps:
Activate Bluetooth on your phone.
Turn on the toothbrush.
Go to the smart App.
Wait for it to automatically get connected.
The Bluetooth connection works great with Android OS 4.4 or higher. It also works on iOS 9.or higher.
It needs a minimum of Bluetooth 4.0 to connect. Anyhow, trying to pair with the BlueTooth will fail.
Smartphone App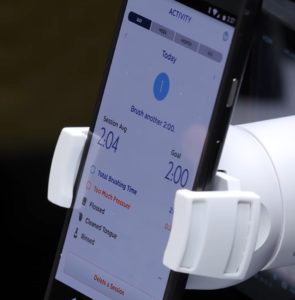 Oral B Genius 8000 shows all the necessary stats and details on your smartphone with the Oral-B Genius App. You can download it from the App Store for iOS or play store for Android.
After clicking on 'Connect a new handler', it'll ask you to check the Bluetooth button and press the power button. You'll need to turn on the location services for connecting. It'll take a few seconds to connect.
It will detect the quadrant where you are brushing. It'll also give feedback for extra pressure on your teeth. You can change the color of the 360 Smart Ring through the app.
Additionally, the app will give you a score based on your brushing habit. You can track daily, weekly, and monthly brushing time with scores. The app will also remind you of your daily brushing time.
The app also uses position detection technology. You can easily call this app your personal virtual dentist. It has shown great ratings and downloads in both Android and iPhone interfaces.
Position Detection
To use position Detection, open the app, and select position detection. Tap on 'set up camera'. You need to adjust your face to the camera.
The best option would be using the phone holder in the mirror that's facing you. As you adjust your face, the white sign will turn into green.
The Position Detection system detects and shows where you are brushing. It divides your mouth into several quadrants.
While you have 30-45 seconds for each quadrant depending on the mode, you'll also see the timer on the screen. If the app loses focus from your face, it'll show you the angle where you need to move to return to the ideal place for position detection.
This technology makes sure that no part of your face is missed out and you have a proper thorough cleaning of your teeth and mouth.
Smart Travel Case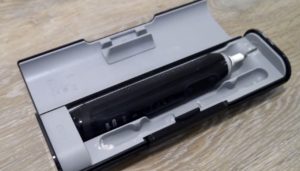 One of the most attractive features of Oral-B Genius 8000 is its smart travel case. It is very practical with no-nonsense exaggeration.
The case looks luxurious. There are a LED, a USB, and a power cord at the side of the box. You can charge your toothbrush from anywhere with it. After opening the case, you'll find a docking space for your phone.
You can stand your phone on the docking space and enjoy the smart features even without a mirror or a phone holder nearby. There's space for storing Oral-B Pro 8000 and 2 separate heads inside the box. The structure of the travel case allows airflow.
So, bacteria won't grow inside the box. Before you ask, you can use the USB port to charge your phone as well.
This box is something that outstands its entire competitor creating a clear line of difference. This box has been a great relief for those who travel frequently.
Premium Charger with Refill Head Storage
Oral B Pro 8000 uses a Premium charger that fits any USB adapter. Besides, it can charge at different voltages. No matter in which country you are in, this premium charger will easily charge your toothbrush.
Besides, it doesn't heat up and has IPX7 graded waterproof technology. It'll take a minimum of 30 minutes to charge the toothbrush from a low charge. You can detect a low battery by the flashing red LED on the battery icon of your toothbrush. While charging it'll light up too.
Additionally, with the charging stand, you'll have a lid to store 4 additional brush heads. This ensures that the brush heads are protected from dirt.
Phone Holder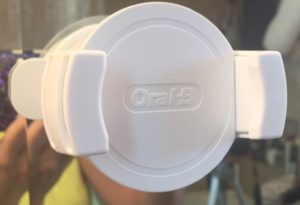 The Phone Holder is a smart addition to the Oral-B 8000 package. It has a suction cup on one side. This allows the holder to be attached to the mirror.
On the other end, you have the arms of the holder with the Oral-B logo in the middle. It can hold any regular smartphone within. The holder allows you to set up your phone at the perfect height for your face.
Anyhow, with more than one user, the holder needs multiple adjustments. Besides, the app doesn't allow you to collect separate results for separate users.
So, that might be a section where Oral-B has a lot of space for improvements.
Lithium-Ion Battery
Previously Oral-B had used Nickel Metal Hydride batteries. After starting to use Li-Ion Battery in their newer models, now they have longer battery life.
When it was launched, Oral-B Genius Pro 8000 rechargeable electric toothbrush became the model with the longest battery life compared to older Oral-B toothbrushes. The battery can last up to 12-14 days with 2 times brushes per day.
On the contrary, some of the high-end Philips Sonicare models have longer battery life. Still, it's a good start for Oral-B with Li-Ion Battery.
Package Contents
Here is what you get when you buy the Oral B 8000 electric toothbrush (smartphone is NOT included!):
1 Oral-B Genius 8000 toothbrush handle
1 standing charger with power cable
1 brush head box with protective cover for 4 brush heads
1 Smart travel case with universal multi-voltage power supply and USB cable
3 different brush heads
1 smartphone stand
user manuals
You can watch this unboxing video below to learn more about the box contents.
Oral B Genius Pro 8000 Design
While unboxing, I enjoyed the outlook of the magnetic box. It was wrapped with plastic wrapping. On the first look, Oral-B Pro 8000 doesn't look that much stylish or elegant.
Anyhow, Oral-B Genius 8000 is not as large or bulky as Pro 7000. The front has turned busier than the earlier ones. The plastic body on the upper side can be rinsed with water. Below the plastic body, there is a rectangular panel.
The first button you'll notice is the power button, along with the cleaning mode button. There are 5 icons for modes. You won't notice the daily clean icon as it is set as default. But this also makes it confusing.
After turning on a white light appears. You can also check the modes by their white appearance on the brush. You need to select the mode prior to clicking the clean button. You can't switch modes after pressing the clean button.
At the lower end of the toothbrush, you can observe the Bluetooth and battery icons. The battery icon has 3 bars on it.
Finally, at the bottom, you'll see the logos of Braun and Oral-B.
The rear side of the brush is made with a rubber grip. Thus, it won't fall off your hand when holding.
The base is used as the charging port. The surrounding of the base has been sealed to prevent water entry.
360 Smart Ring is located at the neck of the brush.
If you decide to buy the OralB 8000, you can choose between the following 5 color options:
Black
White
Orchid Purple
Rose Gold
Sakura Pink
Anyhow, Oral-B has a lot of space for improvement. Oral-B Pro 8000 is not as sleek as Philips Sonicare. It feels heavy and does not have sufficient technology to save the device from damage when submerged in water for a while.
Specifications
Model Number: ND
Rechargeable: Yes
Battery Type: Lithium-Ion
Built-in Timer: Yes
External Timer: No
Brushing Modes: 6 – Daily Clean, Gum Care, Sensitive, Pro Clean, Whitening, Tongue Cleaning
Brush Movements: 48,000 pulsations/min and 10,500 oscillations/min
Pressure Sensor: Yes, slows and stops brushing
Visual Pressure Indicator: Yes
Included Brush Heads: 3 PrecisionClean or CrossAction brush head
UV Sanitizer: Not included
Charger Type: Standard
Brush Head Container: Included
Travel Charger: Yes, multi-voltage, works with the included travel case
Bluetooth Connectivity: Yes
Smartphone App: Yes
Available Colors: Black, White, Orchid Purple, Rose Gold, Sakura Pink
Users' Feedback
I love checking other reviews before buying any product.
The majority of the reviews turned out to be positive. Especially people who love traveling have been enjoying their time with the toothbrush. Compared to the price, its features are amazing.
The best part that people enjoyed was its oscillatory rotation movements. The brush gives an amazing sensation to your mouth. Reviewers have also described enjoying the position detection feature.
It makes you feel like going back to your youth. This tech has helped to learn people about their habits. With face tracking, you get details of how much and where you've brushed.
People also have loved the black color as it looks sleeker and it doesn't get dirty.
On the contrary, people have also found the app to be more synced with iPhones than Android phones. Face detection feature can get irritating sometimes. But overall, this device is definitely worth a try.
Oral B Genius Pro 8000 Pros and Cons
Pros
It comes with 6 cleaning modes
It has a built-in timer to track the timing of your brushing
The pressure sensor provides extra support for your teeth by detecting any additional pressure
Oscillatory rotation for a thorough cleaning
360 Smart Ring provides instant feedback
The smart case works both as a case and a travel charger
The smart case has phone docking facilities
Cleansing records can be kept and seen through a smartphone app
Several brush heads for multiple purpose use
Charger with refill head storage offers space for safely storing additional brush heads
Position Detection Technology allows you to track the areas where you've brushed
Cons
Oral-B Pro 8000 is quite heavy compared to Philips Sonicare models
Position Detection can turn irritating and is unreliable
Phone Holder is not a great addition to the mirror of your washroom
Having 5 icons for 6 mods may be confusing
The app doesn't address multiple users
Alternatives
Oral B Genius Pro 8000 is available in many different online stores, including Amazon. You can also get it from the official site of Oral-B. The Oral B Genius 8000 is a bit pricier than Oral-B Pro 6000.  Without the mobile supporting technology and minor updates, both are pretty similar.
For those who are thinking about saving money, Philips Sonicare Essence Electric Toothbrush is much cheaper. Oral-B Pro 8000 is much more comfortable to use than Sonicare.
If you can spend more money, we suggest you check out the most recent Oral-B Genius X toothbrush. It has additional features that make it more advanced than Oral B 8000 toothbrush. But are you really going to use all these additional features?
But if you want the perfect blend of the best toothbrush features at a reasonable price, Oral B Pro 8000 is your proper partner.
Conclusion
Oral-B Genius 8000 rechargeable electric toothbrush is not just your other regular toothbrush. It cleans your teeth. Regular toothbrushes can hardly detect all your needs.
You have multiple features for addressing diversified needs in Oral-B Pro 8000. It even addresses inflammation inside your mouth.
This is your brush for those who want to have a regular comfortable oral hygiene habits. It is not as expensive as the Oral-B Genius X and doesn't lack a few extra features like the Oral-B Smart series. It is right in the middle.
Oral-B Genius Pro 8000 comes at an affordable price with more features than you need.
Related Articles