The Oral B Pro 7000 and 8000 electric toothbrushes from Oral-B's electric toothbrush series come in many user-friendly features and convenient brushing technologies. We have scoured through some great benefits of these brushes on the internet and found some informative reviews on their effortlessly easy and convenient features.
Most of the users are satisfied with their effective brushing to improve gum health and oral routine compared to manual toothbrushes. These electric brushes help you maintain your oral health hygiene with great care and ease. Moreover, these electric brushes possess excellent compatibility to build an exemplary dental routine with optimum oral-care gear to safeguard your dental health.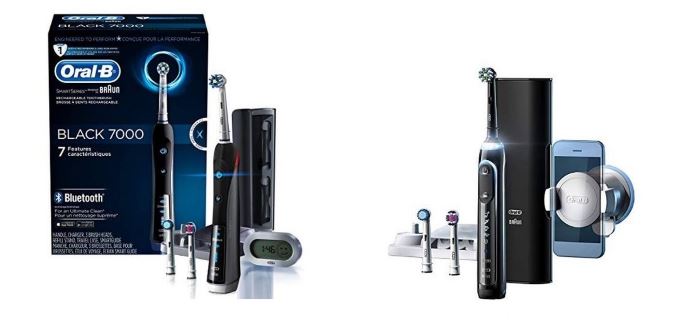 Oral B Pro 7000 Overview
CHECK CURRENT PRICE
The Oral-B Pro 7000 used to be one of the Oral-B's top electric toothbrushes. This Smart Series toothbrush from Oral-B is one of the first electric toothbrushes in the world with Bluetooth connectivity.
This wireless feature of Bluetooth allows your toothbrush to connect with your smartphones and give you feedback on your brushing habits. It cleans more plague and debris in your mouth with its cross-action brush head with 16 degrees angled bristles.
The 3D cleaning action of the brush oscillates, rotates, and pulsates to clear the plague of your mouth with active cleaning. The multi-action brush comes with 6 modes to provide an everyday dental care routine for your oral health.
This electric dental gear comes with modes including – Daily Clean, Gum Care, Sensitive, Whitening, Deep Clean, and Tongue cleaning to preserve your oral health with an active timer where an added pressure sensor feature comes in handy to prevent you from over-brushing.
Moreover, the addition of a wireless smart guide comes with some excellent features to provide you an advanced brushing habit connecting with your smartphone. In short, it is a great assistance for daily brushing. This is quite pricey for an electric toothbrush for many users. However, users find it very useful for its commendable feature as an electric brush.
Read More: Oral B Pro 7000 Review
Oral B Genius Pro 8000 Overview
CHECK CURRENT PRICE
Oral-B Genius 8000 is one of the superior manufacturers in Oral-B's electric toothbrush series. This electric oral convenience provides you with everything you need to maintain a healthy oral routine. In addition, the Genius 8000 e-brush allows seamless connectivity with your smartphone via Bluetooth to assure you real-time feedback on your brushing habits.
Great addition of a smart-guide gadget comes with the package to give you an advanced Position Detection technology for cleaning your mouth. The brush also alerts you to prevent over-brushing with a 2-minutes time restriction.
Its performance benefit from a dentist-inspired round head and cup allows oscillating, rotating, and pulsating movements to clean your dental plaques thoroughly. The 360 Smart-Ring LED lighting with 12 vibrant color visuals gives you feedback on your brushing pressure and indicates brushing time and mode selection.
Moreover, this Oral-B Genius 8000 electric toothbrush comes with many dentists recommend features providing users optimum oral-care benefits with its superior performance.
Read More: Oral B Genius Pro 8000 Review
Oral B 7000 vs 8000 Comparison
The Oral B 7000 vs 8000, both as an electric toothbrush, have their significant feature, with some identical. In this article, we will give you a clear idea of the comparison of these brushes with feature-by-feature characteristics. We have discussed some similar features in this part. Judging the most user recommendations and expert advice, we prefer Oral-B Genius 8000 over Oral-B Pro 7000 for protecting oral health with maximum performance. Users who use these brushes prefer these for their portable features and battery backup.
Cleaning Modes
Both of the models of Oral B Pro 7000 and Genius Pro 8000 have 6 cleaning modes to brush your mouth. It includes Daily Clean, Sensitive, Gum Care Whitening, Deep Clean and Tongue Cleaner for different brushing needs.  However, both brushes work differently with varying oscillations in these toothbrush models. The 2-minutes timer with these cleaning modes comes as a great benefit to clean the plaque and debris out of your mouth to keep your oral health intact.
Pressure Sensor
Over-brushing, we all might have done or maybe doing it every day due to lack of attention. Hurrying for a busy schedule and over brushing is quite a common reason for our bad dental health, as it weakens our gum health and harms the layer of enamel of our tooth, leading it towards decay.
Oral B Pro 7000 brings upon a solution to solve this problem with its pressure sensor technology. Whenever you brush too hard, your electric toothbrush slows down and starts blinking a LED light signal. While you reduce the pressure of your brush, the brushing automatically goes back to its usual pace. This technology of the Pro 7000 model safeguards your dental health and helps you form a decent brushing habit.
The Oral B Pro 8000 toothbrush also has a pressure sensor. The LED intelligent ring light on its top works as its sensor indicator. It turns red when you put excessive pressure on your teeth. When the sensor diagnoses over-brushing or pressure while brushing, it changes the oscillation speed and slows down the brush. It sends feedback to your smartphone for displaying the change when you use the app.
360 Smart Ring
The Oral B Genius Pro 8000 has a LED smart ring at its handle. You can easily change the color of this ring light using the smartphone app for this model. You can choose any color of your choice, from 12 vibrant colors to using the mobile app. Changing the color of your toothbrush once in a while will give your toothbrush a fresh and new look every time. This colored ring is visible and allows you to get feedback from this for brushing time and a pressure sensor with a consistent Bluetooth Connection.
Bluetooth Connectivity
This Oral B electric toothbrush connects your toothbrush with the SmartGuide with its active Bluetooth connectivity. The Bluetooth feature of this brush also helps you click with your smartphone to send feedback on your brushing habits. It allows you to form a good brushing habit with this amazing feature.
The Oral-B 8000 comes with a superior Bluetooth connectivity with our smartphone that allows you to detect the portion inside your mouth for cleaning every nook and corner of the mouth quadrant. It also sends an alert on your phone to prevent over-brushing. You can connect your Android OS and iOS devices with this electric brush.
Oral-B Smartphone App
Oral B created a common app for monitoring the activities of its special electric toothbrushes. This app from Oral B works as a real-time feedback convenience to maintain your gum health and tooth protection by maintaining appropriate brushing pressure.
You can watch the activity of your toothbrush while keeping the Bluetooth and mobile app connected. This helps you determine the right amount of force required and show you modes to take care of your oral health. The Oral B Pro 7000 works excellent with this excellent feature keeping good care of your gum health.
Oral B Genius 8000 has an app that displays all the vital stats and details of your brushing data on your smartphone. Just clicking on the 'Connect a new handler' and connecting with the Bluetooth of the brush will take you to the app. It will trace your mouth quadrant and give feedback on your brushing pressure, timing and show scores upon brushing.
A score based on your brushing habit will provide feedback on your daily brushing time. This app will also remind you of your brushing time.  You can download it on both Android and iPhone devices to track your oral health routine and progress.
Position Detection
Oral B 700 model does its position detection with its Smart guide and shows you how to brush on the unreached areas of your mouth and clean it with the 3D brush head.
The Position Detection system of this Oral-care gear traces and shows the location of your brushing quadrants. The app tracking system of this toothbrush will show you the angle where you need to brush, and it will auto-detect the place where you have not touched.
Travel Case
The travel case that comes with Oral B 7000 is convenient and easy to carry on the trip. However, it is not very spacious for carrying all the accessories of the brush altogether. However, it is pretty helpful for its portable option for taking two brush heads in it.
The case that comes with Oral B Pro 8000 looks sleek and has a magnetic lock. The box has a LED, a power cord option, and a USB to charge your toothbrush with it. You can also place your smartphone on its mobile dock and use it as a stand.
Oral-B Pro 8000 allows you to store two separate brush-heads inside the box. This box is designed to maintain the airflow to prevent bacteria buildup inside the box. In addition, you can also use the USB port of this travel case to charge your phone.
Charger
A charger comes in the packaging of the Oral B Pro 7000 electric toothbrush. In addition, the carrying case of the brush also works as a charging port.
The Oral B Pro 8000 provides a charger adjustable with any USB adapter at a different voltage. The voltage is for this charger is adaptable and globally compatible for use. This charger has IPX7 graded waterproof technology that prevents it from over-heating.
The toothbrush takes 25- 30 minutes to charge the toothbrush in a low voltage. The charger has a notification light that lit up while setting, lights up on a low battery.
Phone Holder
Oral B 7000 does not provide any phone holder in its box. However, you purchase it separately or use the phone holder in its travel case for keeping your phone.
This Oral B model provides a suction-cup phone holder that sets up your phone with the wall or mirror of your bathroom to locate your mouth.
Battery
The Oral B 7000 electric toothbrush is a NiMH battery that remains stand by for 10 days for brushing that is comparatively low than other electric brushes in this price range.
The Oral B Genius 7000 model comes with a Li-Ion battery that lasts up to 12-14 days if you brush two times a day with it.
Smart Guide
The smart guide is a wireless device that comes as a display gear for your Oral B Pro 7000. This gear assists you in brushing the four quadrants of your mouth. In addition, it shows the timer, detects when to stop during over-brushing, and displays the icon for modes. The smart guides are the early edition for premium electric toothbrush models. However, with the advancement of mobile applications, manufacturers excluded them from the new model. If you think of getting one, it is still available for many users' preference for using smartguide. You can get all these display features in your mobile app as well for this model.
Design
The Oral B provides a sleeker design in its Pro 7000 series electric toothbrushes. The chunky handle of Pro 7000 is black, and it has changeable white brush heads. The tapper on the body of this handle makes it an ideal shape for holding. The handle is wrapped with soft-touch plastic. It comes with a backing made of rubber and has an excellent textured grip.
The Pro 7000 series are toughly built and survives fall and held up great to daily use. This smart series brush has simple controls, including two switches for power on/off and brushes modes. It also has indicators for smart-guide, battery life, and buttons.
In addition, it has a significant expansion of a smart guide that shows brushing time and guidance. The brush heads are made of high-tech materials like silicon, an angled brush cross-action-head for precise cleaning. Moreover, the Oral B Black Pro 7000 is significantly designed with seals and gaskets to keep it water tolerant.
The Oral B Genius 8000 is a premium category electric toothbrush with many outstanding features and designs. This is designed for superior performance and sturdy built to give a long-lasting brushing experience. It comes with a black handle and brush-head, with replaceable white brush heads.
There is a multicolor LED smart ring in its handle to real-time brushing experience with pressure control lighting indication. In addition, it has two buttons for power control and modes with a textured grip. Moreover, it has an effective pairing option with Bluetooth connectivity with your smartphone to maximize your brushing efficiency.
Pros and Cons
In this section, we'll be covering the pros and cons of the Oral-B Pro 7000 and Oral-B Genius Pro 8000.
Oral-B 7000: Pros
The timer option for preventing over-brushing and guide you to build an effective brushing habit is a laudable feature of Oral B Pro 7000.
The smart guide with the Pro 7000 smart series model shows brushing time and guide in a resultant cleaning.
The wireless connection with Bluetooth allows the electric brush to connect with your smartphone to ensure position detection for efficacious cleaning action.
Oral-B 7000: Cons
The Oral B Black Pro 7000 is a bit overpriced considering its performance and features. This may come as a turn-off for many users from buying it.
The Pro 7000 Oral B model has a limited battery life that stands by only for 10days, which is inconvenient for portability.
Oral-B Genius Pro 8000: Pros
The Oral B Genius 8000 model is a 360 LED  smart ring that assists you in changing your mouth quadrants and shows lighting indication. At the end of 2minutes of brushing time, it gives the user another notification to prevent over-brushing while saving your time.
The Oral B 8000 provides Bluetooth connectivity with your smartphone. That allows you a smooth position detection to track the areas of your mouth for efficient cleaning.
The smartphone holder and in-app feature to connect with the smartphone allow great cleaning assistance for brushing.
Oral-B Genius Pro 8000: Cons
For connecting the Bluetooth with the smartphone, you need to your smartphone to the bathroom.  This is quite awkward for many users. In addition, attaching a smartphone somewhere in your bathroom and using it while brushing may seem a little fiddle for many.
There is no particular icon for Daily Clean and 2 minutes standard cleaning features. This is a bit unusual for a premium toothbrush.
Conclusion
Oral B toothbrushes are one of the best toothbrush brands promising a thorough brushing routine, washing up to 99% of all germs and plaque in your mouth. Electric toothbrushes like Oral B 7000 and 8000 have brought a revolutionary addition with excellent oral care assistance with their appraisable features.
With their superb pressure modes, 360 LED ring rights in the Oral B 8000 model, and smart-guide in Oral B 7000 model. You can use them for a plaque-free mouth to maintain a healthy oral routine. However, our best choice among Oral B Pro 7000 vs. 8000 is the latter one because of its premium feature to clean and ensure optimum oral health protection.