In this article I will compare the Oral-B Smart 5000 vs 7000 electric toothbrushes.
Oral B Pro 5000 vs 7000 Comparison
Now let's see if there are any similar toothbrush models you could get for a comparable amount of money.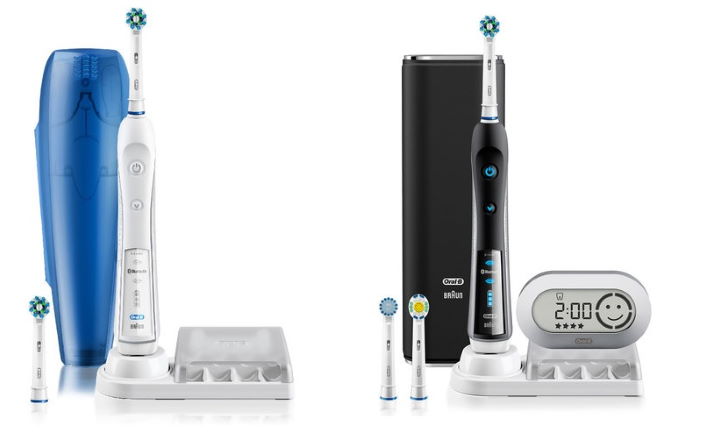 It looks like the main difference between Oral B 5000 vs 7000 is a few extra features that are packed into Oral B 7000 electric toothbrush.
Which comes at a price, as you may have figured out.
Number of cleaning modes
5 (5000) vs 6 (7000)
The cheaper 5000 model features 5 modes – Sensitive, Daily Clean, Whitening, GumCare, and Deep Clean mode.
A more expensive OralB Pro 7000 model has the same 5 modes listed above plus an additional Tongue Cleaning mode for complete oral hygiene.
Wireless Smart Guide and Bluetooth
Both models used to feature the Wireless Smart Guide, but currently, the latest version of Oral B 5000 is supplied without the SmartGuide.
Both brushes also have Bluetooth connectivity that works with the smartphone app. This makes SmartGuide redundant.
What is the SmartGuide?
Smart Guide is a stand-alone timer that helps you to make sure you are brushing your teeth for the suggested 2 minutes and shows the selected brushing mode. It also features a quadrant prompt that guides you thru 4 quadrants of your mouth.
When Smart Guide is not in use, it works like a clock. Each SmartGuide can be paired with one or two toothbrushes.
Battery
NiMH (5000) vs Li-Ion (7000)
The newer Oral B 7000 has a new Lithium-Ion battery, but you can expect to get the same 10 days from one charge you get from Oral B Pro 5000 NiMH battery.
Included Brush Heads
1 (5000) vs 3 (7000)
The Oral B 7000 comes with 3 brush heads – 1 CrossAction brush head, 1 3D White brush head, and 1 Sensitive brush head, but the 5000 model has only 1 unit of FlossAction brush head. Both have replacement brush storage case. It can be useful if several family members are using the toothbrush and swapping the brush heads.
Travel Case
Both reviewed models come with a travel case.
The more expensive model has the stylish Premium case but it lacks the charger function.
Which brush should you choose?
It is safe to say that any of these brushes will have the job done. Both units will get those wine and coffee stains off your teeth and remove the plaque build-up. You can be sure you will see the difference in just three weeks or even less.
The question you should ask yourself is – is the price difference worth one additional brushing mode and a couple of nice-to-have design upgrades? Would I pay extra for an electronic clock for your bathroom that helps to clean your teeth better?
Check current Oral B Pro 7000 price!
Feature Comparison Table
| Model name | OralB Pro 5000 | OralB Pro 7000 |
| --- | --- | --- |
| External timer | No | Yes, Wireless SmartGuide |
| Brushing modes | 5 - Sensitive, Daily Clean, Whitening, GumCare, Deep Clean | 6 - Sensitive, Daily Clean, Whitening, GumCare, Deep Clean, Tongue Cleaning |
| Included brush heads | 1 | 3 |
| UV sanitizer | No | No |
| Battery Type | NiMH | Lithium Ion |
| Charger Type | Portable charging station | Portable charging station |
| Travel Charger Included | No | No |
| Travel Case Included | Yes | Yes |