Philips Sonicare E-Series Replacement Brush Head HX7003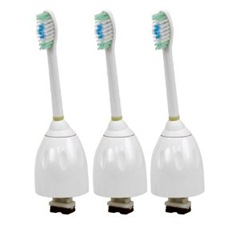 The Philips Sonicare E-Series Replacement Brush Head HX7003 has been to ensure that users have the best possible mouth cleaning experience. Each brush head has a slim and contoured neck so it can access and clean hard to reach areas in the mouth. Also, each Sonicare E-Series Replacement Brush Head has contoured and extra soft bristles to ensure deep cleaning without damaging the gum line.
Although there are various similar products in the market today, a lot of people still choose to use a Philips Sonicare E-Series Replacement Brush Head and they have a good reason to do so. In a study conducted in Northwestern University, results showed that people who used Sonicare over a period of 6 months had better oral health than those who used other brands of toothbrush. The study also said that long term use of Sonicare is effective in reducing inflammation caused by gingivitis.
Features
E-Series Brush Heads are compatible with Sonicare Advance, Elite and Essence Series
Bristles are tapered, extra soft and contoured
Neck designed to be slim angled to clean hard to reach areas
Package includes 3 brush heads
Compatibility
Philips Sonicare E-Series Replacement Brush Heads are compatible with:
It is best to replace your brush head every three months for optimum oral cleaning. The package of the Philips Sonicare E-Series Replacement Brush Head comes in three which means you will be able to have great oral health for up to 9 months.
Buy Philips Sonicare E-Series Replacement Brush Heads Online
Replacement brush heads can be expensive but with the Philips Sonicare E-Series Replacement Brush Head package, you can make sure that you will be able to save money as you will not need to go to your dentist as often. This product might be available in your local stores but you can buy it online cheaper!
Philips Sonicare DiamondClean Replacement Brush Heads
Philips Sonicare DiamondClean Brush Heads are the new brush heads that come with the latest Philips power toothbrush, the Sonicare DiamondClean.
DiamondClean Standard and Compact brushheads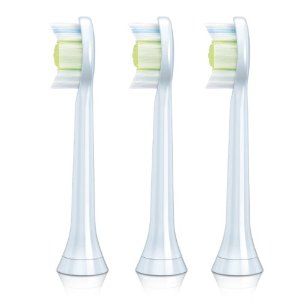 There are 2 DiamondClean replacement brushhead models available – the Standard Brush Head (manufacturer code HX6063/64) and Compact Brush Head (manufacturer code HX6072/66).
As you can guess from the product names the main difference is the brushing head size. The compact head is better suited for people with smaller mouth – mostly children and women.
I have read numerous reports stating that compact sized heads are doing better job cleaning hard to reach areas of your mouth, so choosing the brush with compact head can be a wise choice for men as well.
I suggest you to try both sizes and then chose the one that does better job or simply ask you dentist for advice.
What is so special about these heads?
Philips has stated that the innovative brushing head design is the main reason why DiamondClean toothbrushes are performing so much better than other power toothbrushes.
Philips has invented the new technology that increases the number of bristles you can place on each brushhead. Thanks to this technology now the standard size brush head has 44% more bristles than older models, and the compact size head has 23% more bristles.
Can I use these heads only with DiamondClean toothbrush?
These heads are also compatible with a number of other Philips power toothbrushes:
Where can I buy them and how much do they cost?
These brush heads for DiamondClean are sold by all major retailers online and offline. They are sold in 2-packs, 3-packs, and 6-packs and the average price is around 50% higher than price of older brush head models.
Philips Sonicare ProResults Standard HX6013 and Compact HX6023 Brush Heads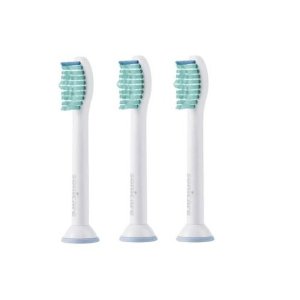 Philips Sonicare Pro Results brush heads feature new and improved design compared to older brush models. They are made using materials like TPE, PCTA, and nylon bristles.
These brush heads are easier to use than older replacement brush models. You simply have to attach it to your toothbrush handle and push the brush head until it snaps.
It is recommended that you change your toothbrush head every three months. What you can do to keep track of it is to place the month stickers that are on your Sonicare brushheads on your toothbrush charger base.
You will get an idea though as to whether it is time to replace it when the bristles are starting to spread out.
ProResults Features
New easy to use design with Push on connector
Decreased chance to get mold and mildew buildups
Indicator bristles let you know when it is time to replace the brush
Provides wider motion range than the Sonicare Elite heads
Built using green materials
Pro Results Compatibility
It is important to remember that the newer generation FlexCare Plus handles and ProResults heads differ from previous Sonicare e-Series handles and heads.
ProResults Compatible models
The ProResults brushing head fits Philips Sonicare FlexCare, FlexCare Plus, and HealthyWhite models:
FlexCare Rechargeable Sonic Toothbrush
HealthyWhite
FlexCare rechargeable sonic toothbrush with Sanitizer
[DiamondClean]
Incompatible models
This toothbrush head are not compatible with old e-series handles like Elite, Essence, and Xtreme models.
Where to buy ProResults replacement heads
The ProResults brushing heads come in packs of three. Your brush head have to be replaced every three months, which means that you can be sure of good oral health for at least nine months with one pack.
It is important to make sure that your buy the brushheads that are compatible with your toothbrush as some may have different design and they will not fit perfectly.
You should be able to buy the full range of Philips and OralB brushheads in your nearest store. However if it is not available there, you can order yours online.
According to the customers' reports Amazon usually offers competitive prices on replacement heads.